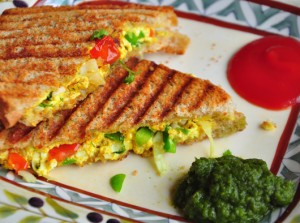 A sandwich is a quick and tasty way to make a meal. It can make a great lunch or breakfast, and can either be served either hot or cold.
PANEER SANDWICH-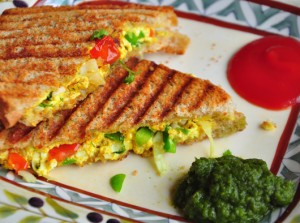 Ingredients-
1/2 cup crumbled paneer, 1/2 teaspoon ginger garlic paste, 2 teaspoon tomato sauce, 1/4 teaspoon garam masala powder, salt accordingly, 1/2 finely chopped big onion, 2 teaspoon finely chopped capsicum, 1/2 teaspoon red chili powder, 2 teaspoon finely chopped coriander leaves, and 2 teaspoon oil.
Recipe- Take  paneer and crumble it well, set aside. Now heat the oil in a pan and then add ginger garlic paste, sauce and onions till they become golden brown. Then add capsicum and fry it for a minute,  add garam masala powder, chili powder, salt and tomato sauce. Give the mixture a quick stir and notice that it should be saucy and not too dry. Add little water if it's too dry. Then add the crumbled paneer. Mix them well and cook for some time. Now garnish it with coriander leaves and switch off. Trim the edges of 2 slices of bread and then spread a generous layer of paneer stuffing on side and close it with another slice of bread, press it well so that it gets sealed. Heat dosa pan with ghee and toast the bread until it turns golden brown on both sides. Cut diagonally and serve hot and warm with decoration.
VEGETABLE CHEESE SANDWICH-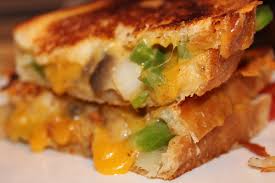 The good thing about this simple vegetable cheese sandwich is that you can also use it as salad, as its taste is spicy, yum and refreshing due to all raw vegetables.
Ingredients–
4 Bread pieces, 1/4 cup chopped tomato, 1/4 cup chopped cucumber, 1/2 cup grated carrot, 1 teaspoon chaat masala, 1/4 cup grated cheese, 1/4 cup chopped onion, 1/4 cup chopped capsicum, 1 teaspoon green chutney.
Recipe- Finely chop tomato, onion, cucumber, grate carrot and capsicum and then gather all other ingredients. Add all the vegetables, green chutney, cheese and chaat masala in a bowl and then mix well.  Add generous amount of prepared mixture around 3-4 spoons on top of bread and place another pieces of bread to cover. Heat a tawa  and toast the breads from both sides until they become brown.  We can press the bread slightly to seal all the veggies inside. Your dish is ready to be served hot and warm with coffee/tea or juice.
ALOO MASALA GRILLED SANDWICH-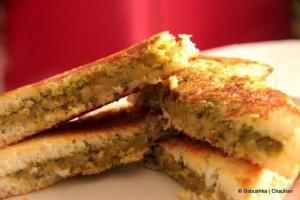 This Aloo masala grilled sandwich is famous among kids, they love it and it also works good for their lunch or tiffin box, breakfast or snack or even dinner.
Ingredients-
8 white bread, 2 large potatoes, 2 green chilies, 2 teaspoon oil, 1/2 teaspoon mustard seeds, 1/2 teaspoon red chili powder, salt, 2 teaspoon butter, 1 medium onion, 2 teaspoon chopped coriander leaves, 1/2 teaspoon cumid seeds, 1/2 teaspoon turmeric powder, 1/2 teaspoon garam masala powder.
Recipe-
To prepare stuffing- Boil the potatoes or pressure cooker them for 3 whistles until done and then peel and mash them well. While potato is getting cooked, peel and finely chop onion, green chilies, coriander leaves. Heat oil in a pan and then add mustard, cumin seeds and allow to splutter. Add onion, green chili and sauce until onion gets soft and light brown. Now add garam masala powder, red chili powder, turmeric powder, salt and mix them well. Add mashed potato and mix well, cook for 2-3 minutes in medium flame, add coriander leaves mix well, off flame and allow masala to get cool.
To prepare sandwich- Apply butter on a side of bread and then apply thick layer of potato masala on same side and level stuffing, cover it with another bread. Apply butter on bread side facing towards the grill and repeat same for rest of bread pieces and heat a toaster or griller. Place two sandwich on toaster and toast until bread becomes brown and crispy or as you like your sandwich to be, repeat same for another batch.
CHICKEN SANDWICH-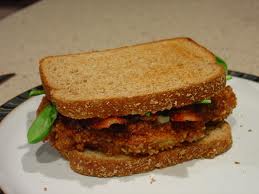 Ingredients-
1 cup cooked boneless chicken, 2,3 green chili, salt, 2 teaspoon tabasco salt, 1 onion, 2-3 teaspoon mayonnaise, 4-6 slices breads, 1/2 teaspoon crushed pepper.
Recipe- Mince together the onion, cooked chicken and green chili in a food processor or blender. Then add mayonnaise and salt to this and mix well. Make it in a paste form. Remove the crusts from the bread slices. Apply the chicken mix to one bread piece and sandwich with other one. If you are serving this as a starter, cut each bread slice into four pieces and put some chicken mix on the small bread square and garnish it with a drop of tabasco sauce or any other sauce of your choice.
CORN-CAPSICUM SANDWICH-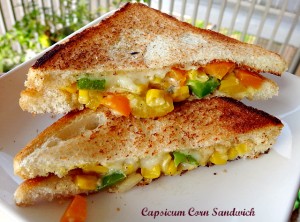 Ingredients-
6 brown bread, 2 teaspoon oil, 1/3 cup finely chopped tomato, 1 cup boiled sweet corn kernels, salt and pepper powder for taste, butter or ghee for toasting, 1/2 cup finely chopped onion, 1/2 cup capsicum, 1 teaspoon chili powder, 1/2 teaspoon tomato sauce.
Recipe- In a pan, heat oil and then add finely chopped onions and sauce until onions turn transparent. Then add tomatoes and cook for another 5 minutes. Add chopped capsicum, chili powder, cooked corn, salt, pepper powder and cook covered. Capsicum should retain its crunchiness, so see to it that you do not overcook it. Allow it to cool. Now apply butter on both sides of the bread, place 1-2 teaspoon of this corn filling and close it with another buttered bread. Toast it in a tawa until golden brown. Cut the bread diagonally and serve hot. Repeat the given procedure for the rest of the bread slices. Your sandwich is ready to taste now.