There are hardly any people in the world who can possibly say no to a chocolate cake, and if this holiday season you want to learn baking, then this is the cake you should begin with. Chocolate cake is something that nobody can resist, and therefore, it is the safest and tastiest choice of cake to bake for functions, birthday parties weddings and anniversaries. And this is the reason why chocolate cake is the most easily available and standard cake in every patisserie.
Due to the endless variety of chocolates available in the market, you can have endless varieties of cakes and icings. It is flavored with melted chocolate or cocoa powder; and the sponginess is given by baking soda and eggs. Now comes the problem – if you are a vegetarian, you must be having a hard time finding eggless chocolate cakes everywhere, even though they are now commonly available. And for people who bake cakes at their home, not adding eggs would be an issue to worry about, as they are afraid they might not get the desired sponginess and bounce to the cake. Well, here is an eggless chocolate cake recipe, that will not only be as spongy as normal cakes, but also give a fudgy texture so that you can add it in puddings as well.
Eggless chocolate cake
Ingredients :
for cake

–
All purpose flour – 1 cup
Baking powder – 1/2 tsp
unsweetened cocoa powder – 6 tsp
granulated sugar – 3/4 cup
 Baking soda – 1 tsp
Vegetable oil – 1/2 cup
Hot coffee – 1/2 cup (1 tsp coffee in 1/4 cup hot water)
yogurt – 1/4 cup
milk – 1/4 cup
vanilla essence – 1 tsp
for chocolate icing-
cocoa powder – 1/3 cup
unsalted butter – 100 gms.
icing sugar – 2 to 2.5 cups
hot water – 2 to 3 tsp
vanilla essence – 1 tsp
this recipe, if followed accurately, takes a total time of 30 minutes (5 minutes preparation time + 25 minutes cooking time) and the cake serves 6-7 people.
Method:
Preheat oven to 180 degrees Celsius, 10 minutes before baking.
Lightly grease the cake tin and line it with parchment/ tracing paper.
In a large bowl, add all purpose flour, baking soda, baking powder, cocoa powder and sugar. Sift them together.
When they are mixed well with each other, add all the wet ingredients, that is, vegetable oil, hot coffee, milk, yogurt and vanilla essence, one by one.
mix the ingredients lightly and pour the batter in an electric mixer ; and beat it at low speed for 2-3 minutes. Make sure that all the contents are properly mixed, and give the batter a thick consistency. Do not overbeat it.
Pour the batter in a cake tin that is greased and lined with parchment paper. If you see any air bubbles, tap the pan a couple of times to remove them and to spread the batter evenly.
Bake for about 30 minutes. Check the cake with toothpick. If the cake is ready, the toothpick that is inserted in the middle of cake will come out clean.
Once out of the oven, transfer the cake tin to a wiring rack to cool. After about an hour, take the cake out of the pan, and let it cool properly by keeping it in the fridge for 15-20 minutes.
For icing –
Combine the unsalted softened butter and cocoa powder with a wooden spoon and whisk it.
Add a little amount of hot water and mix well.
Add 1 cup of icing sugar and vanilla essence and mix all the ingredients well.
If required, add one more tablespoon of water and another cup of icing sugar, and do a taste test to make sure it is sweet enough.
You can also add some Hershey's chocolate syrup to give an additional flavor to the icing mixture.
After the mixture is prepared, check the consistency, it should not be too thin, otherwise, it can flow down the cake.
Place 1-2 mm thin layer of icing on the cake.
You can also decorate the cake with chocolate shavings, gems (for kid's at a birthday party) or chocolate flowers or candies by using a spatula or parchment cones to look smooth.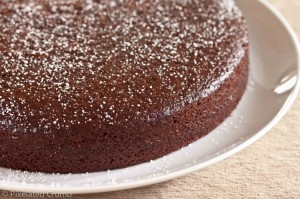 Quick Tips:
Vegetable oil that is used should be preferably sunflower oil.
Low fat milk and low fat yogurt is advisable for health conscious people.
Hot milk can also be used instead of hot water for making the icing mixture.
After decorating the cake with icing and frosting, keep the cake in the fridge for some time for the icing to set on the cake. Serve it chilled.
Preheat the oven at least 10 minutes before you put the  cake batter inside.
Whisk the dry ingredients properly before you add the wet ingredients.
Before decorating the cake, keep it in the fridge for some time, for the icing to set on the cake.