Seafood- now that is something a lot of people have a number of opinions on. Some like shell-fish, some don't. Some are allergic to prawns and then there are some who are awkward and grossed out at the idea of eating an octopus. If you can be daring to test a variety of tastes for the sake of enjoying a gastronomical delight, seafood is not a bad option. Technically it includes every type of sea-life which can be cooked or eaten as food according to us, homo-sapiens.
It all first started in Israel a long time back. Basically it was one of the first few methods human beings used to cook and consume food. I am talking of something later than the Neanderthals. The ancient river Nile was full of fish and the ancient Egyptians, as described in tomb scenes, learned ways by which they could capture various wild seafood varieties. In the Greek islands, during the period of the Ancient Greek Civilizations and on the coast, fresh fish and seafood (squid, octopus, and shellfish) were common. In medieval times, seafood was less prestigious than other animal meats, and often seen as merely an alternative to meat on fast days. Still, seafood was the mainstay of many coastal populations. People were too obsessed with the Meat, you see. However, in today's day and age, in the modern era seafood is a type of cuisine spread all over the world and attracting millions of foodies, like me.
I am a student from Jadavpur University in Kolkata. My friends decided to surprise me by giving a special treat at a new sea-food joint in the city. It seemed like a normal day at college, doing classes and complaining about the weather. It seems like such a British thing to do, "Oh, the Heat!!", but who can criticize, we are all English majors. All of a sudden, I was whisked away on a bus to a part of the city named Sarat Bose Road. It is considered one of the primal hubs for cheap and student-friendly restaurants in town. It owns most of the better places near the vicinity of the University and we are frequent visitors. The place, named 'Ecstasea' (not the drug, got the pun?), is a very small place which boasts of the best sea-food in town. The place looks like a cupboard that you might have to enter into, to find you coat. It has orange walls and boasts of no major visual pleasure. However, the pleasure is derived entirely from something else and that is the main attraction. I am talking obviously about the scrumptious sea-food served there.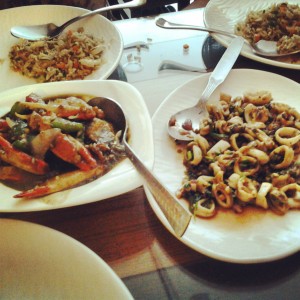 We were having a bit of a late lunch and were super-hungry. It started with fish momos and stir-fried prawn. That was the starter. The momos are basically dim-sums of a smaller variety made especially and popular especially in Bengal. It originated in the hilly areas and have now become especially popular as a snack or starter. The filling of a momo traditionally is pork, but today you can fill it with any kind of meat. I like pork moms a lot, but the fish that this restaurant stuffed into these moms were scrumptious as well. They were marinated fish which had been cooked for quite a while and hence, had a particular sea-food flavor. The prawns were simple, freshly sautéed and stir-fried. It looked great in those white porcelain plates and I don't need to elaborate on the taste anymore or I'll get repetitive. There is just so many ways to describe goodness.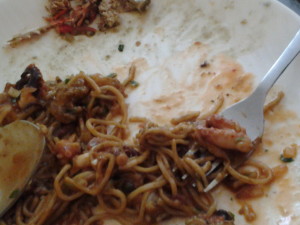 The main was course was special. We went there late and emancipated and hence it took us all of 2 minutes to order almost everything on the menu. We ordered Squid in garlic sauce, crab in teriyaki sauce and octopus, the dread and highlight, in schezwan sauce. The menu there is simple, without a huge fanfare but also quite easy to decide from. First came the asparagus and chicken stir-fried rice, which we had ordered. It came with the crab. My friend, Ranita had not crab many times before and could not find a way to chew it hard enough that she could only get the meat. Me, being the exceptionally voracious eater that I am just chewed the legs so much that only the meat was inside my mouth and the shell was the powdered, dusted remainder. I advise anyone in my position to do the same. The squid is much easier to eat and has a spicy, eggplant flavor. It tastes good with some chicken and even on its own. The last thing, the thing I would taste the first time was the Octopus. It was AWESOME! It was in schezwan sauce, which on its own is a marvel in its tangy and spicy feel. I would like to put a disclaimer and say that, you should not imagine huge tentacles and slimy heads on a plate here. The Octopus is finely chopped and heavily cooked. It has a rubbery feel in the mouth and tastes quite similar to lamb. However, it tastes a bit like Shrimp as well. It ate it with the Stir-fried noodles and it really was great. I liked it the best of the lot among the already unique items. The thing is, you didn't get a lot of sea-food unless you paid a hell of a lot in Kolkata. But in these last few years, amazing new joints have opened up at great rates which enable us students who live on pocket money and odd jobs to sustain ourselves and also enjoy the perks of living in a big city.