Quite literally I mean it, a place of wonders, a place where the three oceans meet, the southern tip of the Indian subcontinent, where the Arabian sea, the Bay of Bengal, and the Indian Ocean converge.  a perfect place to make all the tables turns. It's a place with all the mysteries of nature, the insane quality of sea breeze,  torture of sea splattering the rocks, the fisherman making his living, and lots and lots more.
Welcome to a place where the temples are pampered for its beauty and palpable masonry on them. I would just like to tell the first reaction on reaching there, and to a place to perfect living destination. A picture perfect memories are to be made there. There are many memories that kind of cheers you up even when you think about it, there is a natural smile that lifts you up, you feel a bit nostalgic when you think of some memories. That is exactly how I feel whenever I go down to my hometown Kanyakumari because it is the only place after the tight schedules and hefty work where the blissful atmosphere kisses you and says, just relax kid! From the green lands and atmosphere to its food culture, every perfect corner is filled with its own history and story.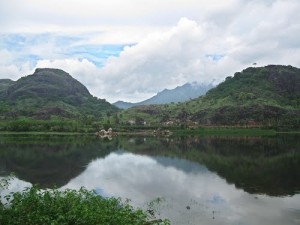 The name itself suggests a story on its own. Kanyakumari, as the folklore goes, that Devi Kanya an incarnation of Parvati was to marry Lord Shiva, which didn't happen hence, the name Kanya Kumari is dedicated to this place. According to the legend, Banasura a demon, was leading chaos among Devas and the gods went to Lord Vishnu for help, who told them that only Parashakti can help them to demolish the demon. Where while both the Lord Shiva and Devi fell in love and decided to marry at the auspicious time at midnight. But distressed that this marriage will not get defeat of Banasura, as it was pre-ordinated he can only be killed by a virgin, Narada muni turns to a cock and crowed and hence, signaling the breaking of dawn. By hearing this, Lord Shiva thinks that the auspicious hour has passed so he returns all the way back without marrying. This enraged Devi Kanya and she vows to never marry anyone. Banasura then heard about the goddess of immense beauty and wanted to marry her and went to ask for her hand, when she refused, he uses force which enrages the goddess who then kills him. That quite a story, right?
You'll know when you've reached Kanyakumari, with its mere smell of the wind which is pleasurably sweet filled with the coconut essence and banana greens. You know you've reached this paradise when the greenery begins to engross you. Well, starting with the sea itself, it's one of a kind to impress you unintentionally with its beauty. A spellbound place to be as the scene it gives during the sunset and sunrise, it feels like that the sun is just waiting in front of you to flaunt its flawlessness. Situated at a walk distance is a temple, Kanyakumari Bhagavathi amman temple which is dedicated to the goddess Parvathi as a virgin. The sculptures, the intricate artwork inside the temple is very beautiful, no words can describe it especially when you go there surrounded by people praying, there comes a sense of happiness just within yourself.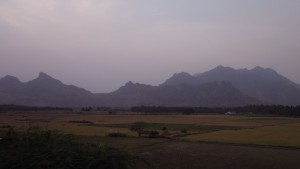 If that inner peace is not enough, visiting Vivekananda Rock might cheer you up. A very peaceful place to be in. Even the journey in the boat to the Vivekananda memorial is pleasant. Sitting on boat being hit by the moving waves gives you a pleasant solitude and moving merrily with the syncing waves. Sweet salty smell of the sea and after few minutes of journey there you enter the Vivekananda rock. It is said, that rock is the place where Vivekananda got enlightenment. The main entrance is the Vivekananda mandapam, and adjoining this main hall is the Dhayana mandapam where people  sit and meditate. This place is very quiet and calm and people sit there serenely to self introspect, a very hushed ambience surrounded. A very sound scene that I notices while hanging there were few crabs there sunbathing on the edge of the rock, this might not be significant but definitely my first experience of watching live crabs ever.  Next thing you'll notice is the Thiruvalluvar memorial, quite recently built standing proudly next to the Vivekananda rock. Thiruvalluvar was the very famous poet and philosopher of Tamil Nadu. One of his most famous and revered work is 'Thirukkural'. Thirukkural is nothing but elegantly written book on a virtue of a man, how to lead an honorable and worthy life and ethics as being born a human being. It is a very respectable form of poetry and almost every individual in Tamil Nadu knows about it, it is even taught in schools to inculcate discipline in life and to give right directions.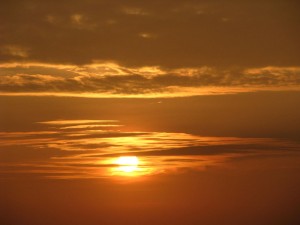 The place in itself endorses the charm. While travelling there, I personally prefer local transports you can find hanging around there numerous small water bodies, ponds, etc with the coconut trees dancing around them. I mean it, literally, with just a small breeze the trees dance as if moving and singing along in trance. The best view are the ponds with lotuses of all types, big and small, just sticking out playfully bragging its prettiness. The place Kanyakumari comes geographically under the parts of Western Ghats which gives us with the mountains. Even when you travel in train you could actually see mountains in these parts touching the clouds. There's a place Maruthuva Malai (Malai in Tamil is a mountain) known for the medicinal herbs found in this region, is a splendid place. As the legend goes that when Lord Hanuman was taking Sanjeevani mountain with him to Sri Lanka to cure Lakhshman, a part of it fell here and like I said, various therapeutic herbs are found in this mountain.
Now, that's long said about the place, the most important thing that is hidden in every beaches, every sea, every coast in heaven are fishes. The most tasty, delicious sea food that you can get. Fish curry of south India is one of the famous dishes found there. Mixed with coconut, tamarind and my relatives living there knows what more. Talking about tamarind, yeah there are many tamarind trees in my backyard, well apart from that, banana trees fill up most of the area and the most delicious of its kind, the red bananas. They are little stout red in colour with great heath benefits. Variety of tress can be seen grown around people's backyards which may include many full grown teak trees, rubber trees, jackfruit, seasonal mango, obviously coconut, and much more I couldn't remember right now. Local snacks are very delicious at this point, where you can get banana chips and jackfruit chips at any local store. One more local thing I would love to share is the sweet syrup like thing you get from Palm trees which is damn sweet and truly yum, well not many today's generation  have tasted it.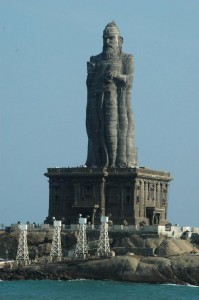 Apart from those snacks, actually there are many jackfruit trees that are found there and if you somewhere get time, just take time to take the sweet fruit. That is nastiest beauty you'll ever have. Ever try the pleasant coconut rice, it is worth tasting and maybe someday I'll give you the recipe too to try it. The taste of fresh coconut in the rice, lord knows what is heaven! Apart from every common dish that almost everyone knows, idli, sambhar, dosa, there are cooking of iddiappam, puttu, appam which is no doubt made of rice, served with coconut chutney or any other curry like one of the famous potato curry again made with coconut. Yes coconut, the favorite comrade of almost every dish. Actually there's a lot more to talk about, I can go ages and ages spending on describing this dreamland but yeah maybe some other time, and keep travelling.