Misty morning fog , delightfully low temperature & hot cups of tea or coffee reminds me of my favourite season Winters. The best part of winters is that laziness is justified . As winters have arrived its time for some awesome food and gossip sessions with friends . I still remember during my childhood we use to have varieties of dishes made by my mum and we use to desperately wait for meal times so that we could relish those mouth watering dishes. Winters are meant for foodies like me and trust me few non-
foodies too show their interest to grab some crunch to their palette.Variety of veggies and fruits also brings in the the opportunity for us to cook umpteen number of dishes and impress our loved ones. The appetite increases with great food and variety in food . winter is the season of bell peppers , carrots , cauliflowers , radish , spinach and many more nutrient full vegetables. Variety in fruits is also not less and true happiness lies in blending these natures delights in mouth watering recipes and bring in joyful of bowl to the dining table and watch everyone silently eating with smiles on their faces. Its truly a bliss for someone to loves cooking and tries to happy their family and friends with
awesome relishes. Happy and satisfied faces on dining table makes them feel on cloud 9.Variety in vegetables and fruits bring in variety for your meals. Its simpler to try different stuffs when ingredients are easily available and cheaper in rate. Among those few blissful vegetables and fruits my pick would be Spinach . Immensely rich in vitamins , minerals , Iron . Great in texture, colour , and taste. A large variety of dishes can be prepared which are very basic and simple to cook yet so delicious and nutritious. It can be blended with rice , flours, curries, fries, yoghurt, salads & soups. It is a highly recommended natural food resource by the physicians and very helpful for anaemic patients. Best thing about spinach is you can just purée it and prepare numerable dishes out of that purée . Few relishes are not only healthy but very appetising.
Today I am sharing a whole lot of such relishes with you guys that you have may be eaten several times but didn't try . The recipes are very simple and less elaborate which you would easily be able to follow and make . So grab your apron and rush to your kitchen with this bundle of delight named Spinach .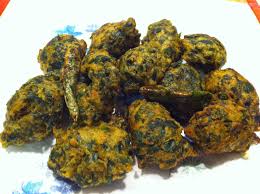 Palak Pakora :
Ingredients : 2 cups finely chopped Spinach , 1 cup gram flour (besan), 1 teaspoon carom seeds, 1 teaspoon Asafoetida, 1 teaspoon red chilly powder, 2 large green chilly chopped, 1 teaspoon turmeric powder, 1/2 tablespoon coriander chopped, water as required for batter, Oil for deep frying.
Servings : 4 (One overfilled platter of delight )
Method : Mix all the ingredients with water to get thick flowing consistency. Leave it for 30
minutes.With the help of a large spoon drop small drops into the heated oil of the drying pan and fry till golden brown . Do not fry in high flame else it will remain uncooked in the centre. Fry in medium or slow flame. Once golden brown Pakoras are ready serve them hot with your favourite dip and hot coffee or tea.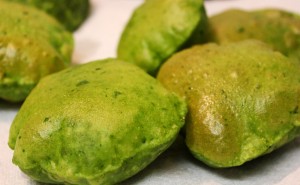 Palak Puri :
Ingredients : 2 cups of whole wheat flour , 1/2 a bundle of spinach roughly cut de-rooted and washed,1 teaspoon oil for moistening of the dough , 1 teaspoon red chilly powder, 1 teaspoon Asafoetida, 1 teaspoon carom seeds, salt to taste, 1 teaspoon of green chilly paste. Water if required for dough, Oil for deep frying.
Servings : 2 to 3
Method : Firstly take a pan and boil water into it. Put the washed spinach leaves into the boiling water and boil till the stem of the leaves are tender. Immediately put the boiled spinach in icy cold water so that overheating does not soil the colour of spinach. Once the spinach cools down blend it in form of thick puree. Now Mix all the ingredients into a fine and soft dough . Try using less water to make a dough as puree itself has a lot of moisture to bind the flour and spices.Keep the dough for 30 minutes and then make small rounds of it with the help of rolling pin . deep fry it till it pops out of the oil and once ready serve hot with any curry or chutney.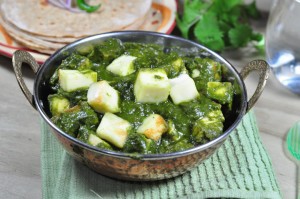 Palak Paneer :
Ingredients : 2 cups of palak puree (prepare it as per the recipe given above for the puree), 200 g of paneer cubes (cottage cheese), 1 cup tomato puree, 1 tablespoon garlic paste, 1 teaspoon cloves, 1 teaspoon black pepper corns, 1 cinnamon stick , 1 teaspoon garam masala powder, 1 teaspoon red chilly powder, Salt to taste, 1 tablespoon ghee.
Servings : 4
Method : Take a deep pan and add ghee , cloves, black pepper corns, cinnamon stick and fry it till it stops spluttering. Now add Garlic paste and stir it for a minute. Stir in Tomato purée cook it for another 4 to 5 minutes until it separates oil . Now add dry spices red chilly powder, salt and garam masala powder in it and sauté it for a minute . Add Spinach purée and cook it for 2 minutes until a boil and immediately add paneer cubes and close the flame . Just gently mix the paneer cubes in it and cover the lid of the pan . Keep it this way for another 5 minutes (without flame ). Serve Hot with any assorted breads or Jeera rice .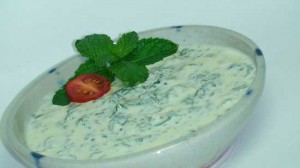 Palak ka  Raita :
Ingredients : 1 cup finely thinly chopped spinach leaves, 1 cup curd, 1 teaspoon salt, 1 teaspoon roasted cumin crushed into powder, I teaspoon roasted sesame seeds, I teaspoon red chilly powder, I teaspoon Cumin seeds, 1 whole dry red chilly, 1/2 tablespoon oil.
Servings : 2 to 3
Method : Take a pan and heat oil in it. Add cumin seeds and whole dry red red chilly. stir till it stops spluttering, Then add spinach , red chilly powder and salt to it. Sauté for a minute and switch of the flame. Add this tadka to the bowl of curd and add roasted cumin powder and roasted sesame seeds into it. Mix it well and serve as a side dish with any. meal.