Eid-ul-Fitr is the religious festival of Muslims that marks the end of the holy month of Ramadan during which they fast for 29 or 30 days from dawn to sunset. It is celebrated with great zest around the world and the greeting of "Eid Mubarak" ("Blessed Eid") is exchanged between the merry-makers. According to some traditions, it is believed to have been initiated in Madinah after the migration of Muhammad from Mecca.
Eid-ul-Fitr is known for the variety of delicacies prepared especially sweets earning it the name of "sweet Eid". Depending on the region, the types and forms of the cuisine vary but always include sweet dishes. While local sweets such as Gulaab Jamun, Ras Malai etc have been promptly absorbed in the Eid cuisine in South Asia, Baklava and other types of pastry type sweets are eaten in Turkey. After a month of continuous fast, we believe people have earned this. So let us have a look at some of the wonderful desserts that are prepared in this amazing festival.
1. SHEER KORMA 
Sheer Korma is a popular vermicelli (saviyaan) dish which is almost synonymous with Eid-ul-Fitr in India and Pakistan. It is served during the Eid morning after the prayer and then to the guests who arrive throughout the day.  Sheer is Persian for milk and Khurma is Persian for dates. It is simple and easy to prepare.
Ingredients
1 Packet vermicelli
500 ml Milk
1 cup sugar
1 tbsp butter
½ tsp flavoring agent like vanilla or rose water
½ cup raisins
20 whole cardamom pods
½ tsp cardamom powder
1 cup dry fruits like almond, cashews and pistachios
½ cup fresh cream
½ tsp saffron strands
Dates cut in small pieces
Method of preparation
1. Melt butter in a pan and fry vermicelli in it till it turns beautiful brown. Make sure that you keep the heat low so that the vermicelli is not burnt. Once ready, the vermicelli will absorb all the butter. Alternatively, fried vermicelli is also available in the market.
2. Mix ¼ cup sugar in it and then slowly add milk to it while constantly stirring the assembly. Increase the heat to bring the milk to boil.
3. Now add the raisins, dry fruits, dates, cardamom pods and the remaining sugar and mix everything properly.
4. Let the milk boil until it is reduced to half its original volume. Reduce the heat and thicken the korma to three-strand consistency.
5. Quickly add your favorite flavoring agent and fresh cream. Cover it and let it simmer for 10 minutes.
6. Garnish with saffron strands, and cardamom powder and serve it to the delight of friends, family and guests.
2. BADAM PHIRNI
Phirni is a very popular Indian dessert that is prepared on a variety of occasions including Eid, Diwali etc. There are more than a few versions of Phirni varieties available, for example, Gur aur Badam ki phirni (Jaggery and Almond Phirni), Sugar Badam Phirni etc. Here we will discuss the phirni that uses Sugar.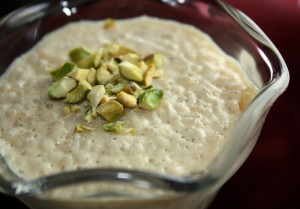 Ingredients
3 cups Milk
¼ cup Rice
2 tbsp Sugar
1/4th Cup Blanched Almonds (sliced)
½  tsp Green Cardamom (crushed)
1/2 tsp rose water
Method of preparation
1. Soak the rice in water few hours before the commencement of preparation. Grind the drained rice into a smooth paste and add a little boiled milk to it.
2. Boil milk in a non-stick saucepan and bring it to boil. After boiling for a few minutes, reduce the heat to simmer.
3. Increase the heat to moderate and add cardamom, sugar and rice paste to it while stirring constantly.  Allow it to thicken.
4. Remove heat and add almonds.
5. Put it in serving bowls and let it cool. Refrigerate it for some time and then serve.
3. SUFI MALPUA
The delectable Sufi Malpua is somewhat irresistible and that explains it popularity among the Muslim community around the world. It is not only served on the occasion of Eid but also throughout the holy month for iftar (meal to break the fast).  It is easy to prepare and requires but few ingredients.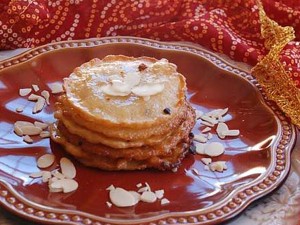 Ingredients
1 liter Milk
1/4 cup Maida
1/4 cup Suji
Ghee
Water
Method of preparation
1. Boil the milk till it reduces to half its original volume.
2. Roast the suji on a pan on low heat till it turns brown. Take special care so that it does not burn and turn black.
3. Add the roasted suji and maida to the milk while constantly stirring the mixture. Make sure that no lumps are formed and assembly is of smooth pouring consistency. Pour this batter in a big round bowl.
4. Boil water in a separate saucepan and bring it to boil. Add sugar to the boiling water and let it brew till it transforms into syrup of 1 thread consistency.
5. Heat ghee in a pan and pour the batter in it in the form of small pan cakes. Let it cook for a few seconds and then turn it over. Make sure that the Malpuas retain their fluffiness and softness and not turn too hard or crisp.
6. Dip the Malpuas in the sugar syrup and leave them in it for few minutes so that they absorb the syrup completely. Finally take them out of the syrup and serve!!