My college is situated at this awesome place. Remember, I told you about all the lip-smacking biriyani food joints near my college? Well, Park Circus also has its neat share of 'misti r dokan', i.e., sweet shops.
To name a few – Jugols' , Mithai and a tiny sweet shop near Mahadevi Birla Girl's School which serves soft hot white rasgullas that melt in the mouth. I remember walking to Jugols' in the sultry heat in my first year (back then I was a regular customer) of college just to satisfy my taste buds.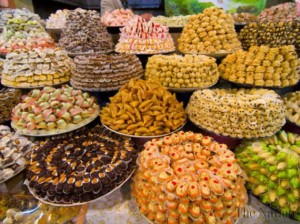 Kolkata or Calcutta, as I still prefer to call it, is home to century old sweet shops. The ownerships may have changed hands but the love of sweets of the customers never ceased (and might I add, it never will).
Putiram's 'Rosomadhuri ', Mithai's 'Misti Doi', Ganguram's 'Chomchom ', Balaram Mullick and Radharam Mullik's 'Mango Chanar Brulee ', Bancharam's 'Raj Bhog', Bhim Chandra Nag's 'Pranhara', are by far the popular choices of the 'misti-loving' denizens.
How to make your own sweets and woo your loved ones?
Plain and simple – follow these super easy recipes and you will be good to go.
Malai Chomchom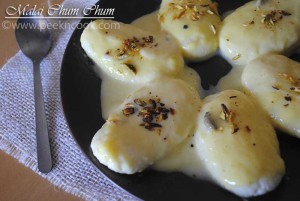 Ingredients: 1 cheese cloth
For channa – ½ gallon whole milk, 1 large fresh lemon squeezed and filtered to make juice (use more if lemons are small size)
For syrup- 5 cups drinking water,2 cups sugar
For malai – ½ gallon whole milk, 1 tsp cardamom powder
For garnish- Sliced pistachios
Directions: Heat ½ gallon of whole milk in a heavy bottomed non­stick container in medium high heat. Stir occasionally to make sure milk does not burn at bottom or spill. When milk starts to boil put lemon juice (freshly squeezed) slowly into the boiling milk with constant gentle stirring. As milk starts to cuddle and gets separated from the whey (greenish transparent water) in about 2-­3 minutes remove the vessel from heat and pour it in a cheese cloth spread over a strainer. Note: if the whey is not transparent then add a little more lemon juice and stir gently until whey is clear and transparent. Wash the chhana under cold water nicely to remove lemon flavor. As the chhana cools down bring the edges of the cloth up and tie it together. Squeeze out as much water as possible. In order to dry the chhana  even further hang this chhana in cloth above the sink or keep a plate over it with some heavy object on top. Keep it this way for about 30 minutes. Then knead the dry chhana using the heel of your palm on a flat clean surface for about 7­-8 minutes until it becomes a soft smooth dough and your palm becomes oily. Divide the dough into 12-­14 equal parts. Take each part and roll it with both palms gently to make a smooth ball and then roll one way to give it a cylindrical shape – and voila a chomchom! Likewise do all the chom-choms. Place all the rolls on a plate and cover them with a damp cloth on top or with another plate so that they don't dry out.
For the syrup, take 5 cups of water and boil it in a wide vessel. Add 2 cups of sugar to it when water starts boiling. Wait until sugar dissolves completely. Add about 7­-8 chom­choms one by one into the boiling water. Don't put too many at the same time as the chom-choms need room to expand. Keep the heat in medium high and cover the vessel tightly. Let it cook for 25 minutes. Do not open the lid in between. After 25 minutes switch off the heat and let it cool (covered) for another 10­-15 minutes. Repeat the steps to make next batch of chom-choms. For preparing the Malai, boil ½ gallon of whole milk in medium flame, stirring occasionally to prevent it from getting burnt at the bottom, until it thickens and becomes creamy. This will take some 20­-30 mins. Add cardamom powder to it and mix well. Switch off the heat. Take the chom­-choms out of the syrup and drop them into the warm malai one at a time. Kepp them in the syrup for 20 minutes. Take out the malai wrapped chom­-choms carefully and lay them into a plate. Garnish with pistachio.
Pranhara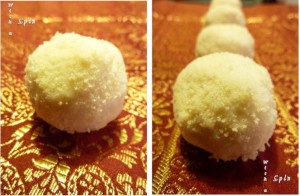 Ingredients: 4 Cups whole milk, 4 tablespoons white vinegar or strained lemon juice, ½ Cup sugar, 1 Cup dry powdered milk, 3-4 tablespoons butter, 3-4 drops of rose water
Directions: Line a colander or sieve with a large piece of cheesecloth that has been folded 3-4 times. Place the lined colander or sieve over a large bowl or sink. Boil milk in a large thick-bottomed saucepan over medium high heat. Stir occasionally, scraping the pan bottom, to avoid scorching. Mix vinegar with 4 tablespoon of water and add to boiling milk. Look out for curd-mass to separate from greenish water. As curds rise and come to the surface stop the stove. Run a spatula along the bottom of the pan occasionally to free up any stuck curds. Gently begin to ladle curds into the prepared sieve or colander. Wrap the cloth around the cheese and rinse under a running water without pressing the cheese. Gather the edges of the cloth, tie or fasten into a knot and allow to cool and drain for 2 hour minimum.
Heat butter in a nonstick pan over medium low heat. Once butter melts, add the dry powdered milk. Stir constantly to form a coarse dust and until slightly golden and aromatic. Set aside. Knead the cheese on a clean surface with your heel of the hand by pressing it across the surface until smooth and fluffy and no trace of grains. Knead about 5-6 minutes. Collect all the cheese and divide them into two parts. Mix sugar and cheese dust(Set aside some for garnish) with one part cheese and cook in low heat stirring constantly, scrapping the pan bottom. Use a thick bottomed or non-stick pan. Cook until the mixture is very sticky and a mass pulls away from the bottom and sides of the pan. Remove from heat. Let cool. Mix the rose water, second portion of the cheese and knead till smooth. Divide into smaller bite size balls. Garnish with cheese dust.
Recipe Courtesy – withaspin.com, bengaligourmet.com
Image Courtesy – peekncook.com, withaspin.com, hungryangmo.com