Tamarind or scientifically better known by the name Tamarindus indica is an edible fruit, enclosed in a pod which is extensively used round the world in a large number of cuisines.
The reddish brown, curved seed pods of a lovely tree hold the several large seeds encased by moist, sticky, dark brown flesh that might range from a sweet to sour taste. Inside, the pod of the tamarind is a soft, brown coated pulp with large, black seeds. It is this pulp of tamarind, which has a high nutritional content. The pulp of the tamarind, is sour when young but as matures it sweetens in taste.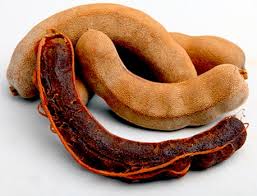 This fruit has a long history as a part of human cultivation, and thus is known by the various names which are unique in the terms that the name is different in various regions of the country. In Hindi, it is known as imli; in Rajasthani it is known as aamli. In Gujarati, it is known by the name amli; in Kannada it is called as hunase; Telugu chintachettu. In Ghana, it is known by the name of  dawadawa, in Zambia it is called as viwawasha .
Tamarind is a bushy tree, that grows in wild and is indigenous to tropical Africa. It is found in Africa, Cameroon, Oman and Taiwan. But, today India is the largest producer of tamarind, with a number of Indian cuisines having a tinge of tamarind. The taste of the tamarind is best described as a fruit with sweet and sour taste, with sugar, tartaric acids, vitamin B and calcium.
Tamarind has a wide range of use in a variety of cuisines, with the tamarind extract used to flavor a variety of snacks and meals. It is also used in a large number of desserts, juices and sweetened drinks, ice-creams and snacks. Tamarind is also used as a pickle or as a side dish, a multitude of chutneys and other regional cuisines.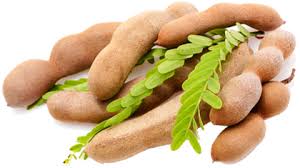 In China, tamarind is used for making of jam and chilled drinks. In Mexico, tamarind is used in candies, sauces and various sweet and salted snacks. It is also eaten raw with addition of salt and spices. In Asia, grated green tamarinds are mixed with salt and hot pepper and eaten as salads.
In Egypt, a sour and chilled drink is prepared from tamarind, which is known to improve the nutrition. In Somalia,  tamarind extract is added to rice to give it a sour taste. In Vietnam, tamarind is eaten fresh or eaten as a processed sweet, sour or spicy candy and is also used in the sour soup, called canh chua.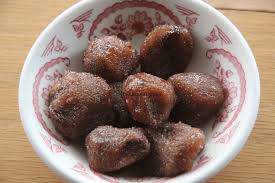 Here a few tamarind savory recipes, which would for sure make you have a watery mouth-
1. Tamarind Chutney-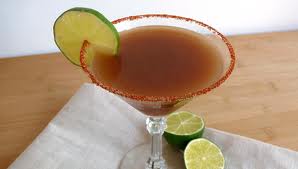 The tamarind chutney can be used as a dip, topping over the chaats or can even be accompanied with a bread spread.
A. 200 gm tamarind
B. 100 gm jaggery
C. 1 tsp garam masala
D. 1 tsp roasted cumin powder
E. 1/2 tsp black salt
F. 1 tsp dried ginger powder
G. 1 1/2 tsp red chili powder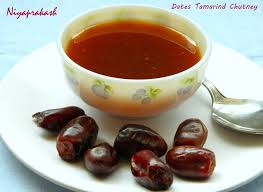 Add 2 cups water to tamarind, and bring it to boil for 10 minutes. strain it then with the soup strainer. Now add jaggery, red chili powder, black salt, garam masala, dried ginger powder and roasted cumin powder to it. Bring it back to flame for 10 minutes again, until the jaggery melts completely.
Make the chutney a little thin, because it thickens on cooling.
2. Tamarind Lollipop-
This recipe can be loved by children, as it is a bit salty, hot and sour. But it is best when served chilled.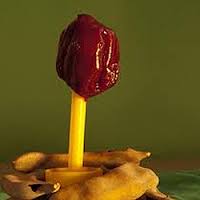 A. 1/2 cup tamarind pulp
B. salt to taste
C. 1 tbsp cumin seeds
D. 1 tsp chili powder
Take tamarind in a cup, mix chili powder, salt and cumin seeds. Make it like a soft mixture and roll it into small balls. Now, insert toothpicks into it. The tamarind lollipops are ready.
Tastes best when it is served chilled.
3. Trini Tamarind Wings-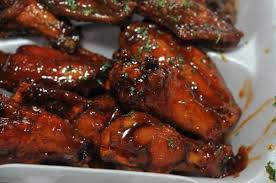 For the tamarind sauce
A. 2 cups tamarind pulp
B. 1 cup water
C. 1 cup sugar
D. 3 tbsp salt
E. 3 tbsp pureed garlic
F. 1 tsp ground cumin
G. 1 1/2 tsp garam masala
H. Red pepper flakes
I. 1/3 cup fresh cilantro leaves, chopped
For Lava Sauce
J. 2 tbsp paprika
K. 1 clove garlic
L. 1/4 cup olive oil
M. 1/2 cup mayonnaise
Wings Marinade
N. 4 pounds chicken wings
O. 1/2 cupped chopped scallions
P. 1/2 cup vinegar
Q. 1/3 cup fresh thyme leaves
R. vegetable oil for frying
For the marinade: puree all the ingredients, except the chicken wings in a food processor. Now add to the chicken wings and marinate for 24 hours.
For the tamarind sauce: mix all the ingredients into a medium thick sauce and refrigerate for a day for all the flavors to meld.
For the lava sauce: In a small pot, heat the olive oil and saute the garlic until golden, remove and cool. Add other ingredients, combine completely and refrigerate.
Pre-heat the oil to 350 F, and add the chicken wings to the oil and deep fry for 15 minutes until crispy. Remove from the oil and drain. Transfer the wings to the hot douse with the trini tamarind sauce. Saute the wings for a minute in the sauce, remove and serve with the lava sauce and the veggies of your choice at the side.
Enjoy this extra punch of goodness.