The monsoon has arrived and its time for tea!.Who doesn't like a cup of tea in this weather be it what time.Okay,now that we speak of tea here do we even know how the tea was introduced?It is said that a jaded Chinese emperor was sitting under a tree with a bowl of hot water,when a leaf of wanton tree fell in it.It is assumed that it happened 2,737 years even before Christ.It is not yet known how they started to consume it though,did they add milk?did they boil it?did they use any of the techniques we use today?.To make it convenient tea bags were introduced so that people can drink it easily.Did you know that the tea bags were introduced in 1908 in United States by Thomas Sullivan.Its is misconception that tea is only consumed hot,have you ever heard of iced tea?It was first invented in 1904 by an Englishman named Richard Blechynden.The story is that this man served a tea which wasn't selling because it turned out to be very hot so he instead used ice and the concept took on like a wild fire.
Now that the monsoon has started,everyone prefers having tea in this cold weather.You go out on a drive in rain with your friends and family and love to drink tea at a stall,the kettles and tha chai cups making a sound,all this has its different fun,nothing can beat it.Indians prefer having masala chai with pakodas.yummy!.Tea is just not for enjoyment but it is sometimes also used as medicine to cure few flues.Is the masala chai and cutting the only type of chai you can try?Get out of your comfort zone and try something else this time.Here are few famous teas mostly sipped in monsoon and you too can try this monsoon,hot as well as iced!
Paan Leaf Tea: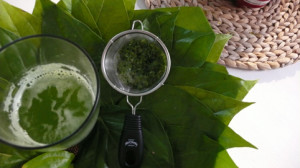 Ingredients:
One third of paan leaf
Pinch of fennel
One crushed clove
200ml water
Green tea
Procedure:
Boil leaf,fennel and crushed clove in 200 ml of water.
Brew 3 gm of green tea separately for around 3 min.
You have to keep an eye on it and make sure no bubbles are formed.
Add the concoction of the betel leaf into the the green tea.
serve hot!
Rose Tea: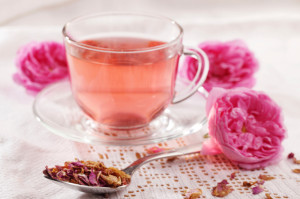 Ingredients:
 Dry rose petal
One finely chopped almond
Pinch of ground cinnamon
Flush Darjeeling tea
Rose water
Sugar
Procedure:
Take dry rose petals.You can dry these rose petals even at home by spreading them on a sheet and letting them dry under the sunlight but cover it with muslin cloth to retain its color and flavor.
Boil it for 2 min
Add around 4-7 rose petals with almonds and cinnamon.
After they are boiled bring it to the room temperature.
Now brew the 3 gm of flush Darjeeling tea for 3 min.
Once it is brewed add it to the rose concoction.
Later add rose water to it and add sugar for taste.
Tulsi Iced Tea: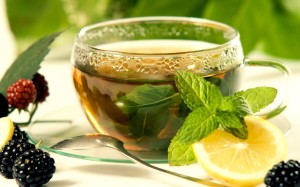 Ingredients:
Green tulsi leaves
2-3 Cloves
200 ml water
4 gm tea
Honey
Ice cubes
Clove powder
Procedure:
Chop around 10-12 tulsi leaves and crush cloves.
boil this in 200 ml of water.
After this add 4 gm of tea in the boiled tulsi water.
Cover it and let it sit for 4 min.
Later add honey and let it come to room temperature.
After this transfer it in to a shaker and add ice cubes to it and shake well.
You can garnish it with clove powder and tulsi leaves.
You can even have this tea hot,just stop the procedure at being it hot,when hot and consumed it is good for health especially when caught cold.
Beetroot Iced Tea: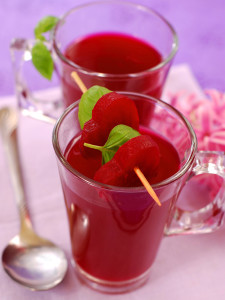 Ingredients:
Beetroot
Green chilli
Green coriander
Rock salt
Sugar
Lemon grass
Assam tea
Darjeeling tea
Ice cubes
Procedure:
Take a small beetroot and grate it.
Take half green chilli and deseed it and chop one tbsp green coriander.
Add 2 pinches rock salt,one tbsp sugar,one tbsp chopped lemon grass and boil all these ingredients together.
Meanwhile brew 3 gm of Assam tea and one gm of Darjeeling tea second flush tea for almost 2 min.
When the concoction is done mix them together.
After that bring the mixture to room temperature.
Take a shaker and add ice cubes to the mixture and you can even add chunks of beetroot if want.
Shake well and serve cold.
Passion Fruit Tea: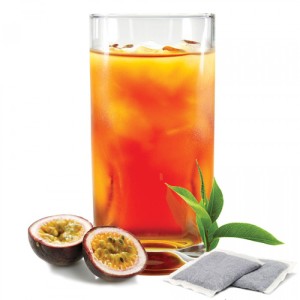 Ingredients:
Green cardamoms
sugar
Passion fruit
Darjeeling tea
Assam tea
Procedure:
Use the pulp of the passion fruit,for about one tbsp scoop of pulp.
Now crush around 3-4 whole green cardamoms.
You can add this with 1.5 tbsp of sugar,keep this mixture aside.
Boil water separately,now take it off from the gas and then add two gm of broken flush Darjeeling tea and two gm of long leaf Assam tea.
Let it brew for another two min.
When it is done you can add the mixture of the boiled water to the mixture of the passion fruit.
Mix it well,remember not to strain it as the seeds are good for digestion.