We live in a fast track world where things happen like… whoooosh. There are mornings when one doesn't have enough time to make a breakfast and there are nights when after a hard day's work no one has enough energy to stand in the kitchen and cook food for one more hour. In the age when Pizza comes under 30 minutes, who wants to wait for 1 hour for the food? So, here we are today with tips and tricks of Food meals that can be cooked in 10 minute or less.
Cereal Breakfast:-
This is the easiest thing that can be made in less than 10 minutes. Even you can get time to read your email and wash the dishes while you complete the 10 minutes of this dish.
Ingredients needed:-
1 cup low fat yogurt
1 tbsp honey
1/2 cup corn flakes
Sliced almonds to taste
Directions:-
Put 1 cup low-fat yogurt in the cereal bowl (we are using this instead of milk). Add 1 tbsp honey to it. Now put the ½ cup corn flakes and sliced almonds for the extra flavor if needed.
Egg Toast:-
Egg is simply the easiest food item for any meal. It hardly takes any time to cook and is always a great source of energy.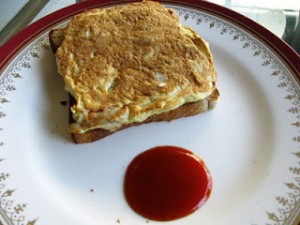 Ingredients Needed:-
2 Eggs
Salt (as required)
2 Bread slices
1 pinch Nutmeg
2 tbsp Butter
Direction:-
In a bowl whisk the eggs. Add together salt, other spices (if required) and a pinch of nutmeg. Put the bread on this mixture and let it absorb the mixture. Now turn the bread over and let the other side absorb.
On a pan, put 2 tbsp butter and let it heat for a minute. Now, put the well soaked bread on the butter and cook until golden brown and crispy on both sides. Repeat the same steps with other bread slice. Serve with tomato sauce.  Enjoy the food.
Fried Rice:-
You can prepare a delicious meal with last day's leftover rice without a fuss. Follow these steps.
Ingredients Needed:-
Cooked rice
½ cup finely cut Tomatoes
½ cup finely chopped Onions
Salt and spices as required
2 tbsp Oil or butter
Directions:-
Put 1 tbsp oil or butter in a pan and heat for 1 minute. Now add ½ cup onions to it and finely cook till it is golden brown in colour. Add tomatoes to it as soon as the onions change the colour. Add salt and other spices to taste. You can add a little Soy sauce too for the taste. Now let it cook and turn into a thick paste and in the mean time, in another pan put 1 tbsp oil or butter. When it is hot, Add cooked rice to it and let mix it well so that every grain of rice has a little oil over it.
Now, Put this rice in the paste and mix it well. Cook it for 4-5 minutes. Taste and add a little more soy sauce if needed.
Scrambled Eggs:-
The secret to cooking egg is that you can do anything with them. But in case you are not in mood to do anything, just break the eggs in the pan and get done with them.
Ingredients Needed:-
2 eggs
2 tbsp cream
A little salt
¼ cup finely chopped Onion
1 tbsp butter
Direction:-
Add eggs, cream, onion and a little salt to a bowl and whisk.
Put butter on a pan and let it heat for a minute. Now put the eggs mixture in the pan and cook on medium heat. Use a wide spatula to scrape the mixture off the pan and turn it over. Cook until it gets creamy and take it off the head.
Serve with toast if you wish.
Pasta:-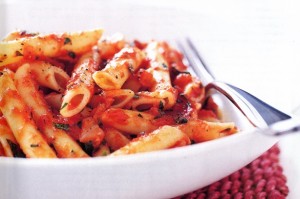 No doubt, it is the undisputed master of 10 minutes club. It is tasty, least fussy and also classy serve to show off.
Ingredients Needed:-
350 gm pasta
½ onion finely chopped
3-4 tomatoes finely chopped
1 tbsp oregano
1 tbsp red pesto
2 tbsp vinegar
Directions:-
Cook pasta according to instructions in the pack.
In another pan, put 1 tbsp butter and heat the onion and tomatoes. Now, put all the ingredients including onion and tomatoes to a mixer and mix them well into a paste.
Tip the paste into the pan again and bring to boil. Reduce the heat and cook for 5 minutes. Drain the pasta, put into this gravy mix it well and serve.
It isn't over yet. As the food is incomplete without dessert, here is the recipe of a dessert as a bonus that can be cooked in less than 10 minutes too.
Instant Chocolate Cake:-
This is the easiest and tastiest chocolate cake that can be cooked in such less time.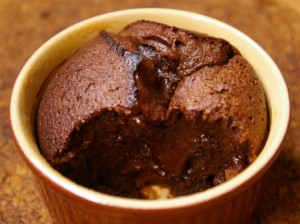 Ingredients Needed
½ Cup Flour
¼ cup Sugar
4 tbsp Cocoa Powder
Egg
¼ cup Milk
4 tbsp Vegetable Oil
3 tbsp Vanilla Cream
Pinch of Salt
Direction:-
Beat flour, sugar, cocoa powder and egg in a bowl. Add milk and vanilla cream when it is made into a thick paste. Now add the vegetable extract and a little salt. Keep mixing it till it is made into a smooth mixture. Put the mixture into the microwave until it is smooth and puffed. It will take 2-3 minutes. Take the dish out and enjoy.
Now, what are you waiting for? Go, make the dishes in 10 minutes or less and enjoy life without any compromise with taste due to time constrain.