Sometimes, in our lives, we meet people who leave a lasting impression on us. These people are nice, understanding and everything that you would hope a person to be. And no matter how bad things get, these people will always be there with us to make things better. And in case you don't meet any such people in your lives, don't worry, Nutella does just the same. Nutella, the glorious, drool-worthy creation by man is basically happiness that is stored in an air-tight jar.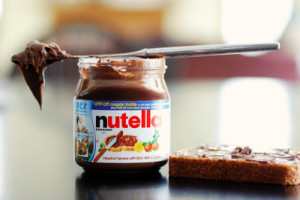 Nutella is the brand name of a chocolate-hazelnut spread but the spread has become so famous in the world today that it is better known as Nutella itself. Introduced in 1964, it is manufactured by the Italian company Ferrero. Oietro Ferrero initially made a 300 kg block of a hazelnut cream in 1951, and with time, made it more creamy and called it supercrema. He started sending it across Europe as 'Nutella' and it became an instant success with people in all the countries alike. Nutella is famous with people of all ages because it tastes like goodness of creamy chocolate with a hint of hazelnut. It is one of the thing which can be eaten all by itself or by pairing it or by putting in other dishes. I am very sure I am not the only one who has licked a jar of Nutella clean because there was nothing else for dessert. World Nutella Day is celebrated on 5th of February. It is definitely a multi-faceted dessert and we will show you 3 easy recipes to try out with Nutella.
1. Nutella French Toast with Strawberries.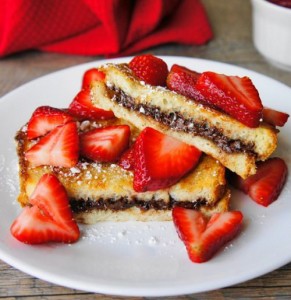 French toast, good. Strawberries, good. Nutella, good – what's not to like with this recipe? It is an extremely simple dish for breakfast which doesn't even really need a lot of ingredients. So here is what all you will need –
1 cup sliced strawberries
2 teaspoons sugar
4 slices of bread
About 1/2 cup Nutella
1 large egg
3/4 cup milk
2 tablespoons melted butter
1 teaspoon vanilla
1/4 teaspoon salt
butter (for the pan)
Powdered sugar for serving
Recipe– In a bowl, add eggs, milk, vanilla extract, sugar and nutella and salt and whisk it together until it is one even batter. Take the break and spread desired amount of nutella on it. In a skillet, put some butter then dip the bread into the batter and put it on the skillet for frying. Let it fry until the bread becomes golden brown and then flip and repeat. When it is done, get it out of the pan and spread icing sugar and top it with gorgeous pieces of strawberry and voila, we are done for breakfast.
Extremely easy and quick, this dish is a hit with people of all ages. Definitely a must try for everyone, especially when not in a mood to dosh out an elaborate breakfast. We assure you that it will not disappoint.
2. Nutella Milkshake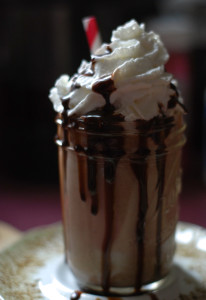 Summer time is upon us and we will be needing lots of coolers and milkshakes to keep us cool. So prepare to indulge yourself in the ultimate pleasure of a delectable nutella milkshalke. You need hardly 4 ingredients for this easy-to-make shake and it will leave you feeling refreshed and tempted for more. Here are the ingredients for one glass of milkshake –
1 cup of vanilla ice- cream
1/2 cup milk
1/4 cup nutella
Whipped cream
Chocolate sauce
Recipe- In a bowl, add vanilla ice-cream, milk and nutella and then mix them together for a bit. Add the mixture into a blender and then blend it until it becomes smooth and evenly incorporated. In a glass, squirt some chocolate sauce on the inner side then pour your nutellla milkshake into the glass. Top it off with a generous helping of whipped cream or any other garnishes on your choice.
Again, this milkshake is also very easy and very quick to make. So if on a hot summer day, some unexpected guests turn up at your house, just quickly whip this out and they'll be happy guests.
3.  Nutella Lava Cookie Cups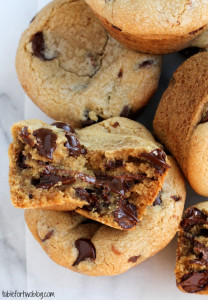 Now, the name sounds a little daunting but we assure you that this dessert is everything you ever wished for and more. It required patience but the end result will be a sure-shot success. The following are the required ingredients –
1/2 cup unsalted butter
1/2 cup dark brown sugar
1/2 cup granulated sugar
1 egg
1/2 tbsp vanilla extract
1¾ cups all-purpose flour
1/2 tsp. baking soda
1/2 tsp. salt
1 cup semi-sweet chocolate chips
1 cup Nutella, melted/softened
Recipe – Preheat oven to 350 degrees. In a bowl, add flour, baking soda and salt and mix it. In a mixer bowl, mix butter, the sugars, eggs, vanilla extract  and slowly, keep adding the flour to the mixture. Mix until it all becomes one even batter. Microwave nutella in intervals of 30 seconds until it becomes creamy and of a runny consistency. Now take some cookie dough and add it in the muffin pan. On top of the cookie dough, using a small spoon. add nutella but don't press it to hard. Add the remaining cookie dough on top of the nutella and gently tap it shut. Bake in the oben for 15 to 20 mins. Cool them before removing them from the pan and then serve with vanilla ice-cream or other garnishing.
It is a sinful dessert which will leave everyone wanting for more. The nutella oozes out just as you take the first bite of the cookie. And of course, we know that not all people have the patience to sit and make even these easy recipes and to them we have just one suggestion – open a jar of Nutella and lick it off until you can have no more of it!