How often is the case when you just want to forget everything and hog on the food available on the streets? I'm sure, if most us are truthful, there have been a lot of times when we have been tempted to just let go of all the hindrances and dive into the endless variety available out there. Street food is a great escape for people tired of cooking at home, those wanting to try different things and especially for the college going youngsters.
Street food has always been a hot topic for debate, with a lot of questions being raised on the hygiene and quality of ingredients used. Well! It might be true for some eating outlets, but on the other hand, some well-maintained joints, from dhabas to simple stalls, offer food with tastes that could make you feel like you are in heaven. Such is the craze and love of these round-the-corner joints that they are known all over the city for their special dishes. While these places maybe famous, the dishes that are offered are what draws people to try them. These dishes are trademark street food specials that taste best only when had in such places. Here is a list of some of these food items that will want you to get out and try them now:
Chaat –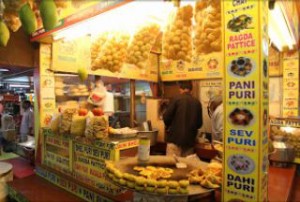 Chaat is an Indian specialty, loved all over the country. An all-time favourite street food all across India, Chaat is so famous that it could land up being an entire cuisine in itself! The most-beloved Gol Gappa with all its varieties and the different kinds of Aloo-Tikkis are one of the most mouth-watering dishes out on the streets. The taste offered in stalls dedicated to this is impossible to replicate at home. This food is popular amongst everyone, ranging from kids to grandparents! Such is the pull of this, that you can find more than ten stalls on one busy market street. If you haven't tried this till now, you better do it fast, before someone finds out and makes you the butt of all jokes!
Shawarmas –
A new trend in street food, the famous Lebanese dish, Shawarma has caught a lot of attention. Gaining popularity rapidly, this dish is a different take on the traditional rolls. Characterized by a trademark full-metal stall on the streets with chicken rotating on a rod, this is a hot-spot for all. Quick, clean and delicious, Shawarmas are surprisingly filling for their size. With so many constituting ingredients, people can have them made according to their own liking. Such is the craze of this that even chains of street-food restaurants, to attract the cleanliness-freak crowd, have opened up offering a large variety of Shawarmas. If you are looking for something unique and different, this is your answer!
Kulfi –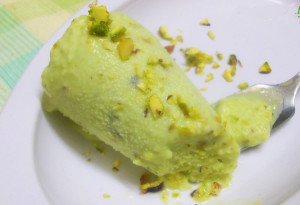 Whether you have eaten in your home or been out experimenting on the streets, no meal is complete without something for the sweet tooth. While ice cream parlours might be the most popular option, a stop at a Kulfi stall is a definite must. A different version of ice-cream on a stick, Kulfi is in a class of its own. With so many flavours available, it tends to everybody's wants and desires. Have it from a proper stall and you might often end up coming back for more. Kulfi is undoubtedly the most popular dessert on the streets! The mouth is watering already, isn't it?
Rolls –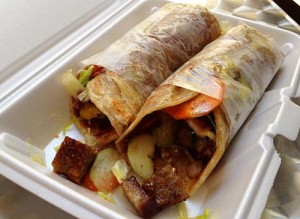 Ah! How could this be out of the list? Rolls (also known as wraps) are everybody's cup of tea. Available in so many varieties, this is the go-to dish for a quick bite as well as a nice meal. With the popular options of vegetarian, chicken and egg rolls along with the different characteristic ingredients, stalls offering these are always found full of people. Given their popularity, it isn't surprising to find food chains selling these! Don't want to try too much? Just get 'Roll'ing!
Evergreen street-food specialties –

There are some dishes that are impossible to be replicated at home, however hard you try. You might still like them, but they can't compete with the streets! The main dishes in this list would be the famous Indian ones like 'pav bhaji', 'chola batura ' and the various types of fried food (think samosas!). So if you are ever in the mood to let your taste buds experience heaven, do try all this. And the best part about this? You can enjoy all this in very clean, famous 'dhabas' all around the various cities.
Catering to everybody's taste, these are the most popular dishes from an endless list. Such is the attraction to try all this, that it won't be surprising if it turns into addiction. Seems too delicious to ignore, doesn't it? However, whatever might be the case, always remember to make sure that the place is hygienic enough to enjoy your meal without any second thoughts about the after-effects. Also make sure that the ingredients are fresh and clean. Even though it might not reach the standards of your homely comforts, a nice joint to enjoy all this is surely something to try. Isn't it?
So, what are you waiting for! Get out on the streets and have a different type of meal to break the monotony. Don't be shocked afterwards; the word "yummy" might just come out of your mouth reflexively. Happy str'eat'ing!!