Did you know that over 600 pasta shapes are produced around the world?
Or that 2.75 million tons of pasta is made in Italy every year?
Or that to cook one billion pounds of pasta, you would need 2,021,452,000 gallons of water – enough to fill nearly 75,000 Olympic-size swimming pools (one billion pounds of pasta is about 212,595 miles of 16-ounce packages of spaghetti stacked end-to-end – enough to circle the earth's equator nearly nine times).
Fascinated?
Pasta is a simple dish and it is available in such diverse varieties merely because it is a versatile food item.
"Not only are pasta dishes delicious, but they are also great, easy options for a quick dinner during a busy weekday"
-Marcus Samuelsson
So why not cook some?
Here are 5 Speedy Pasta dishes for the home-cook:
Numero Uno –
Pasta Carbonara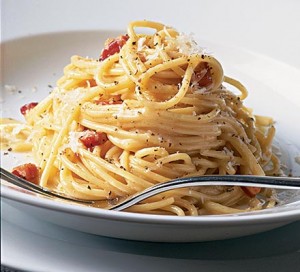 Time: 30 minutes
Serves: 4
Ingredients: 1 packet spaghetti, 100 g bacon (cut in strips), 3 eggs, 1 egg yolk, 100 g Pecorino Romano or Parmesan (grated), 1 Tbsp olive oil, black pepper (coarsely crushed), Salt
Directions: In a big pan, heat the oil and fry the bacon till crisp. Set the fried bacon aside. In a mixing bowl, beat the whole eggs and the yolk. Stir in the grated cheese. Set aside the mixture. Boil the spaghetti in salty water. Drain the pasta. Reserve the cooking water. In another saucepan, toss the pasta with the egg mixture, bacon and any fat rendered from cooking the bacon, over very low heat. Add salt and the pasta water. Remove from the heat. Serve right away with lots of pepper, freshly crushed in a pepper mill, and more Parmesan (optional).
Numero Dos- 
Pasta with Mushroom Sauce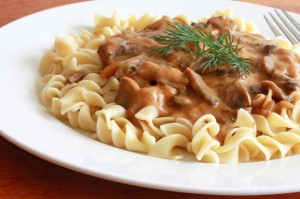 Time: 25 minutes
Serves: 2
Ingredients: 50 gm shitake mushroom, 100 gm fresh mushroom (sliced), 1 tbsp chopped onion, 1 clove garlic, 1 tbsp fresh thyme or fresh parsley (chopped), 30 ml white wine, 100 gm whole wheat pasta-penne or linguine, salt, pepper
Directions: Put the pasta in boiling salted water. While the pasta is boiling, you should prepare the sauce. In a saucepan, sauté onion and garlic in olive oil. Add mushroom and wine into it. Once the wine has evaporated, add some of the water in which shitake mushroom was soaked. Add salt, herbs and cook for 5-6 minutes. Once the pasta is cooked, add to the sauce with a little bit of pasta water. Serve hot.
Numero Tres- 
Pasta Con Pomodoro E Basilico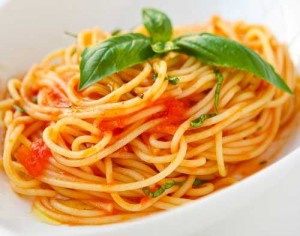 Time: 30 minutes
Serves: 4
Ingredients: 1 packet Penne, Parmesan cheese, 1 kg large red ripe tomatoes, 40 ml extra virgin olive oil, 3 cloves garlic (peeled and minced), A handful of fresh basil, a pinch of red chilly flakes, salt
Directions: Cut the tomatoes in half crosswise and remove most of the seeds. Then quarter the tomatoes. Heat the oil in a large skillet, and add garlic and chilly flakes. As soon as the garlic gives off its aroma, add the tomatoes. Cook over high heat until the tomato begins to thicken. Use a wooden spoon to stir and help break the tomato pulp. Add the basil and some salt. When the sauce is cooked, remove it from the heat and run it through a food processor for a minute. Cook the pasta in abundant boiling water and drain. Place in a serving bowl with the sauce. Drizzle a little olive oil over the pasta and mix well with the sauce. Serve with grated Parmesan cheese.
Numero Cuatro-
Spinach and Ricotta Ravioli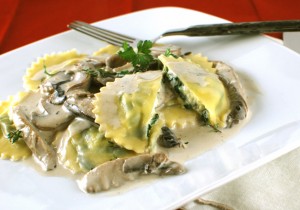 Time: 40 minutes
Serves: 2
Ingredients:
For the Dough – 2 1/2 cup flour, 2 eggs, 1 tsp olive oil, salt
For the Filling – 1 cup spinach (blanched), 1 cup ricotta cheese, 3 tbsp parmesan cheese.
Directions:  Grind all the ingredients for the filling and keep aside.  To prepare the dough, take a bowl and add the flour, eggs, salt and olive oil. Add some water and knead it to make the dough. With a rolling pin, roll out the dough into thin sheets. Take the spinach mixture and make small portions of it. Place this mixture on the dough sheet, cover and press the sheet around the filling. Cut it in desired shapes and boil them till done. Serve hot.
Numero Sinco-
Four Cheese Pasta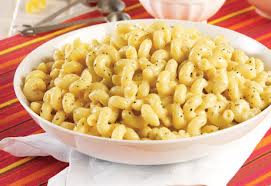 Time: 40 min
Serves: 2
Ingredients: 1 cup macaroni (pasta), 15 gm parmesan cheese, 20 gm cheddar cheese,15 gm brie cheese, 20 gm swiss emmental cheese, 12 cherry tomatoes, 1/2 cup milk, 1 sprig rosemary, 1 sprig thyme, 1 spring onion, 2 cloves garlic, 10 gm chopped onions, 10 gm chopped leeks, 10 gm chopped celery, 1 bay leaf, 60 gm butter, 30 gm flour, 1 pinch white pepper, 1/2 tsp nutmeg grated, pinch of chilli flakes
Directions: Boil the macaroni in salted water.  Strain and put in a bowl with olive oil. Melt the butter with flour in a saucepan along with olive oil. Boil milk with rosemary, thyme, bay leaf and spring onions. Strain the milk in with the flour and butter, whisking slowly. Season with salt and pepper. Grate parmesan, add cheddar, some chunks of brie and emmental. Put in the sauce and mix it in. In a hot pan add some slice garlic, cherry tomatoes, chilli flakes and a pinch of salt. Saute well and deglaze with a touch of white wine. Mix the macaroni with the sauce. Serve hot.