Non- vegetarians always think the only food which is edible is in form of meat. That's so unfair for those people who do not eat meat and still have a happy tummy after every meal. Yes ! its a myth that only non vegetarians can survive in other parts of world or even in India. That is completely untrue and so not "The Fact ". Its good that you follow a certain cuisine and prefer to eat meat as its the best form of protein but its totally not true that who doesn't eat meat is wasting his life or appetite.According to my own research (putting in statistical view point )I have seen a variety of dishes are catered for vegetarians which are full of nutrients and full of taste. They are easy to be made yet so good in appeal. Its not necessary that tandoor food should only have meat else we do not
consider it to be tandoor. You will be wrong if you taste panner tikka or tandoori Gobi. The variety of curries and appetisers are more in number for a vegetarian than for a non -vegetarian. I am not stating that we should quit non-veg and pledge to be vegetarians (That's so not the motive of writing this ) but instead appreciate the value of a vegetarian cuisine and just do not crib about having only non-vegetarian dishes only in every meal. The variety , colour , aroma which can be created in a vegetarian recipe is just awestruck and it tastes much better than a non-veg item (Putting this on a serious note).The variety we eat in a marwari wedding is more than a variety we eat in a Bengali wedding (I have attended both so am capable of distinguishing both). I would appeal to my bengali
friends (Specially) to not crib for non-vegetarian food always and try and appreciate the richness , variety and goodness of veggie's delight. Give a look to the recipes below and come out of the myth . Stay fir stay blessed.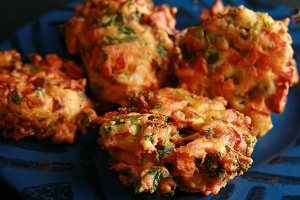 Mix Vegetable Fried Balls :
Ingredients : 2 cup roughly chopped onions , 2 cup roughly chopped capsicum , 1/2 cup green peas, 1 cup grated carrot, 1 cup spring onions finely chopped, 1/2 cup grated potato, 1 &1/2 cup gram flour (Besan ), 1 tablespoon green chillies finely chopped, teaspoon carom seeds, 1 teaspoon Asafoetida, 1 teaspoon red chilly powder,1/2 teaspoon of sodium bi-carbonate,1 teaspoon turmeric powder, 1/2 tablespoon coriander chopped, water as required for batter, Oil for deep frying, Chat masala for garinshing
serving : 4
Method :Mix all the ingredients with water to get thick flowing consistency. Leave it for 30
minutes.With the help of a large spoon drop small drops into the heated oil of the drying pan and fry till golden brown . Do not fry in high flame else it will remain uncooked in the centre. Fry in medium or slow flame. Once golden brown vegetable balls sprinkle chaat masala over it and serve with tamarind chutney. Its a dish to be enjoyed with friends and invite those who believe non -veg is the only food possible and surprise them.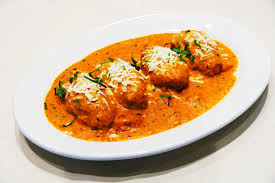 Panner Kofta :
Ingredients :
For Kofta : 200g grated cottage cheese (panner), 3 medium sized potato boiled and mashed, 1 teaspoon Pomegranate seeds (anardana) finely crushed , 1 tablespoon chopped green chillies, 1 tablespoon chopped coriander leaves , Salt to taste, 1 teaspoon kashmiri lal mirch , 1 teaspoon dry mango powder (amchur powder), 1/4 cup resins finely chopped for kofta filling , Oil for frying .
For gravy: 1 tablespoon cooking oil, 1 teaspoon cumin seeds, 2 to 3 cardamoms, 2 to 3 cloves, 1/2 cup onion paste, 1 tablespoon ginger garlic paste,1/2 cup tomato purée, 2 teaspoon cumin and coriander powder mixture, 1 teaspoon turmeric powder, 3/4 cup fresh cream, 1 teaspoon garam masala, salt to taste. Chopped coriander for garnishing.
Servings : 4
Method:
For kofta: Add all the ingredients except resins, listed for kofta, mix them well and make a smooth dough. Now make even balls out of the dough, filling chopped resins into the kofta balls as a filling and givethe koftas its desired round shapes. Keep it in the refrigerator for 30 minutes. Fry the koftas in medium flame slowly until golden brown and keep it aside.
For Gravy :
Heat a deep pan ,add oil, cumin seeds, whole spices , onion paste , ginger and garlic paste and stir it for 3 to 4 minutes until onions separates oil .Add tomato purée and all the dry spices along with little bit of salt keeping in mind that koftas too have salt.Cook until tomato separates oil and add fresh cream and 1/2 cup water. cook the gravy for 4 to 5 minutes and switch off the flame. When its time to serve, then only add fried koftas into the gravy so that koftas doesn't turn soggy . Isn't it a recipe which can compete with any non-veg dish .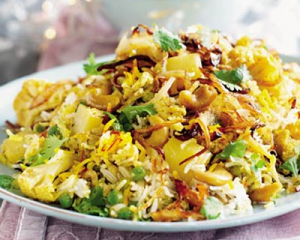 Vegetable biryani :
Biryani is such a non-veg recipe and breaking the typecast lets make it a veg dish and it will still be so yummy and mouth-watering which will surprise you to the fullest.
Ingredients : 1/2 kg basmati rice washed and soaked in water for an hour, 1 cup sliced Onions, 1 chopped carrots , I cup chopped beans , 1 cup diced potato, 1 cup panner cubes, 1 cup yoghurt, 1 cup tomato roughly chopped, 1 cup boiled green peas, 1 tablespoon coriander and mint leaves finely chopped, 1 teaspoon turmeric powder, 1 teaspoon cumin powder, 1 tablespoon ginger and garlic paste, 1 teaspoon red chilly powder, 1 teaspoon garam masala, half a dozen cloves, half a dozen black peppercorns, half a dozen green cardamom, 1 cinnamon stick.
Servings : 6
Method :
Half cook the rice and flatten it on large rice plate and sprinkle a little ghee on top avoiding sticking of rice grains with each other. Take a deep pan with a lid and and separately deep fry all the vegetables (Except Onions and tomatoes) and panner and keep it aside. Pour the remaining ghee into the pan and add all thw whole spices ,half a dozen cloves, half a dozen black peppercorns, half a dozen green cardamom, 1 cinnamon stick .Add Onions and ginger garlic paste to it and stir till onion becomes translucent.Now add Tomato and all powdered dry spices, 1 teaspoon turmeric powder, 1 teaspoon cumin powder,1 teaspoon red chilly powder, 1 teaspoon garam masala, Salt, and green chillies . Sauté it for 5 to 6 minutes stir in all the deep fried vegetables along with panner  and add yoghurt to it. Stir gently for 3 to 4 minutes let the gravy dry a little and then pour out half of the gravy into a separate plate. Now spread half of the cooked rice into the deep pan and garinish on top with chopped green coriander and mint leaves and half of the fried onion slices, Repeat theame step with the remaining gravy and rice. Slow the flame. Close the lid of the deep pan and remove it from the flame. Now place a flat tava/pan on the slow flame and then put the biryani containing deep pan on it . with the help of a tight dough seal the edges of the pan's lid so that air could not pass through it.This process is know as cooking in Dum. Keep the dum flame on till the dough which is used as a seal looses out moisture and nearly becomes breakable. The Biryani is ready to be serve with your prefered choice of gravy or curry or even a raita.