I'm going vegan for a week.
Being a meat lover and someone who hardly has her vegetables at meal time, this was turning out to be quite a hellish challenge to overcome.
I spent the first two days craving for some meat. Anything meaty. Any meat look-a-like. Today is the sixth day and I'm more than okay. I guess I'll survive.
I was always a fussy eater. Not this. Not that. This is soggy. That looks weird. Eww. "Mum, the fish tastes fishy. I don't like it." I made up all kinds of excuses to not eat my meals properly, especially the greens.
Well, I'm twenty now. These excuses work no more.
Anyway, when mum dared me to go all vegan for a week, I readily took up the challenge. I had to prove her wrong, didn't I?
Why? Why did I have to prove her wrong? *sighs*
Since my bruised ego had already done the needful, I braced my taste buds and entered the Veggie Kitchen.
(I would rather not admit this, but I don't hate the green beings any more. The Vegetable Mornay is one of the yummiest vegetable dishes I have had so far. As far as egg-less desserts go, the Peanut Butter Fudge is my favourite. )
From the Veggie Kitchen:
Vegetable Mornay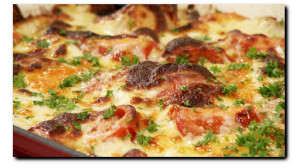 Time – 40 minutes
Serves – 4
Ingredients – 2 to 3 carrots, 2 leeks, 1 head of broccoli, 1 cauliflower, 25g butter, 1 tbsp plain flour or cornflour, 500-700ml milk, 2 tbsp nutritional yeast flakes (optional), 100g mature cheese (grated, 75 g for the sauce and 25 g for the topping), ½ tsp mustard, Black pepper to taste
Method – Preheat the oven to 180C. chop the carrots into sticks, slice the leeks and cut the broccoli and cauliflower into manageable florets. Place in a steamer and cook until the cauliflower is tender but not soft. Meanwhile, make the sauce. Melt the butter gently in a saucepan in medium heat. Add the flour or cornflour and stir well with a wooden spoon. Add the milk a little at a time, continuing to stir to avoid lumps. Switch to a balloon whisk. Continue to stir over a medium heat until the sauce begins to thicken. The balloon whisk will also help to eradicate any lumps that may have materialized. Add more milk as necessary to get the desired thickness. The sauce should be the thickness of custard. If you are using nutritional yeast flakes, add these before the grated cheese as they will reduce the amount of cheese you will need. Add the cheese and mustard and stir well. Season with black pepper. When the vegetables are ready, transfer them to an oven proof dish. Pour over the sauce and garnish with the remaining grated cheese. Bake in the oven for about 15 to 20 minutes or grill until the top is golden.
Creamy Beetroot Curry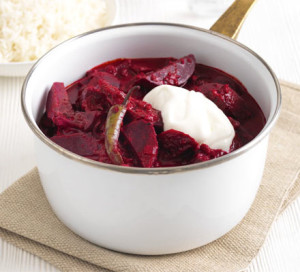 Time – 50 minutes
Serves – 4
Ingredients – 1 tbsp vegetable oil, 2 onions ( very finely chopped), 2 tsp yellow mustard seeds, 3 tbsp Madras curry paste, 1 kg raw beetroot (peeled, halved and thickly sliced), 1 green chilli (halved lengthways), 400g can chopped tomatoes, 3tbsp ground almonds, 4 tbsp low-fat natural yogurt (plus extra to serve), basmati rice (to serve, optional)
Method – Heat the oil in a large lidded pan, stir in the onions and cook for 8 minutes until soft. Tip in the mustard seeds and cook for 1 minute until toasted. Stir through the curry paste and sizzle for 3 minutes. Mix the beetroot through the spicy onions, then add the chilli, tomatoes and 2 cans of water. Cover and simmer for 30 minutes, stirring occasionally, until the beetroot is tender. Remove the lid, turn up the heat and cook until the sauce is thick. Take off the heat, then stir through the almonds, yogurt and some seasoning. Top with yogurt and serve with basmati rice(optional).
Coconut and Lime Rice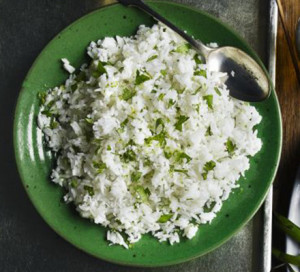 Time –22 minutes
Serves –4
Ingredients – 250g basmati rice, 5 tbsp desiccated coconut, zest and juice 1 lime, small pack coriander (roughly chopped)
Method – Cook the rice. Add the coconut about 5 minutes before the end of the cooking time. Stir in the lime zest and juice, and the coriander. Serve immediately.
Chickpea Patties with Carrot and Raisin Salad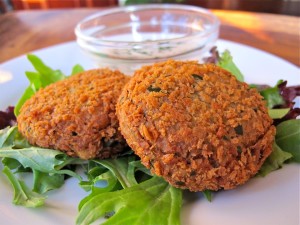 Time –15 minutes
Serves –2
Ingredients –
For the Patties: 400g chickpeas (drained), 1 garlic clove, 1 egg, 1 tbsp ground almonds, 2 tsp harissa, 1 tsp ground cumin, 3 tbsp chopped parsley, 2 tsp rapeseed oil (for frying)
For the Salad: 1 tbsp raisins, 1 carrot and 1 courgette (shaved into ribbons with a peeler), 5 radishes (thinly sliced), 2 handfuls from a bag of watercress, rocket and spinach, 1 tsp each hemp or rapeseed oil and white wine vinegar, or lemon wedges (optional)
Method – Tip the chickpeas, garlic, egg, almonds, harissa and cumin into a bowl and blitz with ahand blender until smooth. Stir in the parsley. Heat the oil in a non-stick frying pan and dollop in the mixture in 8 big spoonfuls, spaced apart. Cook for 5 minutes on each side.
For the salad, toss the raisins and all the vegetables together, but don't dress with the oil and vinegar until you are about to eat. If taking to work, add a wedge of lemon to squeeze over instead of the dressing.
Peanut Butter Fudge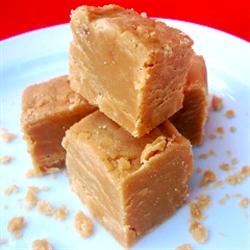 Time – 1 hour 20 minutes
Serves – 4
Ingredients – ½ cup butter, 2 ¼ cups brown sugar, ½ cup milk, ¾ cup peanut butter, 1 tsp vanilla extract,  3 ½ cups confectioners' sugar
Method – Melt butter in a medium saucepan over medium heat. Stir in brown sugar and milk. Bring to the boil and boil for 2 minutes, stirring frequently. Remove from heat. Stir in peanut butter and vanilla. Pour over confectioners' sugar in a large mixing bowl. Beat until smooth; pour in to an 8×8 inch dish. Chill until firm and cut into pieces.
Vegan Brownies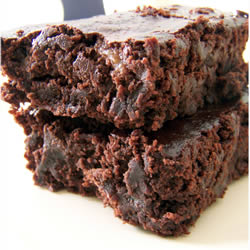 Time – 50 minutes
Serves – 16 brownies
Ingredients – 2 cups unbleached all-purpose flour, 2 cups white sugar, ¾ cup unsweetened cocoa powder, 1 tsp baking powder, 1 tsp salt, 1 cup water, 1 cup vegetable oil, 1 tsp vanilla extract
Method – Preheat the oven to 175 C. Ina large bowl, stir together flour, sugar, cocoa powder, baking powder and salt. Pour in water, vegetable oil and vanilla; mix until well blended. Spread evenly in a 9×13 inch baking pan. Bake for 25 to 30 minutes in the preheated oven, until the toothpick inserted in the brownie comes out clean. Let cool for at least 10 minutes before cutting into squares.
Recipe Courtesy: allrecipes.com, bbcgoodfood.com
Picture courtesy: allrecipes.com, bbcgoodfood.com, aliveandcooking.com.au, toriavey.com,