Festive season is here and so are all the food delicacies. The mouth-watering sweets, lovely chocolate packs, attractive sweet shops, decorated foodie stuff is all around and resisting all this is a big challenge. Heart says have it all, have what you want and Head says No! Not a good idea to have it all. This constant fight between head and heart is ruining all the joy of festivities. Sweets being so attractive are hard to resist. We are just some days away from the grand finale of the festive season; Diwali, which I already burning bright with all the lighty lights in Indian homes and fireworks will add all the more to it. What is synonymous with this festival is sugar high mithai boxes, all laden up in homes, piled up before and after exchanges. Diwali marks the high point of mithai season and with the beginning of this festive season, bingeing on ghee-laden foods like laddoos, jalebis, pedas, samosas and bhajias is natural and is going to be regular affair. I know its no fun in always saying 'no'. Then, the problem lies in how to avoid these delicacies. When even the determined, most health conscious, strong-willed people can't resist these temptation, how will you particularly, when you just love munching on all this. Well, Don't you worry, these small ways will let you manage your diet schedule and will make you resist the festive cravings, when all you can see is sweets around you.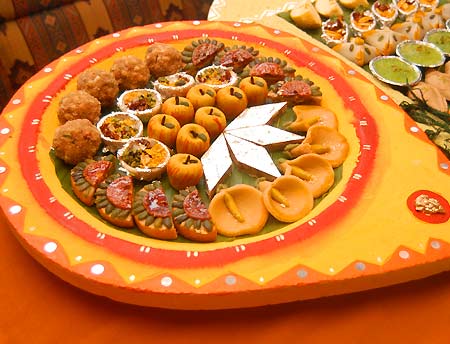 Sharing… is good: Share your stuff with someone else and don't indulge in the temptation alone and munch on handful of sweets all by yourself. Its better you should share it and in a way it will split up the calorie load. Many studies have proved that we relish something delicious only till the first two bites of it, after that its gluttony. So, bearing this fact, sharing is good in all ways.
Gauge your fat intake: Keep a check on your overall oil, butter, cheese intake, how you are taking them in, in what amount and watch it and be cautious. Be mindful, like if you want to eat some fried food, better to cut the oily food and added fat intake from the rest of your day. Rather, as an alternative, Saute veggies and bake them or steam them. Also, you can consider eliminating tadka from your dal, though its difficult, but its worth doing. Overall, just try to keep the calories balanced by cutting down on the excess oil by opting for healthy alternatives.
Hit the gym: Exercise and Exercise, workout and nothing else will watch your weight better. Be regular and then just stop worrying about the temptations. In order to maintain same body shape and size, you must go to gym regularly. If you are having those sweet ladoos or pedas or that vada pav, make sure you put that extra effort in gym to cut down the extra calories, you acquired. Though, its not going to completely compensate for your food impulses and stimulus , but still you won't add a lot weight to your body.
Moderation is always better: Don't munch on it with an attitude, 'All or nothing'. Rather, limit yourself to one or two high calorie food items a day and save that taste for your whole day. Watch your eating patterns closely and don't cheat as you will be cheating on yourself only. Never eat like there's no tomorrow and be in control even as you enjoy food and don't let your cravings overcome your mindfulness.
Think like yummy food isn't going to extinct: Remember this and don't be disheartened. There will be tomorrow when you can have another piece of sweet laden food items. When its enough for today, its means enough. Don't give excuses to yourself. Keep in mind that yummy sweets, goodies will always be around, all year round.
Watch your protein intake: Proteins are important. You know, Deficiency of protein increase the cravings for desserts and other delicacies. Better ensure that you have your protein tank full so that you can have better controlled willpower. Pulses, egg whites, peanuts, paneer, tofu, chicken and fish are good sources of proteins and their intake should be proper in order to avoid temptations.
Choose your outfit for the season or go shopping: When you feel that uncontrollable urge for sweets you are seeing on your table, try to avoid it by not recognizing and take your mind off like by trying a new outfit for the festive season or go for some shopping. However, girls will like the idea more but it works for anyone. So, just give it a try.
Apart from all these ways, the best one, you have heard often is to exercise regularly. If you want to enjoy this festive at the fullest and don't even want to gain those extra kilos around your waistline and hips, you just need to check your intake, eat mindfully in moderation and follow your regular exercise regimen. Moreover, the festivities are never all about food. There are other aspects to.      The sole purpose and focal point of any celebration is not just food and bingeing on different varieties. Rather, the main motive is to spread joy and happiness and share it everyone.