Food in Literature
It all started when I was reading J. R. R. Tolkien's The Hobbit where one can find description of food and feast on every third page. The word-ly delights guided me to see the divine connection between food and literature.
Well, this reference of food in literature is not new at all. It has been there since the very beginning of written and verbal art. Homer's Greek epic Odyssey has extensive descriptions of sacrificial food and wine in every chapter. Early Roman literature is full of food and festivity. Bible too is not untouched by this. Remember that bread and wine miracle?
In literature, food is not only a means of survival but also a medium of interaction in society, a plot twist, reunion, symbol of change and what not. Food, in general, is a reflection of culture as a whole. No doubt writers have utilized this device of representation to their best.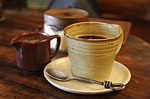 "Take some more tea," the March Hare said to Alice, very earnestly. "I've had nothing yet," Alice replied in an offended tone: "so I can't take more." "You mean you can't take 
less,
" said the Hatter: "it's very easy to take 
more
 than nothing." … Alice did not quite know what to say to this: so she helped herself to some tea and bread-and-butter.
                This has been my favourite way of asking people have some tea. Alice comes to terms with the world around her through this little tea party. Lewis Carroll has effectively used food, in both of his books Alice's Adventure in Wonderland and Through the Looking-Glass, to represent as well as critique on social behavior and ideals of Victorian society.
Queen said. "The rule is, jam to-morrow and jam yesterday—but never jam to-day." "It 
must
 come sometimes to 'jam to-day,' " Alice objected. "No it can't," said the Queen. "Its jam every 
other
 day: to-day isn't any 
other
 day, you know."
                As we are talking about a society's critique, Tolstoy's opinion of the excesses of nineteenth-century Russian aristocrats can be seen in Anna Karenina where the characters Levin and Oblonsky share a meal of three dozen oysters, soupe printanière, turbot with sauce Beaumarchaise, roast beef, poulard à l'estragon, parmesan cheese, macédoine de fruits, vodka, champagne, and two bottles of Chablis.
A person's eating habits also shows his character. In world's most unread classic, James Joyce's Ulysses, the protagonist Leopold Bloom's description is like this:
Mr. Leopold Bloom ate with relish the inner organs of beasts and fowls. He liked thick giblet soup, nutty gizzards, a stuffed roast heart, liverslices fried with crustcrumbs, fried hencods' roes. Most of all he liked grilled mutton kidneys which gave to his palate a fine tang of faintly scented urine.
                Our protagonist is a man of tremendous appetite and similarly in later part of the story, we can hear his belly grumbling. As the story ends and he reaches his home, all he asks his wife to do before falling asleep at her feet is to make him some breakfast.
One of my favourite story A Christmas Carol by Charles Dickens also has a special role of food in it. First when the Second Spirit brought Scrooge to Bob Cratchit's dwellings and at the end of the story when Scrooge sent a turkey to Bob Cratchit's place.
"Do you know the Poulterer's in the next street but one, at the corner 
?
" Scrooge inquired. "I should hope I did," replied the lad. "An intelligent boy!" said Scrooge. "A remarkable boy! Do you know whether they've sold the prize Turkey that was hanging up there?—Not the little prize Turkey: the big one?" I'll send it to Bob Cratchit's," whispered Scrooge, rubbing his hands, and splitting with a laugh. "He shan't know who sends it. It's twice the size of Tiny Tim. Joe Miller never made such a joke as sending it to Bob's will be!"
                In Scrooge's story it is shown as a first step towards change. Still my all-time favourite dining table moments are following:-
First would be the Harry Potter's feast in Hogwarts. For both Harry and reader it was the most amazing experience. A new world for Harry, where his life truly begins.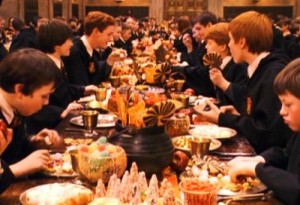 "He had never seen so many thing he liked to eat on one table: roast beef, roast chicken, pork chops and lamb chops, sausages, bacon and steak, boiled potatoes, roast potatoes, fries, Yorkshire pudding, peas, carrots, gravy, ketchup, and for some strange reason, peppermint humbugs." (Harry Potter and the Sorcerer's Stone, J. K. Rowling)
                Last but not the least, we will go back to the starting point, that is, Tolkien's The Hobbit which is full of Hobbit-love for food but the best isthelittle feast right at the beginning of story which decides the future of Bilbo Baggins.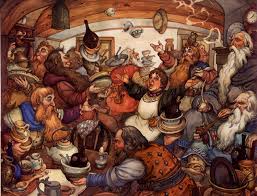 Already it had almost become a throng. Some called for ale, and some for porter, and one for coffee, and all of them for cakes; so the hobbit was kept very busy for a while. A big jug of coffee had just been set in the hearth, the seed-cakes were gone, and the dwarves were starting on a round of buttered scones, when there came- a loud knock. "Now we are all here!" said Gandalf, looking at the row of thirteen hoods- the best detachable party hoods- and his own hat hanging on the pegs. "Quite a merry gathering!I hope there is something  left for the latecomers to eat and drink! What's that? Tea! No thank you! A little red wine, I think for me." "And for me," said Thorin. "And raspberry jam and apple tart," said Bifur. "And mince-pies and cheese," said Bofur.
"And pork-pie and salad," said Bombur.
"And more cakes- and ale- and coffee, if you don't mind,"
called the other dwarves through the door.
"Put on a few eggs, there's a good fellow!" Gandalf called after him, as the hobbitstumped off to the pantries. "And just bring out the cold chicken and pickles!"
There are so many references that it is impossible to put together all of them. So the story ends here. Next time you pick up a book, pay attention to the food too as it tells a story in itself.