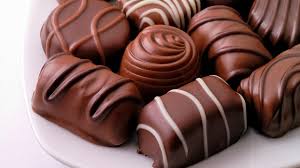 As Charles M. Schulz once said, 'all you need is love. But a little chocolate now and then doesn't hurt.' Chocolates make you happy. Eating a chocolate makes your brainssecrete those 'feel good' endorphins. Dark chocolates contain chemicals that protect you from cancer and other diseases. The caffeine content in dark chocolate makes you feel alive. Did you know that eating chocolates widens up your arteries and fosters a healthy blood flow that prevents plague from building up in your arteries and blocking them.Chocolates are rich in phenolic, the same protein found in wine. The protein helps lower the risk of heart diseases and prevent clot like substances from clogging the arteries. Research provides that candy eaters live almost an year more than those who abstrain.   Also, chocolate melts at 97 degrees Celsius which is just below your body temperature. It melts in your mouth and leaves you wanting for more all the time.
So true, isn't it? We all crave for chocolates, don't we? From chocolate cakes, to chocolate ice-creams to chocolate biscuits and what not! Its rich, it's creamy and amazingly delicious.
So this time, I bring to you, some of the yummiest chocolate recipes for the summer:
Black-Forest Vanilla Cake (and yes, with the cherry on the top of course!)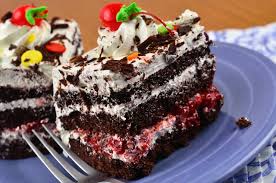 A delicious black-forest cake with vanilla ice-cream sand-witched between chocolate sponge is a must eat this summer. So how do you try and bake it?
Here's the recipe:
All that you need: A 70mm diameter chocolate sponge cake, 2tbs sugar, 1 tbs rum,  ½ glass of water, 2 cups of whipped cream, ½ cup dark chocolate chips, 3 canned cherries which should be cut into half, 2 ½ cups of vanilla ice-cream, 5 tbs chopped cherries, 7 tbs grated chocolate.
All set with the ingredients?
So here's how you prepare it:
Firstly, you need to cut the cake into 4 parts.
The bottom layer of the serving plate should be sprinkled with ½ soaking syrup.
Now, on this soaked layer of sponge, spread 1 ½ cup of ice-cream.
Top this layer with 3tbs cherries and 4 tbs chocolate.
Now, another layer of sponge should be placed on this.
Sprinkle some more soaking syrup on this sponge layer.
Arrange the remaining cup of ice-cream on this layer.
Top it with remaining cherries and chocolate.
Sprinkle the remaining soaking syrup.
Top the cake with whipped cream
And finally, garnish the cake with cheese and grated chocolate.
Freeze till the cake becomes firm.
Your delicious Black-Forest Vanilla Cake is ready to be served!
Chocó-Almond Cupcake: Its small, it's petite, but it's definitely a treat for your taste buds. This is definitely going to be an unforgettable experience one you get to taste this luxurious combination of almonds and Chocó. The frosting of Almond and chocolate make this cupcake taste very different from the others. A chocolate ice-cream cake. (And again, with the cherry on the top!)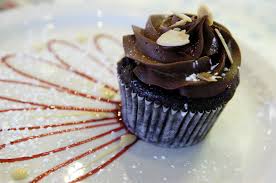 Here's a list of all that you need: 8 chocolate sponge, 7 tbs butter
12 tbsp icing sugar, 6 1/2 tbsp melted chocolate mixed with 1 tbs milk, 4 tbs powdered almonds , 1/2 tsp almond essence, 6 tbs soaked and chopped almonds and
6 cherries.
How to prepare it:
Put all the butter in a bowl
 Beat it with the help of a spatula.
Now, add some icing and sugar to it.
Mix well the powdered chocolate and the almond and put it into the batter.
Now, the frosting needs to be filled in a piping bag.
Swirl out whichever shape you would love to see on your little cupcake.
Garnish them with frosting and almonds and don't forget to add the cherry on the top.
Your little surprise is ready to be served.
Chocó-Brownie Milkshake: The perfect summer cooler for you this summer. A totally different kind of a milkshake made from the combination of vanilla ice cream, brownie and milk.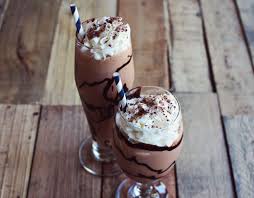 What all do you need:  200 gms of chocolate, 500 ml of milk, 2 tbs vanilla essence, some crush ice cubes, 2 scoops vanilla ice cream.
How to prepare it:
Combine all the ingredients and churn them. Keep the ice out of the mixture for now.
Transfer to bowl
 Add ice to it and mix well.
Your milkshake is ready to be served.
Chocolate Fondue: The super yummy hot mixture of marshmallow, dipping fruit and cake pieces.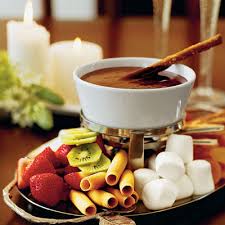 What all do you need: 100 gms of milk chocolate, broken into small pieces, 1/3 cup of milk, 1 tbs flour, 4 tbs cocoa powder, 4 to 5 tbs sugar, ½ tbs vanilla essence, 1 tbs butter, 2 tbs brandy, fresh fruit, cake pieces and marshmallows for dipping.
How to prepare it:
The butter had to put in a glass bowl and beaten
Microwave the batter for 1 ½ minutes
Stir twice after every 30 seconds
Add milk, Chocó chips, cocoa, cream, sugar, a teacup of water.
Stir the batter after 30 seconds.
Pour the mixture in a dish.
Stir well and add brandy.
And finally, your chocolate fondue is ready to be served.