Loved by everyone and tasted by every Indian at least once in their lifetime, street food in India is always looked forward to. It is mouth watering and delicious. Its aroma is appealing and no one can forget the thwack of the "tawas" and spoons that one can hear during it gets prepared to be served! The jalebi-faafdas of Gujarat, chaat and wada pav famous all over Maharashtra, litti chokha of Bihar, Lassi of Punjab and Idli, dosa, medu wada of the South are well known to attract tourists. Let us take a look at some more delicacies that are best served on Indian streets!
1. Chaat
This is my favorite section of street food. Pani puri, bhel, ragada puri, sev batata dahi puri, masal puri, aloo chaat, you can find a lot of variety in Chaat dishes. Everything basically contains three or more of the mentioned ingredients- ragada which is boiled yellow peas, kurmura(puffed rice), onion, tamarind chutney, pudina chutney, potatoes, puris, sev, curd and groundnuts.
 2. Litti chokha
Litti Chokha is a famous street food in parts of Bihar, Jharkhand and Uttar Pradesh. It is best served in Patna and also made in most houses there. If you love ghee, you'll go crazy about this dish. Made with sattu, grinded chana, potatoes, brinjals and tomatoes, all dunked in desi ghee, this dish looks quite like Rajasthani daal baatti but yet, tastes peculiar in it's own way.
 3. Poha
Even though poha is eaten every now and then at breakfast in a Marathi house, Indore provides the best poha in India. It is served along with jalebi in Indore while this is a weird combo for a Marathi house where poha is eaten with lemon and sev. Poha is actually a local name for rice flakes cooked with spices and oil.
 4. Chhole bhature
/>
Chhole bhature or choole kurche is a famous dish believed to be Punjabi. However, one can expect to find the best chhole bhature at Delhi. They are as famous as parathas and rajma chawal found there. Spicy chhole eaten with hot bhature is a lip-smacking combination that finds a place in everyone's breakfast or snack time once or otherwise.
5. Aloo tikki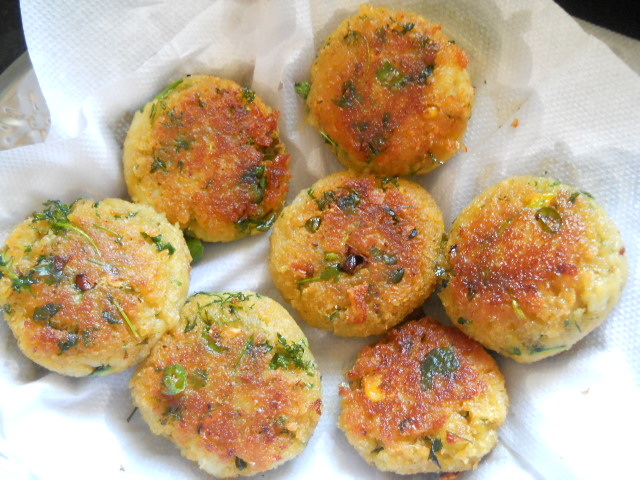 It is a famous snack of North India and is made up of crispy fried potato. We Indians love fried potatoes and can hardly live without them. These tikkis are basically cutlets stuffed with potato filling. Other ingredients that go into the dish are green chilies, bread crumbs, peas, corn and spices. aloo tikkis are again served with colorful chutneys.
 6. Missal pav
Missal pav is almost a staple food for Maharashtrians. You can find it at every place in the state. As the name suggests, it is served with pav. Missal is a healthy curry that contains matki and spices. It is served with a garnish of chopped onion, sev and lemon. If you like spicy food, you should definitely try missal pav!
 7. Dabeli
Dabeli was born in Kutch, Gujarat and it slowly dispersed to Ahmadabad, Mumbai, Pune and other cities along with migrated Gujarati population. It is a blend of potatoes and tomato puree mixed with special spices, garnished with pomegranate seeds, sev, groundnuts and chutney and finally stuffed inside a pav.
 8. Wada pav
Wada pav is an interesting dish made up of potato filling inside besan (gram floor) batter. It differs from pakodas in terms of filling. The wada here is basically composed of "aloo ki subji" coated with besan which is eventually fried and served with chillies, red chutney and pav.
 9. Idli
Idli is one of the healthiest street foods in India. It is prepared from fermented rice to give it fluffiness. The same batter can also be used to make dosas as dosa only differs in form from Idli. Idli is always served with sambhar and chutney without which it is incomplete. Though it is most popular in the southern states, it has been adopted by most of the other states for it's deliciousness.
 10. Pakodas
Pakodas are a hot favorite in the monsoon. You could find different flavors like chilly, onion, potato but the basic batter remains same and is composed of spices, salt, gram floor and water. You could find pakodas in most Indian states. If you talk about Maharashtra, you will get the best pakodas at hill stations and forts in monsoon.
 11. Momos
You would simply love momos if you love chicken. No doubt that there is a vegetarian version available, but chicken momos have their own place in every eater's heart. It is served with spicy chutney and contains stuffing inside a maida covering. This dish originated in Nepal and now has spread everywhere in India.
 12. Ragda patties
This is a colorful dish savored in every Maharashtrian and Gujarathi house. Ragda patties are usually enjoyed with tea. If you are bored of the usual biscuits and toast, go for ragda patties. They add a spicy twist to your tea along with the colorful tamarind, chilly, pudina and other chutneys.
 13. Ghugni
Served best with pakodas or puffed rice, the ingredients of ghungni include yellow peas, onion, garlic, tomatoes and all other Indian curry contents. This dish is native to eastern part of India and cooked in traditional style by adding Bengali garam masala. It is again served with yummy chutneys.
 14. Pav bhaji
Last but not the least, we have pav bhaji on the list which is one of my personal favorites. Again, a blend of veggies such as potatoes, peas, capsicum, cauliflower, onion, tomatoes served with pav roasted in butter,it becomes even more lip-smacking when eaten with onion and lemon garnish. You will find pav bhaji at almost all cities in Maharashtra, however, it first started in Mumbai and Mumbai still serves the best pav bhaji!