Rajasthan, India's biggest state in terms of land area that is spread over 132,139 square miles is a hub for ancient cultures and beautiful civilizations. The 'land of Kings' as the name suggests, was once home to the worlds' first and most ancient human civilization, Indus Valley Civilization. Owing to its rich culture and extravagant history, Rajasthan is one of the finest seats of  both ancient and emerging cultures. The capital of this western state of India, Jaipur is a perfect example of how urban civilization can co-exist with age-old traditions, cultures and settlements. In this city lies an establishment that embodies the exact essence and individuality of the state. Chokhi Dhaani is a resort cum recreational centre that reflects the cultural, social and economic realities of the state from the ancient as well as modern times. Chokhi Dhaani is a concept that captures the vibrancy of Rajasthani culture in its truest sense. It hence has to offer to the inbound and native tourists the different facets and components of the western states' heritage in its' pristine semblance.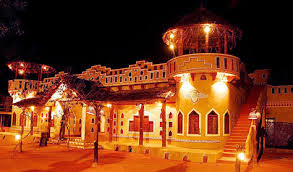 Chokhi Dhaani directly translates into ' Special or good village' and with the ambiance it boasts of, it makes one experience rural Rajasthan in its' unadulterated form. Although it is located at a little distance from the actual city of Jaipur, it is well connected and easily accessible. Located around 20 kilometres away from Jaipur on the Tonk Road, one can reach here easily using ones' own private conveyance or by a taxi. A taxi might cost you a bit around 600 Indian Rupees, inclusive of waiting charges. For an evening out in Chokhi Dhaani along with an exquisite Rajasthani meal, it shall cost you around 650  Indian rupees for an adult and around 400 for kids aged between 3 to 9 years of age (or of height up to 3.5 feet) . Without the meal it costs up to 450 rupees for an adult and 350 for the kids. The prices may vary a bit according to the time and season of visit. Chokhi Dhaani even has rooms for those of you who intend to put up here for your entire trip to Jaipur.  For those who intend to stay in the resorts within Chokhi Dhaani, there are buffet meals which may cost you around a thousand bucks for adults and 650 bucks for children. With food to die for, you shall not regret spending the amount of money here. The village is open for visitors from 5 in the evening to 11 in the night.

With a huge wall with the appearance of the rustic mud walls as those that exist in the rural huts and structures in the desert region of Rajasthan and a beautiful wooden door open to welcome you, this place pleases ones' eyes at the very first sight. Once you step in, you have men and women clad in aboriginal Rajasthani clothes and costumes ready to welcome you with open arms,  smiles on their faces and warmth in their hearts . These men adorning traditional Rajasthani attire and colourful turbans tied in the accurate fashion welcome you with 'tikas' or red vermilion on the forehead. After paying the required amount for entering, you can step into this world of wonder. There are little hut-like structures with thatched sloping roofs that are scattered around. You may find people greeting you in the traditional Rajasthani way and offering you an amazing variety of services. From a plethora of activities around you could witness a puppet show with narrations, a magic show, a snake charmer making snakes dance to his tune or even local dances by women dressed in colourful costumes. The dancers might even rope you in and the music and beats played on the indigenous drums and other musical instruments will tempt you enough to keep dancing to the tunes till you are drained out of energy. If you are too tired from walking around, there are sheds that give away refreshing summer drinks for free. Be it the delectable 'aam panna' or the tangy 'jaljeera', ones' thirst for these Indian drinks never ends. Women can get their hands and feet decorated and tainted with henna for minimal charges. There are slides and other joy rides for the children as well. You may even get your future predicted by an astrologer, tarot card reader and a palmist that sit there every evening. Visitors also have an option of  enjoying rides on animals like camels, elephants or horses on a fixed route around the entire place. It is a great experience for those who have never been to rural areas of the Indian states and yet want to experience the little details of the life there.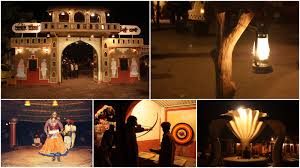 A maze made of mud walls and a cluster of mud huts resembling the ones' in an actual village complete the rustic setting of the place, thus lending it authenticity. You can even find life-sized models of men and women, made of clay to complete the scenery of rural households. With facilities for people to try smoking from the traditional 'hookah' , it can provide you with yet another point to note down in your list. There is also a man-made canal which permits boating and thus can be a good way to relax after roaming around.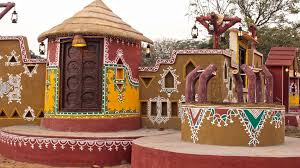 An artificial tunnel that has been made to look like a haunted place leads into an open space whee there are groups of people dressed as people from the indigenous tribes. They seem to be friendly and one can easily interact with them and can even dance if he/she wishes to. There are shops and counters where one can buy a wide variety of articles, native handicraft products or just souvenirs for friends and family. Products ranging from puppets, key rings,  stationary, shawls and turbans, other clothing items or even plastic and mud toys; one can find them all here. There are counters for games like archery, dart games and many others, where if lucky, you can even win small rewards!
The best part is the dining place where one gets to sit in a rural Rajasthani setting  and enjoy unlimited servings of authentic pure vegetarian food from the state. Be it a variety of breads, spicy chutneys, delicious sides and curries or the refreshing 'chaanchh'; one can never have enough of the food served here. One has the options of sitting in either an AC hall or a non-AC dining space.  Once you're done with the meal, make sure you thank the ones' who served you. They definitely will appreciate your acknowledgement.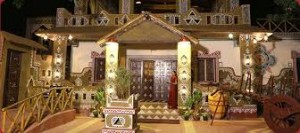 An evening spent here will be an outing that is worth your time and money. Make sure this place features on your itinerary for the next Jaipur trip that you plan.