While I was busy pulling out the memory strings to think out the best Mother's day dessert for mum, (of course), I realized how disappointed she'd been with last year's Choco-mousse with blueberry topping! The reason however, wasn't my inexperienced cooking skills because surprisingly it came out real good. It was rather my mum's unbelievable disgust for Chocolate, and yes UNBELIEVABLE is the word. So, I had pledged never to go global, while cooking for her. At least not with desserts. And, that's when the idea of going traditional clicked my mind. It's time for not just me but for us all to turn back to the roots and unearth the Indian traditional delish-delights. That's in vogue, I tell you!
So, here's the list of classic desserts from four different states of India that I'd made to decide on my show-stopper. This is for you all, who have mums with similar nationalistic-gastronomic ideas and of course for all those newly-wed wives trying on cooking tricks to impress their in-laws and husband!
 Pineapple Kesari Bath/ Semolina Pudding: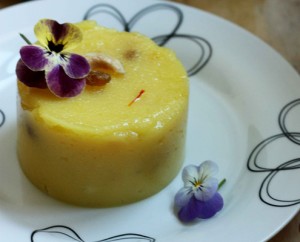 To start with I present to you this diva of Kannada Cuisine! Served as a prasad on the Satyanarayana Swami pujas, this 'sweetie' is indeed an uncommon version of the well-known Suji ka halwa, for its use of pineapple.
INGRIDIENTS
1½ cups Semolina/Rava(use chiroti rava for best results/Sooji)
1¼ -1½ cups Sugar( According to preferrences)
¾ cups Pineapple, finely diced (you can also puree it if you want)
¾ -1 cup Ghee (Be generous!)
¼ tsp. Saffron, soaked in a tbsp. of warm milk or water
12-15 Cashew Nuts, broken
Around 20-24 Raisins/Sultanas (Optional but recommended)
5- 6 green cardamoms, powdered (optional)
METHOD
To speed up things, boil 4 cups of water and keep aside. Heat 2 tbsp of ghee in a heavy bottomed pan and add broken cashews to it. When the colour turn light golden, add raisins or sultanas and fry till golden.Remove with a slotted spoon and keep aside.
Then,dissolve 1 cup of sugar in ½ cup of water and add the finely chopped or pureed pineapple to it. Cook them on medium flame, until all's cooked through and the liquid is boiling, say about for 5 minutes.
Add a tsp. of ghee to the already greased and hot pan, followed by semolina or sooji,and roast till fragrant and golden.Keep stiring it for around 3-4 minutes and don't let it turn brown.
Add around that 4 cups of boiling water,you'd kept aside to the roasted rava or sooji and let it cook unperturbed for some 3 minutes on medium flame.
Next, blend in the semolina with remaining sugar, the pineapple and sugar syrup and keep stirring so that no lumps are formed.Do this for some 3-4 minutes.
Be brave and slowly keep adding the ghee, one tbsp at a time, while stirring the mixture alongside. Once you're ghee indulgence has reached its summit, keep stirring till the grain is tender and gooey, and the ghee starts to separate to the edge of the vessel.
Add the roasted cashews and raisins and the saffron soaked in warm milk,and the powdered cardamom and blend.
Once done with that,don't stop to catch a breath,and instantly pour in the Pineapple kesari Bhath into a greased plate or a cake tin and spread it well. Now's the time to hold on to your patience, while it rests for 5-10 minutes. Shape them as desired and serve hot,warm or chilled.You can even top it up with your favourite ice-cream flavour!
Dudh Puli / Coconut Stuffed Rice Dumpling: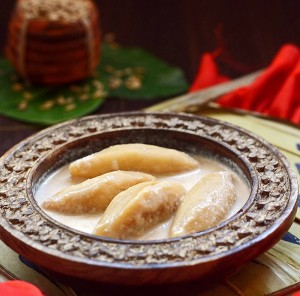 This traditional (and nostalgic) Bengali dessert(also known as pitha) is especially made for the occasion of Makar/ Poush Sankranti. This sweet-shell puli is something I was about to choose as my show-stopper, till I realized on the very last moment that mum perfected it, and so didn't dare to move further! However, its awesomeness deserves exposal and so here's the recipe for it!
INGREDIENTS : (for around 25-30 Pulis)
For the kheer or milk
Full cream Milk : 1.5 litre
Palm Jaggery : 8tbsp (Generous alert!)
Green Cardamom :2-3,crushed
For the stuffing
Grated coconut : 2 cups
Sugar/ Jaggery : 1 cup
For the outer shell/puli
Rice Flour : 500 gm. (My mum, as per the tradition,mixes boiled rice flour with non-boiled rice flour in 2:1 ration,however to avoid the hassel,you can also opt for the store-bought rice flour)
Salt : a pinch
Lukewarm water to make the dough
METHOD
For the filling : Make small pieces of the jaggery to help it blend well with the grated coconut. First dry roast the coconut in a wide pan on low flame, and then add jaggery, one tbsp at a time. Keep stirring until the browned mixture starts to stick together. Once the mixture stops sticking to the pan, give a good stir for a minute or two on medium flame and then remove it from heat to cool off. When cool enough to touch, take 2tbsp of the mixture on your palm and start preparing small oval balls. Line them up on a flat plate.
For The Outer shell or puli: Sift in rice flour, and salt in a mixing bowl and make a soft dough, while adding lukewarm water in turns. When the dough soft and nice ,quickly make balls out of it and keep them in the same bowl.Cover it with a cloth or Clingfilm to avoid it from hardening
For the Puli : Now's the tricky part! Take the dough balls and flatten them with your fingers, on the palm to form the shape of a circular disk. Remember, that the shell should be medium thin. Place the oval-shaped filling balls on them and press the both the edges of the shell together, to form a half moon. Pinch the edges to seal it( a lot like momos!) .Continue this till you're out of filling and dough balls!
For the sweetened and thickened milk/kheer : In a heavy bottomed saucepan,boil milk and simmer on low flame, until its amount reduces to half. Let it cook for some 10 minutes on very low flame.Bring it to room temperarture and add jaggery (never add it to hot boiling milk at it can curdle the milk).Then slowly start adding the pulis or dumling into it and cook them for 7-10minutes on medium flame. Once the pulis have changed colour and have started to float on top, one by one, its then, and the 'pull-off' alert! Remove from flame and add the crushed cardamom and mix,but be carefull not to break the pulis. Continue to cook,there again,for 5-10 minutes,until u've reached the desired consistency.However the milk should neither be too thick nor too thin.
Done all this, you're good to go! Transfer to serving bowl. Garnish with pistachios or saffron if desired and serve fresh (never cold as it would harden the pulis)!
Thekua/Khajur: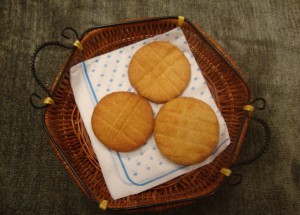 This is a quintessential Bihari dessert, that dazzles almost every festivity, but is synonymous to the occasion of Chhat Puja. So here's how you need to proceed:
INGREDIENTS
Whole wheat flour (preferably hand ground) -500 gm.
Dry Coconut (chopped-rectangular approx.3x5mm ) -2 tbsp
Jaggery or sugar- 300 gm
Green Cardamom( peeled and mashed) – 4
Fennel seeds(optional) – 1 tsp.
Whole pepper seeds(optional) – 1 tsp.
Ghee ( or vegetable oil) – 2 tbsp.
Ghee, for deep frying – 500 gm.
Water – 1½ cup
Mould or Saancha( for making imprint on Thekua cookies)
METHOD
Melt jaggery, in water and add green cardamom to it. When dissolved, remove from heat allow to cool. It should have syrup consistency
Mix wheat flour, 2tbsp. of ghee, coconut, fennel and whole pepper, in a large mixing bowl
Pour in the jaggery syrup slowly, for making the dough, out of the dry mixture. Remember to use as much jaggery syrup as required, not excess. As you can use the remaining syrup as an optional dip!
Clean and grease you palms with ghee, as it's time to make balls out of the dough.Take a fistful of it, press it flat on the palm to create an elliptical shape. Once you're satisfied with the shape, transfer it to the mould by pressing the dough against the mould to imprint the pattern on each side.
Continue this procedure until you've used up all your dough.And,now They're ready to be deeply fried in ghee.Drop the thekuas few at a time,into the hot ghee,and deep fry them on low flame,till light golden and crisp.
Drain it all,and allow to cool,and then their ready to be served or stored in airtight containers
Rava Cake / Semolina Cake: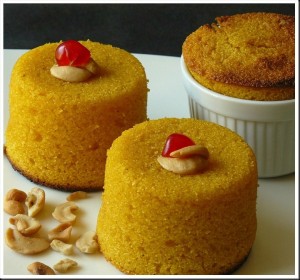 The ultimate Maharastrian delish delight, that caught me by both surprise and awe! It's super-simple and light and yet it's rich authentic flavour, fills you with nostalgia!
INGREDIENTS
Fine semolina (rava) – 2 cups
Yogurt(regular low fat) – 2 cups
Sugar – 2½ cups
Ghee (or softened butter) – 3tbsps.
Baking soda- 1/4tsp.
Milk( to make the batter) – as required
Cardamom pods (powdered) – 2/3tsp.
Saffron- a pinch
Vanilla extract (optional) – 1/2tsp.
Sliced almonds(optional)-1/4 cup
METHOD
Mix semolina(rava), yogurt(dahi),ghee or butter and sugar, in a mixing bowl and make a batter while adding milk from time to time to smoothen it( you can add eggs also at this step)
Then, let it rest for 30 minutes to an hour. Only add the baking powder, vanilla extract and almonds, 5 minutes before baking it(or cooking it on gas stove,which is the traditional way)
If you're cooking it, then pour in the batter into an aluminium cake dish and place it on a frying pan or kadhai.Cover it with another hollow pan or kadhai and cook over high flame.In about 10 minutes,it would be done.
However, (like me) if you love baking,then preheat the oven at 180 degrees and pour in the batter into a greased cake tin. Sprinkle the saffron on top and let it bake for about another 30 minutes.
When done, bring it on a cooling rack and cling on to your patience for 10 more minutes,until its ready to be sliced and served
It's goes really well as tea party snac,however, I prefer it with ice cream topping!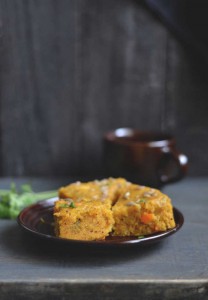 I ended up choosing the Pineapple Kesari Bath for the occasion, though I'm in serious love with the others.I tried them on every other event, with a little bit of experimentation and guess what? My mum was never more pleased!