Pakora is a fried snack. When the weather is rainy and you have your family at your home then the best way to enjoy the monsoon is by making Pakoras for them. Different people of the family have different tastes so, here are some recipes for you to make the monsoon days more enjoyable.
BESAN KE PAKODE-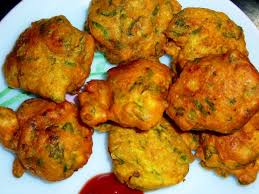 Besan Ke Pakode is the most delicious snack dish made with besan, onion and other spices. It is all time and any time favorite dish of elder ones and younger ones. In my home twice a week it is a compulsory tea time snack in the evening. You can serve them as an evening snack or a morning breakfast, they are all time tasty and mouthwatering.
Ingredients-
1 finely chopped big onion, 1/2 teaspoon red chili powder, freshly chopped cilantro, salt for taste, 2 cups besan, 6 finely chopped green chillies, a pinch of baking soda, and oil to deep fry.
Recipe- Combine green chillies, onion, salt, besan, red chili powder, baking soda and lots of fresh cilantro in a mixing bowl. Mix all the ingredients well and add water to make a medium thick batter. Heat up a pan and add suitable quantity of oil to deep fry. As oil heats enough, then add a big spatula of prepared batter. Turn to fry from both the sides and when half fried, then take out from the oil. Then leave it to cool. Now again pour a spatula of batter in the hot oil and take out from the oil when half fried. Leave to cool. After few minutes when the half fried big pakoda is cool enough, then make small-small pakode from that big pakoda. Again deep fry in hot oil for few seconds, lower the flame. Turn and fry from all the sides. Take out from the oil and keep on absorbent paper. In this way make small-small pakode from each big pakoda. Serve hot with Indian flat bread and accompanied by green chutney or tomato sauce.
ONION PAKODAS-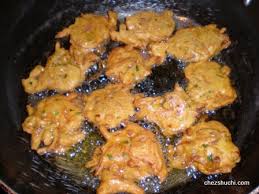 Ingredients-
5 large onions, 1/2 teaspoon minced ginger, 4 teaspoons chopped cilantro, 2 teaspoon red chili powder, 1/2 teaspoon turmeric powder, salt to taste, 3 teaspoon rice flour, water as per needed, 3 green chillies, 2 teaspoon lemon juice, 2 teaspoon chopped curry leaves, 1/2 teaspoon coriander seed powder, 1 teaspoon cumin powder, 1/2 cup besan, 1/4 teaspoon cooking soda, oil 3 teaspoon to deep fry.
Recipe- Peel, rinse and slice onion. Finely chop green chillies, coriander leaves, curry leaves, mince or grate ginger.  Meanwhile in a wok start to heat oil. In a wide bowl take sliced onion, green chillies, coriander and curry leaves, ginger, red chili powder, turmeric powder, cumin powder, coriander seeds powder and salt. Mix everything well. This step helps to mix onion with all spices and onion pieces gets separated nicely. Now add chickpeas flour/besan, rice flour. Mix again everything to combine flour with onion pieces. Now start to sprinkle water and mix well to bring everything together. Go easy on water as onion and salt release water too. Add lemon juice mix and then add 3 teaspoon of hot oil and mix again. Check for salt, spices and adjust anything if required.  Drop around small amount of mixture in oil with hand or using a spoon, make 6-7 pakoda in a batch. Make pakoras of the size you prefer small, medium or big and cook in medium flame until all sides are golden brown. Drain pakoda in kitchen tissue and cook remaining pakoda in batches. Serve them hot with chutney or tomato sauce.
HARI MIRCH KE PAKODE-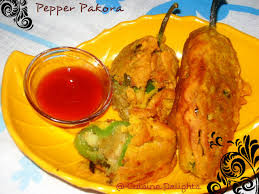 Ingredients-
4 chillies, oil for deep frying
For the batter- 1 cup besan, 1/2 teaspoon garlic paste, salt to taste, cold water, 1/2 teaspoon garlic paste.
For the filling- 1 boiled and mashed potato, 1/2 teaspoon zeera, 1/2 teaspoon ginger paste, salt, 1/2 teaspoon garlic paste, 1/2 teaspoon sugar.
Recipe- In a bowl mix all the filling ingredients. In another bowl mix all the batter ingredients. Adjust the water amount keeping the consistency medium-thick. Batter should not be too runny. Fill the deseeded chillies with the prepared filling. Dip in the batter and deep fry till golden and crisp. Serve with pudhina chutney or sauce.
ALOO PAKORA-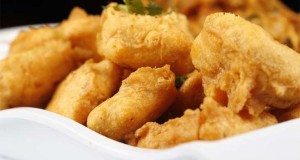 Ingredients-
2 large potatoes, 2 rice flour, 1 teaspoon red chili powder, 1/4 teaspoon cooking soda, water as needed, oil to deep fry, 1 cup besan, 1 sprig chopped curry leaves, 1/2 teaspoon turmeric powder, salt and 2 teaspoon hot oil.
Recipe- Peel, wash and dice potatoes, transfer in a large bowl and add rest of ingredients except oil. Give a good stir, now add water 1 teaspoon at a time and mix until everything comes together, this doesn't require so much of water so keep adding water only in less quantity. Heat oil, take 2 teaspoon of hot oil and mix with potato mixture.   Scoop a spoon of batter and drop in oil, do this 4-5 times to get 4-5 pakoras and fry until golden brown in medium heat.
If using hand, scoop around 4-5 pieces of potato for one pakoras and deep fry. Have it with coconut chutney, sauce or just with hot tea/coffee.
PANEER KE PAKORE-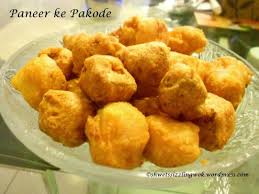 Ingredients-
1 liter milk, 1 lemon, 4 teaspoon tomato sauce, 6 teaspoon bread crumbs, 2 teaspoon flour, salt, finely chopped green chili, 2 teaspoon finely chopped green coriander, 4 big size boiled potato, 4 teaspoon green chutney, 1 packet potato wafers, oil and black pepper powder.
Recipe- First, boil the milk, add green coriander, green chili, lemon juice and curdle the milk. Remove the water, put the cottage cheese in muslin cloth and place some weight on it. When the paneer sets, cut them into 5 cm pieces. Mash the potato and add salt and pepper to it. Add water to the flour like it is done when bhajiyas are made. Now, take two pieces of paneer, apply green chutney on one side and stick them together. Take mashed potatoes on a palm and spread it. Apply tomato sauce on it. Place the paneer on it and cover the paneer with the mashed potato-sauce mix. Shape the paneer. Dip this into batter and coat with bread crumbs. Deep-fry it. Serve with green chutney and potato wafers.