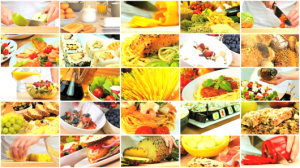 Food. Food. Food.
Has a nice ring to it, doesn't it?
I grew up watching my grand moms and my mom cook food with a glint in their eye, a smile on their face. And along with the dose of MasterChef that imbedded itself in my brain (you can almost visualize an obese teenager sitting in front of the TV gawking at the delicacies being cooked, half mouth open, dazed eyes, with a hopeful future culinary dream), I gradually (not-so-gradual) fell in love with food. From Tandoori Chicken to Sweet Corn and Mushroom Pasta, from Mutton Biriyani to Risotto Primavera, from Misti Doi to Rhubard and Lemon Curd Cake, from Sweetened Kesari Lassi to Double Berry Smoothie, from Spicy Samosas to Cheese Scones – I opened my arms to all. Or, should I say stomach?
I learned to cook, as most children do at one point or the other.
I make the best Gajar ka Halwa(a Carrot sweet dish) in my family. No kidding. But that 'hopeful future culinary dream'? Well, that's taken a standstill.
Because, there's a small glitch.
I don't have much patience. I love food. I really do. But after the first half hour of cooking time, all my patience is lost. This usually ends in two ways: either I'll leave the kitchen(an utter mess by now) heart wretched and defeated, be awfully thankful for my SuperMom who'll clean up and finish cooking the meal in a jiffy, OR I'll be irritated as hell, yet seize the damned crockery and continue cooking- the end result being a half burnt cake or inedible chicken curry or under seasoned fish or… oh, you get the drift.
And as usual, SuperMom to the rescue – a couple of weeks later, a couple of recipes (short ones) down, I was ready to take on the world.
WOO-HOO!
So, for similar souls like me, here are a couple of under-20-minutes recipes to try out and impress your family, friends and more.
(My YUM-shake)
Chocolaty Banana Milkshake
Time: 3 minutes
Ingredients: 2 ripe bananas, 2 tbsp honey, half a bar of good quality chocolate (I used one whole DairyMilk. I love that chocolaty gooiness), 450 ml of milk, vanilla ice cream
Directions: Put bananas, honey, chocolate, milk and 2 scoops of vanilla ice cream in a blender. Blend until smooth and frothy. Pour it in a glass. Put 2 more scoops of vanilla ice cream on top. Serve chilled.
(A sick-day savior)
Cauliflower Soup
Time: 15 minutes
Ingredients: 1 chopped onion, ½ thinly sliced leek, 2 crushed garlic cloves, 1 roughly chopped cauliflower, 750 ml of milk, 50g grated Parmesan, chives, butter to cook
Directions: Cook onion, leek and crushed garlic cloves in a knob of butter until soft. Add chopped cauliflower and the milk. Cover and simmer until the cauliflower is tender.
Place everything into a blender and blitz until smooth. Stir in grated Parmesan, ladle into bowls and finish with a few snipped chives scattered on top.
(A filling snack)
Egg and Raisin Sandwiches
Time: 5 minutes
Ingredients: 3 eggs, 1-2 tbsp mayonnaise, 2 tbsp raisin, white bread, butter
Directions: Hard boil the eggs. Let cool before peeling and finely chopping. Mix with mayonnaise, raisin and some seasoning. Spread 2-3 slices of white bread with 2 tbsp softened butter, top with the egg mix and sandwich with 2-3 more slices of bread. Cut into mini triangles and Serve.
(Something I can eat a dozen of)
Apple Muffins
Time: 25 minutes
Ingredients: 200 ml buttermilk, 1 large egg, 1 tbsp vegetable oil, 2 tsp vanilla extract, 200 g flour, 100g caster sugar,1 tspn baking powder, 1 tspn bicarbonate of soda, 2 small apples
Directions: Heat oven to 170C and line 8 holes of a muffin tin with muffin cases. Whisk together the buttermilk, egg, oil and vanilla extract. Mix the flour, sugar, baking powder, bicarbonate of soda in a bowl. Peel, core and roughly chop the apples. Quickly fold the wet ingredients and apple into the dry ingredients. Spoon the batter into the muffin cases and bake for 20 minutes. Cool for a couple of minutes in the tin before moving to a cooling rack. Serve warm or cold.
(A twist to the ever-popular omelette)
Omelette
Time: 15 minutes
Ingredients: ½ chopped onion, 1 diced red pepper, 1 diced tomato, 50 g chopped mushrooms, 1 finely diced potato, 4 eggs, a pinch of oregano, oil and butter to cook
Directions: Heat 1 tsp vegetable oil in a non-stick frying pan over a medium heat. Add potato, mushrooms, onion, tomato and red pepper. Cook for 8-10 minutes to soften, and then tip out the veg. Lightly beat the eggs. Sizzle a small knob of butter in the pan, add the eggs, allow to set and then spoon the vegetables over the egg. Cover with lid. After 2 minutes, open the lid and sprinkle a pinch of oregano. Serve hot.
(And my personal all-time favourite)
Pancakes
Time: 20 minutes
Ingredients: 300g flour, 1 tsp baking powder, 1 tbsp caster sugar, 2 eggs, maple syrup, 300 ml of milk, butter to cook and a pinch of salt to taste
Directions: Mix flour, baking powder, caster sugar and salt in a large bowl. Crack in the eggs and whisk until smooth. Add 1 tbsp maple syrup and the milk while whisking. Heat a splash of oil and a small knob of butter in a non-stick frying pan until sizzling, Add spoonfuls of batter to make the pancakes. Cook until bubbles start to form on the surface, then flip and cook the other side. Keep the pancakes warm in a low oven while you cook another batch. Serve them drizzled with extra maple syrup.
Image Courtesy-www,gizmag.com