Give a child a glass of plain milk, and he'll shirk from it forever, blend some ice-cream into it, fuse a fruit or two into it or maybe shake it up with some chocolate syrup and the kid will love having milk for almost every meal! Yes, what I'm talking about here are milkshakes! Be it the scorching summers or the dull monsoons, a chilled milkshake is always appreciated by everyone, be it a kid of 5 or the parents at 35.
A milkshake is a cold, sweetened beverage with a milk-base and is usually flavored with ice-cream and flavouring agents like caramel or chocolate sauce, butterscotch or fruit syrups. It is also known as a thickshake or a frappe in New England.
The term 'milkshake' was coined in 1885 for an alcoholic whiskey drink, which was a tonic as well as a treat. However, by 1900, the term was used for wholesome drinks made with chocolate, vanilla syrups or strawberry. Soon, people were asking for the new treat with ice-creams. This treat started gaining popularity soon enough, they were a must-have on all food outlet menus.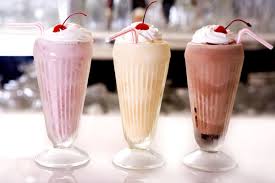 Though restaurants and food outlets serve exotic milkshakes served with sides that can serve as a complete meal and keep your stomach full for half a day, blending a milkshake at home is not big deal either. Call it a frappe, velvet or a frosted shake, this treat will never disappoint you. These liquid treats are not just packed with nutrients but many of them also aid weight loss.
Following are some innovative simple milk-shake recipes that have been tried and tested by me.
OREO MILK SHAKE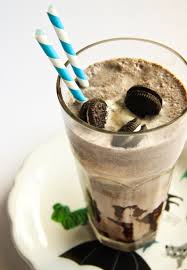 Ingredients:
10+2 Oreo cookies
4 scoops of Vanilla Ice-cream
50-100ml milk
A pinch of salt
Procedure:
Crush the Oreo cookies coarsely with hand and place them in a blender. Add the scoops of ice-cream and the milk.
Pulse till cookies are completely crushed.
Add a pinch of salt and blend till completely smooth. Add more milk according to the required thickness.
Pour into a tall glass and serve with 2 Oreo cookies sitting pretty on the top!
TIP: You could add a drizzle of dark rum to turn it into an adult treat for your cocktail parties!
VANILLA MILK SHAKE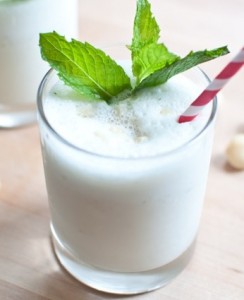 Ingredients:
4 scoops Vanilla Ice-cream
2 teaspoons vanilla essence/ extract
50-100 milk
Sugar if needed
2-3 mint leaves to garnish
Procedure:
In a blender add the ice-cream with a splash of mil and blend until completely smooth.
Add the vanilla extract and blend again.
Check for the taste and thickness and add sugar or milk if required.
Pour into tall tumblers and serve chilled with mint leaves placed on top.
TIP: You could garnish with chocolate syrup and chopped walnuts for the extra flavor.
CARAMEL MILK SHAKE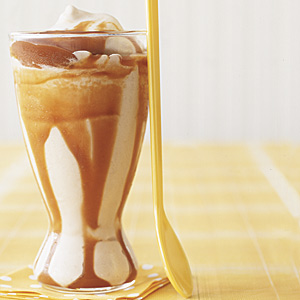 Ingredients:
1 cup sugar+1/3 cup water
¾ cup heavy cream
A pinch of salt
1 table spoon butter
1 teaspoon vanilla extract
2 scoops Vanilla Ice-cream
1/2 cup whole milk
Procedure:
Add the water to a medium saucepan and set it over high heat. Pour the sugar directly into the centre so that none of it scattres onto the sides.
Bring to a boil and cook till the sugar starts to brown. Do NOT stir the pot. Let all the sugar melt uniformly.
TIP: You could give the pot a gentle swirl to help melt all the sugar.
Once the sugar turns into a deep brown sauce, carefully and gradually add the cream. Add the butter, salt and the vanilla extract.
Swirl the pot to dissolve all the ingredients evenly into the sauce.
Drizzle a bit of the caramel sauce so prepared into tall glasses along the sides and put the tumblers into the freezer to chill. The sauce will set and produce a gorgeous effect on the glasses.
Take the rest of the sauce and pour into a blender with the whole milk. Blend until smooth
Pour the shake into the glasses that had been prepared in the freezer.
Serve chilled.
DATES ALMOND AND BANANA MILKSHAKE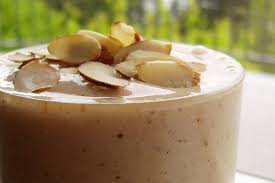 Ingredients:
2 large ripe bananas
1 cup of almonds soaked overnight in water.
1.5 cups of almond milk
8-9 ripe dates (stones removed)
1 teaspoon of Cinnamon Powder
1 teaspoon butter
1 teaspoon Vanilla essence
Whipped cream and chopped almonds to serve.
Procedure:
De-skin the soaked almonds and blend them to form a fine paste. Add the bananas and dates, with a small amount of the milk and blend to form a smooth paste.
Pour the remaining milk, cinnamon powder, vanilla essence and butter and blend until smooth and uniform.
Pour into talk glasses and serve chilled with whipped cream and crushed almonds on top.
TIP: You could also add a drizzle of honey on the top.
MEXICAN COFFEE MILKSHAKE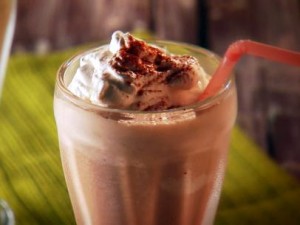 Ingredients:
¼ cup granulated sugar
1 cinnamon stick
2 tablespoons orange zest
1.5 tablespoons instant coffee powder.
2 scoops Coffee ice-cream
1/2 cup milk (optional)
Whipped cream for serving
Procedure:
Combine 1 cup water and the sugar in a medium saucepan. Cook over medium heat, stirring continuously till all the sugar dissolves.
Split the cinnamon stick with your hands and add it to the pot. Add the orange zest and let the mixture sit for about 10 minutes till all the flavours infuse. Remove from flame.
Remove the cinnamon stick and add the instant coffee powder to the syrup.
Add the ice-cream and the syrup in a blender and mix until smooth.
Serve chilled in tall glasses. Garnish with the whipped cream.
TIP: you could use ground cinnamon powder/ coffee powder/ roasted coffee beans/ orange zest as additional garnishes.
Enjoy these treats for breakfast or have them as a healthy snack; you'll love these either ways. You could also experiment and come up with interesting recipes. Happy Blending!