The Taste of Chicago is the world's largest outdoor food festival held annually mid-July in Grant Park , Chicago. This festival was the brainchild of Arnie Mortan.. He decided to line up Chicago restaurants to participate and persuaded the Mayor and Commissioner of Cultural Affairs to block off Michigan Avenue for the first Taste of Chicago on July 4, 1980. The organizers expected a footfall of around 100,000 , but the numbers surpassed the expectation by a broad margin and the event witnessed 250,000 visitors in its maiden year, wherein the food and soda sales grossed a total amount of $300,000.  The next year, the Taste of Chicago was moved to Grant Park and grew in size and scope, becoming a 10-day event with more food vendors and musical performers, thereby gaining the title of the world's largest and most celebrated food festival.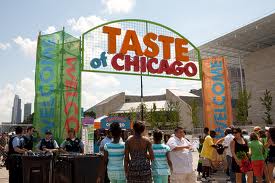 Grant Park is centrally located, easily accessible to public transportation and parking, and is identifiable to citizens and visitors as the center of the Grant Park Cultural community which includes the Art Institute, Adler Planetarium and Shedd Oceanarium, Field Museum, Cultural Center, Michigan Avenue and State Street Shopping.  The use of Grant Park as a venue would also afford utilization of the Petrillo Music Shell, originally designed  by the Grant Park Symphony Orchestra.  This would handily give access to a stage, dressing rooms and showers for performers, as well as seating for thousands of people.The popularity and immense success of The Taste of Chicago prompted other cities in US to spawn numerous offshoots throughout the country , such as The Taste of Denver , The Taste of Champaign . CityFest in Detroit , Taste in Dallas , Taste of Madison and many more.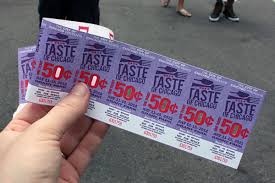 The Taste of Chicago that was incepted in  July 4th ,1980 is  now one of the largest tourist attractions in Illinois.  This free- admission festival, now in its 33rd year,  is keenly awaited by people belonging to all age – groups and races   and is responsible for infusing a vibrant spirit  in the otherwise dull and work logged atmosphere of Chicago ! Food brings everyone together and calls for a reason to celebrate life !  Non-food related events include live jazzy music performances and  some adventurous and bumpy rides for kids.Colorfully decorated food booths surround the outside kitchens of more than three dozen restaurants from all over Chicago, which now include Pop-Ups , Food trucks  and Five-day Restaurants.  Exotic aromas permeate the air and no visitor leaves a food booth empty handed.Last year's "Taste" attracted more than one million visitors from all over the city, the suburbs, the Midwest and the country.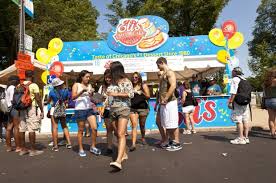 Taste underwent a major transformation in 2013 with several new areas that highlight Chicago's vast culinary community crawling up. In addition to Pop-Ups, the event features Celebrity Chef du Jour, a specially designed air-conditioned dining experience where patrons can receive a sit-down, three-course meal prepared by noted chefs such as Graham Elliot and Stephanie Izard.The Family Village presents special activities for kids, while the Bud Light Stage offers the best in local and regional music, covering a variety of genres.For ardent food lovers , who desire more from this festival apart from munching on food, a popular attraction is the Dominick's Cooking Corner where local chefs, guest stars and  celebrity chefs demonstrate their wares and confide the secrets of their culinary success.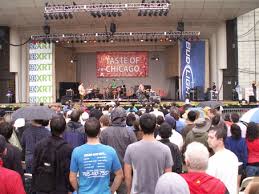 A star attraction in addition to Chicago's vast culinary offerings are real stars from the music industry who perform on the main stage at the Petrillo Music Shell.  Over the years the lineup has included multiple Grammy winners including stars such as Carlos Santana, Stevie Wonder and Wilco. Taste of Chicago provides a phenomenal platform to capture the favorites and the future of Chicago's restaurant and dining community.
This year , the event is gonna be held for five days from July 9, 2014 to July 13,2014 ! Touted to be the hottest party in the city with  the best food vendors and the most fancy restaurants lining up to serve you some sumptuous and lip-smacking delicacies , the festival this year promises to  provide  us a clearer picture of the diverse culinary scene of Chicago ! It will feature the city's most loved dishes and will leave the visitors spoilt for choices as their taste buds will go wild sampling more than 200 different menu items from a variety of cuisines like American , Indian , French , Irish , African , Chinese , Italian , Japanese and many more !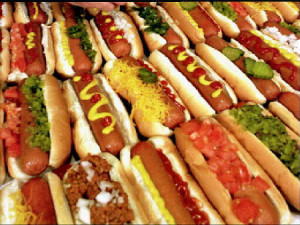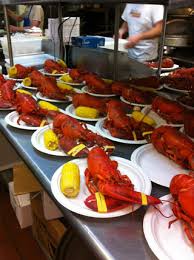 This year's Taste of Chicago  will feature performances by AWOLNATION, Janelle Monáe, Emmylou Harris, and Aloe Blacc, and more throughout the fest. The Food Truck vendors are back this year with seven new food trucks including Bridgeport Pasty , Harold's Chicken , Chicago lunchbox and Starfruit Cafe.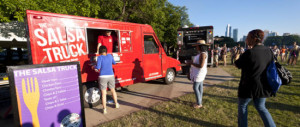 The entrance into the festival is free but you do need to purchase tickets for the concerts at the Petrillo Music Shell and the Pure Leaf Celebrity Chef du Jour, where Art Smith, Andrew Zimmerman, and other notable chefs will prepare 3-4 course dinners inside the dining pavilion.Concert tickets start at $18 and that of Celebrity Chef du Jour events start at  $45.