The frigid winter months of December and January are bearing down upon us, and all anyone wants to do right now is to curl up cosily in their heavy blankets and eat tons of hot, rich food. The harsh weather right now makes the human body crave even more for nutrition, and it is not surprising that some of the best dishes that we know of taste the best in these freezing days. Compared to the year long summer heat in most parts of India, we have a greater appetite for food in the winters. It is in these few weeks that we look with great curiosity towards our kitchens, and wait impatiently for our mothers to emerge out of the area with some aromatic and delicious gastronomic work. Be it sarson ka saag and makke di roti, gulab jamuns, hot coffee, or ginger tea, all of these dishes and more never fail to tickle our tastebuds during the cold season. Here are two easy to cook recipes, one for gajar ka halwa, and the other for Gujarati meethi kadhi, in case you ever need a hot fix for your winter woes.
Gajar ka Halwa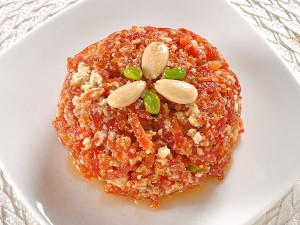 Also known as gajrela, gajar ka gajrela, and carrot halwa, gajar ka halwa is a South Asian dessert pudding and a winter delicacy in north Indian states. Made by cooking grated carrots, milk, ghee (clarified butter), and nuts together, this dessert is eaten on many festive occasions in both India and Pakistan apart from being available round the year in most sweetmeat shops of the subcontinent. A completely vegetarian preparation, gajar ka halwa is a dish enjoyed by all people, and has been subject to a number of culinary innovations, some of which are a vegan version, red velvet gajar ka halwa, similarly flavoured doughnuts topped with the same, a cream cheese and halwa combination which is the desi counterpart to the carrot cheesecake.
The dish dates back to the ancient Mughal times, and the word "halwa", meaning sweet, is itself derived from the Arabic language. Gajar translates to carrot from the Hindi language. While gajar ka halwa may seem like a particularly difficult preparation to pull off in the kitchen, it is actually not. Although the ingredients do take a considerable amount of time to cook fully, gajar ka halwa is a very easy recipe to make provided you have all the cooking materials you need ready at your disposal.
Recipe (serves three-four)
Ingredients required:
1 kg of grated carrots, cleaned and peeled beforehand
100 ml of condensed milk
Cleaned, preferably roasted, dried fruits and nuts (cashews, almonds, raisins, pistachios)
½ kg of khoya
4 big tablespoons of desi ghee (clarified butter)
1 cup of castor sugar
4 cups of milk
Cardamom seeds. Alternatively, you can use one-third of a teaspoon of cardamom powder.
The steps needed:
Put the shredded carrots and milk in a heavy-bottomed pan or a wok on medium flame.
Let the carrots soak in the milk to a considerable amount. Let the mixture turn a rich golden-orange colour.
Add condensed milk and cardamom and stir for some time.
When it is cooked halfway, add khoya, after putting aside some for garnishing. Also add ghee.
Once everything is properly mixed, add sugar on a low flame. Take note of the flame and ensure that the sugar does not caramelize in the halwa.
Add dried fruits from above, garnish with a little khoya, and serve in bowls. You can also add varakh (the silver food foil) for an aesthetic look.
Gujarati Meethi Kadhi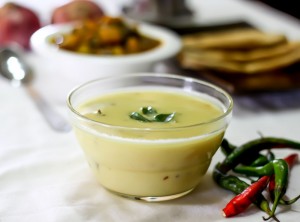 Kadhi is an Indian main course dish of desert origins, and was first made in Rajasthan. However, it quickly grew popular with people from other regions of India, and now has different variants according to different states, belonging to Punjab, the Sindh area of Pakistan, Gujarat, Uttar Pradesh, and Maharashtra. While it is a dish best served hot, kadhi itself is derived from curd and yoghurt, which ironically taste best when cold.
Gujarati cuisine is known for its sweetness, and its kadhi carries the same quality. In our household, Gujarati meethi (Hindi for "sweet") kadhi is a winter favourite, and its recipe has passed on from one generation to the next, with a few modifications by each. This dish can be had as a drink, and since we already have the salty kadhi of Uttar Pradesh, complimented with besan pakodas (fillets), Gujarati meethi kadhi is served as a hot and sweet beverage mostly in the evenings. It hardly takes much time and effort to prepare, and is the perfect heavy snack that will fill your stomach in between meals. All you need is a bowl, a saucepan, and some easily accessible cooking materials, and a time period of fifteen minutes to spare.
Recipe (serves two)
Ingredients required:
2 big tablespoons of besan (gram flour)
1½ glasses of curd
Half a cup of water
Turmeric
Curry leaves
Asafoetida
A teaspoon of rai (mustard seeds)
Two teaspoons of sugar
Salt
Whole, dried red chillies
2 teaspoons of oil
The steps needed:
Add the besan and curd slowly in a big bowl, stirring slowly so that no lumps are formed.
Put a pinch of turmeric in this mixture. Also, add salt according to taste.
In a separate pan, put oil and let it heat on a slow flame.
To the hot oil, add rai, a little hint of asafoetida, and some curry leaves. Be careful to not let the curry leaves blacken completely because of excessive heat.
On a low flame, add red chillies to the pan.
Take the besan and curd paste, and pour it in the pan.
Stir continuously so that no lumps are formed while keeping the pan on a medium flame.
Let the mixture boil, and then pour it in glasses.
Top with a few curry leaves and serve hot.