Richness of yogurt combined with flavor of blueberries make for a delectable treat. From parfait to cake filling. Lick lollies to salad  dressing, there are interesting food ideas around the bowl of blueberry  yogurt.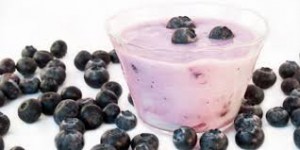 From creamy layers in a cake to a delicious, healthy dip, here's how to add a spin to the usual bowl of blueberry yogurt. 1 Take a big bowl, fill the bottom layer with cake. Top it up with the blueberry yogurt and splash in some chopped berries. Repeat this layer. Add another layer of cake and top it up with icing sugar.this cake will leave you craving for more. 2 Fruit lovers can top their fruit plate with blueberry yogurt and little bit of honey and crunches on the top. This is a tasty, healthy option. 3 Churn blueberry yogurt to get a creamy texture and then freeze it. Your blueberry lick lolly is ready.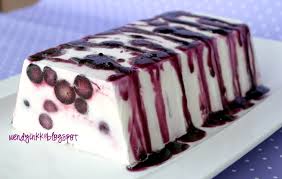 4 Blueberry yogurt is a dip in itself. One can also add to it crushed walnuts, sea salt and olive oil to it. Churn it and serve this dip  with savory bread or finger vegetables. 5 Blend one cup of yogurt with some fresh herbs. Add 1tbsp of vinegar and a pinch of salt and pepper. Use it as a salad dressing and    serve it over your favorite greens. 6 In a tall glass, layer blueberry yogurt, corn flakes and fresh fruits. Repeat this layer twice. Top it up with some strawberries and  treat yourself with this irresistible parfait. 1. Blueberry smoothie-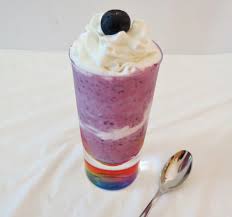 A. 4 tbsp sugar B. 1 inch cinnamon stick C. 4 dried rosebuds D. 1 star anise E. 1 tbsp coarsely chopped lemongrass F. 3 cups blueberry yogurt G. Mint leaves for garnishing In a medium saucepan, bring 1/2 cup water to boil. Add sugar, cinnamon stick, dried rosebuds, star anise and coarsely chopped lemongrass. Cook while stirring constantly for about a minute, till sugar is dissolved. Remove from heat, cover and let it rest, until flavors are well absorbed. Strain and reserve. In a blender, combine blueberry yogurt and 2 tbsp spiced sugar syrup and blend well. Served chilled, garnished with mint leaves.
 Blueberry yogurt muffins-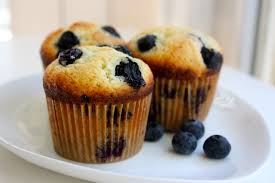 A. 1 cup all- purpose flour B. 6 tbsp sugar C. 1/4 tbsp salt D. 1/4 tbsp baking soda E. 1 egg F. 3 tbsp canola oil G. 1 egg H. 1/2 cup vanilla yogurt I. 2 tbsp 2% milk J. 1/2 cup fresh blueberries K. 1/4 tbsp baking powder In a small bowl,combine all purpose flour, sugar, salt, baking powder and baking soda. In another medium sized bowl,combine egg, yogurt, oil and milk. Stir into dry ingredients, until moistened. Fold in the blueberries.
Fill greased or paper lined muffin cups three fourths full. Bake at 350` for 20 to 22 minutes or until the toothpick inserted inside it comes out clean. Cool for 5 minutes before removing from pan to a wire rack.
 Blueberry yogurt pop sickle-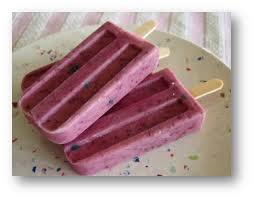 A. 2 cup fresh blueberries B. 2 cups vanilla or plain yogurt C. 1/4 cup white sugar D. 8 small paper cups E. 8 pop sickle sticks Place the mixed blueberries, vanilla yogurt and sugar into a blender. Cover, and blend until berries are chunky and smooth, as desired. Fill paper cups three – fourth with the fruit mixture. Cover the top of each cup with aluminum foil. Poke a pop sickle stick through the center of foil in each cup. Place the cups in the freezer for a minimum of 5 hours. To serve, remove the foil and the paper cups.   4. Lemon- blueberry yogurt loaf-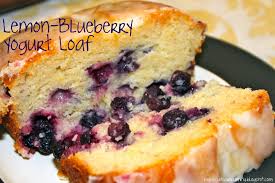 A. 1 1/2 cup all-purpose flour B. 2 tsp baking powder C. 1/2 tsp salt D. 1 cup sugar E. 3 large eggs F. 1 cup plain or blueberry yogurt G. 1/2 cup oil H. 1/2 tsp vanilla extract I. 1 1/2 cup fresh blueberries J. 1 1/3 cup fresh lemon juice K. 1 cup confectioner's sugar L. 2 tsp grated lemon zest Preheat the oven to 350`, grease bottom and sides of loaf pan. In a medium bowl, combine together flour,baking powder, salt and set aside. In another bowl, whisk together yogurt, sugar, eggs, lemon zest, vanilla extract and oil. Slowly combine the contents of  both the bowls. In another bowl,add blueberries and remaining flour, and fold them gently into batter. Pour the batter into the oven for 50 to 55  minutes, until it is cooked properly. Let it cool for 10 minutes.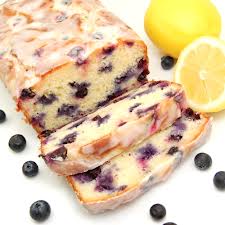 While the loaf is cooling, make lemon syrup by mixing in sugar and lemon juice and cooking them for 3 minutes. With toothpick make holes in the loaf, and brush in the lemon syrup on the top and sides of the loaf. For lemon glaze, in a bowl add confectioner's sugar and lemon juice. Pour the lemon glaze over the top of the loaf and let it harden  for 15 minutes before serving. Quick facts about yogurt-  1.  Yogurt, got its name from the Turkish word yogurur, which means long life. 2.Yogurt with added fruit jam was patented in 1933 by the Radlicka Mlekarna dairy in Prague. It was introduced to the United  States in 1947. 3.It is believed that eating yogurt is associated with longevity. Eating yogurt regularly can help you absorb the nutrients in  other  foods. 4.According to many historical accounts, the creamy treat originated from primitive methods of milk storage in containers  made  from animal stomachs. The natural enzymes from these animal parts would curdle the milk, resulting in what we today know as   yogurt.