Photo Walk.
Sure.
But how many of you have heard of "FOOD WALK"?
Food Walk (definition):
You walk. You go places. You try out different delicacies. You eat, eat and eat.
Your knowledge of food increases tenfold. Your waist-line – not so much, since you are literally walking the whole way and that makes up for all the calories you intake.
Going around the city with my friends from college, I have learnt a great deal about my Kolkata and its food culture. We, more often, hit the old cabins of the yesteryears than the posh Park Street restaurants – because, well, we are students at the end of the day with just enough cash for our endeavors.
One of the very first places we went to was Das Cabin, situated in Gariahat. We googled it's speciality : Moghlai , Kosha Mangsho( Spiced Chicken/Mutton) with Roti and Kobiraji. And the foodies that we are, we ordered all three. The prices were quite reasonable and the food was impeccable. The Moghlai was small and soft with a considerable amount of filling. I would have to say I have had better – in South Pole, to be precise, which is also in Gariahat(Note: South Pole serves Moghlai only after 3 p.m.). The Kosha Mangsho was delicious and can give good competition to the one in the famous Golabari in Shyambazar. And the Kabiraji – o the kabiraji! – was crisp, made with the right amount of spice in the patty and with each bite, you could literally hear the angels sing.
A try-at-home recipe –
Fish Kobiraji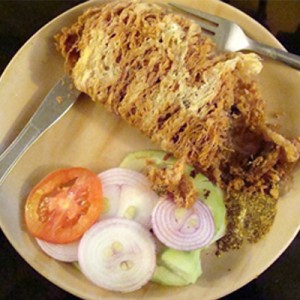 Ingredients: 10 bhetki fillets, ½ tsp mustard powder, ½ tsp black pepper powder, 1 tsp red chili powder, 1 tsp coriander and mint leaves (chopped), 10 Eggs, 2 tbsp cornflour, 2 tsp Breadcrumbs (optional), Juice of one lemon, Salt
Direction: Wash the bekti fillet under running water, pat them dry and soak in salt and lemon juice for 20 minutes. Mix the mustard powder, red chili powder, black pepper powder, coriander and mint leaves together and apply on the each side of the fillets evenly and refrigerate it for another 20 minutes. Beat the eggs and mix the cornflour, breadcrumbs with salt. Heat some oil in a pan and add two tablespoons of egg mixture. As soon as it becomes fluffy add the marinated fish fillet and quickly cover it with the egg mixture. Fry on low to Medium heat till done. Serve hot with kasundi (Bengali mustard sauce) and salad.
Another day, we decided to walk from Presidency University to New Market, from there to Sudder Street and thereby, in the end, landing up in Park Street. If you walk to the right of Presidency University, a little near College Square, you will find a tiny old cabin reminiscing its old world charms. Favourite Cabin is a cabin which has tales etched in all its nooks and corners; oft frequented by the older generation, it felt amazing to sit there, the only people below 55, sipping 3-rupees-milk-tea, biting into crunchy Cream Roll and observing the theatric conversations buzzing around us.
Sudder Street, however shady it may be, has quite a few good food places – Blue Sky Café and Spanish Café being the most popular ones. I'm yet to visit Blue Sky Café but having chanced upon Spanish Café, I got to say it serves reasonably priced and yummilicious food. Their Café Bombon is a must-have! The Chocolate Pancake is simply a piece of ambrosia. The Mint Tea is refreshing – the way you feel when you hear Richard Stoltzman's The Maid With Flaxen Hair. In short, you absolutely must try them!
Here are the home-made alternatives –
Chocolate Pancake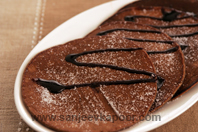 Ingredients: 1 cup refined flour (maida), 3 tbsp chocolate grated, 1/3 cup cocoa powder, ½ tsp  soda, 1 cup Milk, 2 tbsp butter melted, 1 egg, ¼ cup  sugar, ½ tsp salt, Castor sugar (to sprinkle)
Direction: Sieve together flour, baking soda, cocoa powder into a bowl. Add milk, melted butter, egg, sugar, salt and mix well. Heat the skillet and pour a ladleful of batter on the skillet and cook on both sides until brown. Serve hot sprinkled with caster sugar and grated chocolate on top.
Mint Tea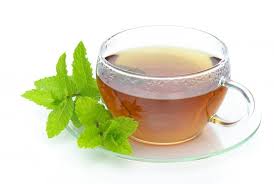 Ingredients: 2 tbsp fresh mint leaves (pudina), 2 tea bags or 2 tsp tea leaves, 2 and half cups of water (each cup being equal to 250 ml), milk, sugar (as per taste)
Direction: Wash the mint leaves in water. In a tea pan or tea maker, add water. Add the mint leaves. Boil the water for 3-4 minutes till the flavors and aroma of the mint starts infusing in the water. The water will start becoming green. Let the quantity of green color in the water increase considerably. Add the tea leaves. Add sugar. Add milk and let the tea come to a boil. Serve the mint tea with light tea-time biscuits. If using tea bags, then put off the burner. In the hot water, dip the tea bags for 2-3 mins. Add sugar and hot milk. Stir and serve.
(To be continued)