Since my affection for Lebanese cuisine transformed into an obsession, and I started to empty my pockets at every other Lebanese joint in the city, which though made me popular and loved among their owners, but my savings began to race to the descending point. I was worried, and about to become penniless, but my obsession was experiencing its ascending waves and ridges, that didn't seem to end. And, so I had this (brilliant) idea of saving myself, all that expense, with only a little bit of research and lots of effort. I started to cook, bake and indulge in the Lebanese delicacies on my own, and here's the itinerary of my palate-pampering venture!
FALAFEL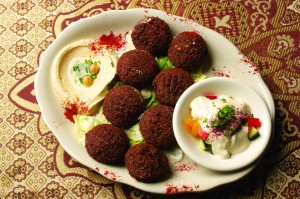 A traditional Middle East delight, this dish takes only two hours of dedication, and delivers you with varied options of consumption of its heavenly taste. This can be enjoyed with pocket-mouth pita bread, or wrapped around with lafa, which is a flatbread. Top it up with some fresh salad, spicy hot sauce, pickled vegetables, or the traditional drizzle of tahini-based sauces would do the magic!
INGREDIENTS
Dried chickpeas or garbanzo beans – 1 cup
Chopped onion(large) – 1
Chopped garlic – 2 cloves
Chopped fresh parsley – 3 tablespoons
Coriander – 1 teaspoon
Cumin – 1 teaspoon
Essentials according to taste – Salt, oil and pepper.
METHOD
This step isn't really required if you're using canned beans. But otherwise, place the dried beans in a bowl and fill the bowl up with cold water. Allow them to soak overnight.
Next morning, drain the chickpeas and pour them into a pan of fresh water and bring to boil.
Let it boil for some 5 minutes and then allow to simmer on low flame, for about an hour. Then, drain and cool for 15minutes
Assemble chickpeas, onion, coriander, garlic, cumin, salt and pepper in a bowl and add flour to it.
Mash the chickpeas along with all the other ingredients (this can be done in a food processor) to make a thick paste out of it.
Make small balls out of the mixture, and slightly flatten them.
Deep fry until golden brown.
Serve hot, with humus, tahini or pita bread and salad!
TARATOR SAUCE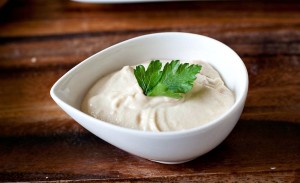 My personal favourite! This heavenly sauce goes with almost everything edible under the sun. Try it with veggies, seafood, beef, chicken, or lamb, and discover the extra edge.
INGREDIENTS
Sesame seeds (for Tahini paste) – 2 cups
Olive oil- 4 tablespoons
Lemon juice – ¾ cup
Water- 2 tablespoons
Crushed garlic- 2 cloves
Salt- ½ teaspoon
Finely chopped parsley – ½ teaspoon
A dash of cumin
METHOD
To make the Tahini paste, roast the sesame seeds gently over low heat while stirring continuously for about 10 minutes. The colour is not needed to change, so when done, remove flame and keep it aside to cool.
Add the roasted sesame seeds to a food processor bowl along with 4 tablespoons of olive oil and make a thick paste out of it. Add more oil if needed. Your tahini paste is ready, so let it cool and then refrigerate.
Again, in a food processor, assemble tahini paste, garlic, lemon juice, salt, and cumin together and mix well. Keep adding water while mixing, but maintain its thickness.
Remove from the processor into a bowl and stir in parsley. Refrigerate it in jars and indulge!
LAMB AND KISHK KIBBEH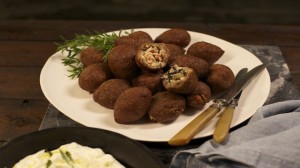 INGREDIENTS
Olive oil( to deep fry)
Greek-style yoghurt
Tarator sauce for garnishing
Kibbeh shell
Fine Burghul( cracked wheat) – 300g
Hot water – 675ml
Sabaht baharat (Lebanese seven spice: a combination of ¼ tsp. cloves, ¼ tsp. cardamom,2 tsps. cumin, ½ tsp. nutmeg, 1 tsp. coriander, ½ tsp. cinnamon and 1 tsp. pepper with 2 tsps. smoked paprika. Ready-made is available in stores)
Lamb leg(all sinew removed and cut into small pieces)- 360g
Salt and black pepper
Kibbeh farce
Olive oil- 1 tablespoon
Finely chopped garlic- 1 clove
Finely chopped small brown onion- ½
Finely chopped silverbeet leaves and stems- 2
Cooked and mashed chickpeas- ½ cup
Sabaht baharat- 1 tablespoon
Peeled and chopped tomatoes- 2-3 cups
Dried mint- 3teaspoon
Kishk powder – 50g
Labna- 30g
Salt and pepper, to taste
METHOD
For the kibbeh shell, soak the burghul in hot water until they turn soft. Drain the excess water after it's done.
Combine the softened burghul, sabaht baharat and lamb in a bowl, and season it with salt and pepper. Mix and then mince the mixture along with the meat.
In a food processer then process the entire mixture until a thick and sticky consistency is formed. Cover and refrigerate.
For the kishk farce, in a frying pan, add oil and garlic and sauté for 1- 2 minutes on medium flame, until its fragrance fills the air. Toss in the onion and silverbeet stems and cook for 2-3 minutes, until the onion softens.
Add the silverbeet leaves, chickpeas, sabaht baharat and sprinkle a pinch of salt and let it cook until the leaves are wilted.
Add the tomatoes and dried mint into it and cook for a minute, just to soften. Remove it from the flame and add the kishk powder and labna and mix. Transfer in a bowl and refrigerate.
To assemble, take an egg sixe amount of kibbeh shell mixture and shape it into a ball. Poke a hole in it, using the thumb and keep digging deeper to make space for the filling. Stuff a tablespoon of kishk farce in it and seal the ball. Repeat it with the others. Once done, refrigerate them for half an hour to set and firm up
Then, deep fry the kibbeh in a saucepan for 4-5 minutes until dark golden. Drain on a tissue to get rid of the every oil.
Serve hot with the heavenly tarator sauce, or yogurt and salad.
LAMB SHAWARMA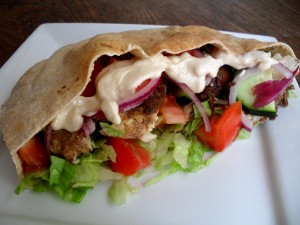 INGREDIENTS
Plain yogurt- 2 cups
Distilled white vinegar – ¼ cup
Olive oil – ¼ cup
Lemon juice – 3 tablespoons
Garlic, minced – 3 cloves
Ground cinnamon – ½ teaspoon
Ground nutmeg – ½ teaspoon
Dried oregano – ½ teaspoon
Bay leaves- 2
Boneless lamb legs(cut into strips) – 3 ½ pounds
Olive oil – 2 tablespoons
Pita bread rounds (8-inch) – 8 pieces
Tomatoes (thinly sliced) – 2
Onion( thinly sliced) – 2
Fresh mint or coriander leaves – ½ bunch
METHOD
Whisk in yogurt, vinegar, ¼ cup of olive oil, garlic, cinnamon, nutmeg, lemon juice, oregano and bay leaves, in a bowl, and then pour the mixture into a re-sealable plastic bag.
Put the thinly sliced meat into the bag to coat them with the marinade and seal the bag while squeezing out the excess air. Marinate the lamb, in a refrigerator, overnight.
Next day, in a heated non-stick pan add 2 tablespoons of olive oil and pour in the lamb and marinade. Cook until the lamb has lost its pinkish hue and is tender (for about 15-20 minutes).
Continue stirring while the meat cooks. Once done, divide the cooked lamb among the warmed pita breads, and garnish with tomatoes, onions, fresh mint or coriander leaves. Serve with Tarator sauce at the side (you can also sauté the onions and tomatoes, for a spicier texture, but I like them fresh because it's healthier that way!)
Tada!