If you are recently vegan, congratulations! Mother Earth will thank you, and so will all the animals that would have otherwise ended up on your platter or been tortured in high-temperature cells to provide you with your daily egg or glass of milk. Besides, you have made an excellent choice for your health: a vegan diet goes a long way in reducing risks of chronic degenerative disorders such as obesity, corollary artery disease, high blood pressure, diabetes, and cancers of the colon, the prostate, the stomach, the esophagus, and the breasts.
Given the benefits, making the transition is not really the ordeal it might appear to be to the hard-core meat-eater. With a large number of people the world over looking to veganism as an ethical and responsible way of living, a multitude of vegan products and places have sprung up to cater to this audience. Whether you are navigating through the aisles of your local supermarket or walking down the street during your lunch break, finding great-tasting and healthy vegan food is a breeze. If you are eating out, almost all restaurants have great selections of vegan options on their menus. For inspiration in the kitchen, you need look no further than the internet or your local bookstore for ideas on how to create mouth-watering vegan masterpieces.
We are sure veganism has been spiritually fulfilling for you so far. But what about those times when you have an intense meat craving? You wake up one morning and the usually dormant carnivore in you is insatiable. Would you give in? Or would you compromise with your taste buds? Thankfully, you don't have to do either. With a range of mock-meats, nondairy cheeses/butters, and faux poultry products available in the market today, there is a way to fool your mouth into thinking that it's getting its share of "non-vegetarian" delight, while your conscience remains spotless. A little bit of creativity is all you need! To help you get started, we have furnished here a few easy recipes that should help indulge your inner non-vegetarian.
BREAKFAST: Mock Sausage
Requirements:
1 ½ cups boiling water
2 tbsp. soy sauce
1 cup dry textured vegetable protein granules
1 ½ cups mashed firm tofu
2 tsp. crumbled sage leaves
1 tsp. marjoram
½ tsp. garlic granules
1 ½ tsp. onion power
½ tsp. thyme
½ tsp. salt
½ tsp. red pepper flakes
Black pepper to taste
½ cup unbleached flour
Procedure:
Pour the water and the soy sauce over the textured vegetable protein in a bowl. Let it soften. Next, add all the other ingredients, spare the flour, and mix well. Once the mixture is cool, add the flour and mix well again. Now shape the mixture into 10 patties or 20 small "sausage links". In a lightly oiled heavy frying pan, steam-fry the patties/sausage links in two batches over medium heat, covered, for at least 20 minutes, until firm and brown. Your mock-sausages are ready to eat. You can also refrigerate them for later consumption. To reheat, simply place in a covered, lightly oiled skillet with a few tablespoons of water and cook over high heat until the water evaporates.
LUNCH: 'Chicken' with Artichokes and Olives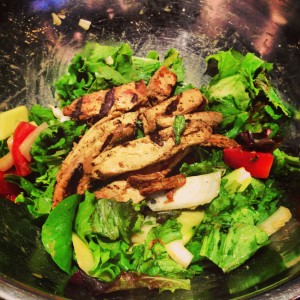 Requirements
(makes 6 – 8 servings)
3 tbsp. flour
3 tbsp. quick-cooking tapioca
1 ¼ cups vegetable broth
8 oz. frozen artichokes hearts
½ cup chopped white onion
3-4 oz. sliced olives
2 tsp. curry powder
¾ tsp. dried thyme, crushed
¼ tsp. salt
¼ tsp. pepper
1 ½ lbs. (about ½ kg) faux chicken, shredded (try brands like Beyond Meat or Morningstar Farms)
Procedure:
In a bowl, whisk together the flour, tapioca, and broth. Add the mushrooms, tomatoes, artichoke hearts, onions, olives, and faux chicken. Stir in the curry powder, thyme, salt, and pepper. Cover and cook on high until soft and blended (estimated time of cooking: about 90 minutes). Serve with hot steamed rice.
DINNER: Veggie 'Chicken' Salad in Pita Pockets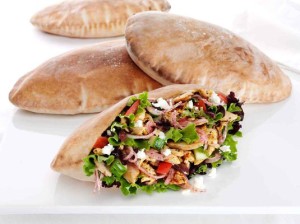 Requirements:
(makes 3-4 servings)
1 ½ lbs. faux chicken
1 small jar of veggie mayo
Pickles, diced
Jalapenos, sliced
Mushroom, diced
1 tomato, chopped
A few leaves of lettuce
1 onion, sliced
Black pepper to taste
½ tsp. salt (optional)
6-8 pita pocket shells
Procedure:
Cut the faux chicken into small pieces. Combine the pickles, jalapenos, mushroom, lettuce, tomato, onion,  (or any other vegetable/fruit of your choice). Add some mayo and mix well. Lightly sprinkle with pepper and salt. Let the salad mixture stand for about 10 to 15 minutes. Next, fill the pita pockets with the mixture and serve cold.
DESSERT: Cherry Cheese Cake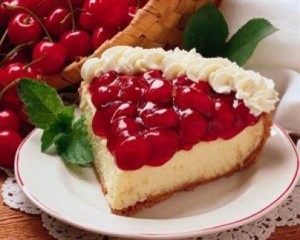 Requirements:
(makes 8 servings)
2-8 oz. containers plain, nondairy cream cheese, softened (Try Tofutti for brand)
1 cup sugar
Juice of 1 Lemon
A dash of vanilla
1 graham cracker crust
1 can cherry pie filling
Procedure:
Preheat the oven to 350°F. Mix the nondairy cream cheese, sugar, lemon juice, and vanilla, and pour into the graham cracker crust. Bake until the top layer is golden (estimated time: about 60 minutes). Refrigerate overnight. Spread the cherry pie filling evenly on top. Serve chilled.
So now you know that unlike a lot of other responsible choices, veganism does not have to include a compendium of compromises. It's easy, it's healthy, and it's fun. Give yourself a pat on the back, all you vegans!
(Recipes sourced from www.peta.org)