Lassi, a yogurt based drink which always leaves you wanting more.  In this summer nothing can be more refreshing than this coolant drink. Yogurt drinks are widely popular all over the world. In India people referred this yogurt based drink as "Lassi".
Lassi is also known as buttermilk is a traditional drink in India and Pakistan. It was originated in Punjab and is an age-old custom in Punjab to serve this coolant drink after the meal in huge glasses. It consist of Yogurt or curd, water, sugar, pepper, raisins and sometimes salt too.  Lassi can be salty or sweet and it depends on our taste which one we would like to have. Different flavors of it can be generated by adding seasonal fruits. To give a creamy taste it is topped with clotted cream. Lassi is chilled with ice-cubes and served during or after the meal as a refreshment drink.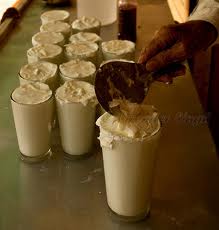 Lassi along with refreshment also helps in maintaining our digestive system and enzymes. Lassi being an item prepared from curd helps in alleviating problems related to stomach such as constipation etc. It helps in generating healthy bacteria and decreases the number of bad bacteria. Being rich in proteins it is a main intake of bodybuilders to keep their muscles stiff. Whenever we feel low a glass of Lassi can work and increases our energy level. It is also used to provide strength to our bones as it is a good source of calcium. It also decreases building up of bacteria and gastrointestinal problems.
Lassi is of only two types: Sweet or Salted…Really is it so?? The answer is NO..Lassi comes with its variants…it mainly depends on our taste and ingredients we would love to have. Like Sweet Lassi is a flavoured form of lassi with sugar and different form of flavours added to it e.g. Rose, Lemon, Strawberry or any other juices. Saffron Lassi is a type of this which has saffron as a special ingredient in it. This is popular in Pakistan and Rajasthan. Makkhaniya lassi is lassi topped with a layer of butter over it.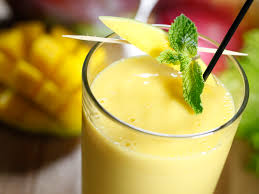 Preparation of lassi is quite easy. You just want some ingredients and blender with you. Ingredients required are:  1.5 cups curd, 7-8 tbsp sugar, 1/2 cups water, saffron (optional), 6-7 almonds/nuts, I tbsp rose water, ice cubes. Initially take the curd, sugar in a blender and blend it. It is blended until an even mixture is obtained. Make sure that it is not blended for a long time otherwise butter will start to float on the top. Now lassi is ready and pour it into the tall glasses. Sprinkle the nuts and pieces of almonds over it. Saffron is added if required.
Mango Lassi is prepared from mango pulp and yogurt. Sugar is optional ingredient in it. It has gained its popularity all over the world including UK, Singapore, Malaysia. In Canada this lassi is treated as a cold drink with kesar mango pulp added to it along with the cream and there it is served with an ice cream. To make it more delicious nuts are also sprinkled at its top.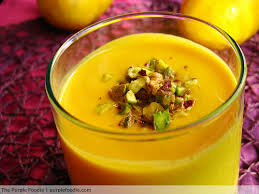 Bhang Lassi, the name itself creates an image of Punjab's culture. This lassi contains bhang as an ingredient in it. Bhang is a type of liquid derivative of eaten forms of Cannabis. This is mainly taken during Holi and it is served with pakodas. In Uttar Pradesh there are some bhang shops and they all are licensed so you people can visit, can buy some bhang products in case you want to and can enjoy bhang lassi.
Chaach is another form of lassi which is salted in form. It is diluted in form and contains salt and jeera for giving salty taste. Some people used to add green chillies as a seasonal element. In Gujarat and Rajasthan it is served along with the meal and especially during summers. It acts as coolant drink during this hot season.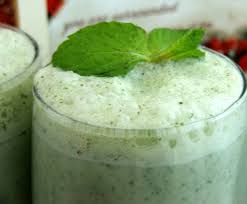 In the hot summer, chilled Lassi is served in tall a glass which is topped with clotted cream. In Punjab, the demand is getting so high day by day that shopkeeper started using washing machines for blending curd instead of mixers. With these maximum demands can be easily fulfilled. Lassi so prepared is very thick and spoon is served with it to make it easy to drink. Firstly, you can have the taste of buttery cream and then drink that lassie. People in Northern India preferred to have lassi with samosa, paranthas and sometimes with chat too.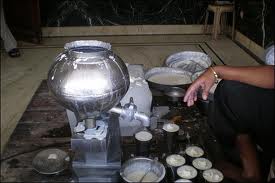 Lassi must be prepared in a proper way like never add lassi with the fruit because curd and fruit always contradicts each other so it can indirectly harm our immune system. Reduce the consumption of lassi in winters and especially at late nights because it increases the concentration of phlegm in our body.