Celebration of Id, without haleem on the menu is preposterous! And, this realization dawned upon me, after my acquaintance with a Muslim friend led to the arrival of an invitation for 'Id ki daawat' at their place. With no prior information or preparation I felt elated and made my way to their set destination. Having been alien to Islamic customs, however, did not dwindle my enthusiasm rather infuriated it, and after my arrival, when it was time to eat, I was shocked at the array of delicacies laid down on the huge wooden table. All, I had known to expect was many types of kebabs, shorbas, biryani, kormas and basbousas. The table, had taken a plethoric dimension.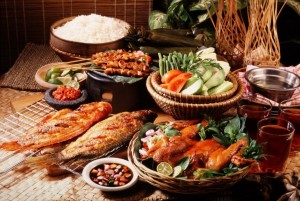 My friend however, well aware of my palate-fantasies and curiosities, volunteered to introduce me with all of the savoury dishes, laid down there. What intrigued me the most, was their holy dish, Haleem, which was particularly consumed on this day. After further enquiry, with periodical interventions by the elders of the family to add minute details to the conversation, I comprehended that Haleem is a popular stew made out of wheat, barley, meat( which is usually beef, mutton, but also sometimes chicken) lentils and spices. It is slow cooked for almost seven to eight hours in order to unleash its divine taste and qualities, till, it reaches a paste-like thick aromatic consistency.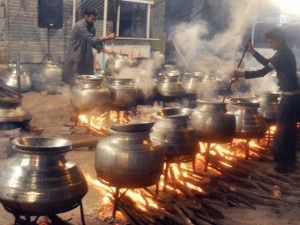 Its origin, however, is said to be lying in an Arabian dish called Harisah, which is an ancient delicacy, dating back to some 10th century or so, interwoven around an interesting history that I seemed to enjoy listening to, while gulping an extra helping of haleem and kebabs.
So, according to the oldest member of the family, Dada-jaan, the recipe for Harisah was first put down in a book called Kitab Al-Tabikh (Book of recipes) by Abu Muhammad al-Muzaffar ibn Sayyar which is said to be one of world's oldest surviving Arabic cookbooks, and that this recipe has many similarities with what, in these contemporary times, Middle East boasts as Haleem. It was said that Harisah, the ancestor of haleem was actually invented by the soldiers of the Hyderabad Nizam's army, to cater to their gastronomic needs. Something similar to the traditional Harisah is said to be still available in a place called Barkas, Hyderabad, however under the name of Haris.Had never anticipated that a food item, would ever have such an illustrious past. The acquired knowledge aggravated my curiosity, and I vouched to myself, that given the opportunity, I would surely venture to try out the ancient dish Harisah. However, that was still just too distant for me then, and so I chose to retort back to unearthing the secret recipe that Dadee-jaan would mostly boast of. Was it my charm, or vexing curiosity that hung around me, I luckily managed to string it out .But after learning its elaborate preparation, I became sceptical of my capabilities and courage to endanger the cooking gas to prepare this dish, which involved seven to eight hours on the flame. Nevertheless, if you are beyond such scepticism and are willing to dedicate your time, energy and resources for this divine delicacy, here's a little help I could manage.
Haleem Recipe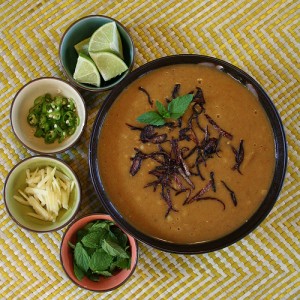 INGREDIENTS
Mutton or Beef- 1 ½ kilograms
Wheat grains (crushed and soaked for 1 ½ hour) – ½ kilograms
Onions (thinly sliced) – 4 large
Gram Lentils (soaked and boiled)- 1 cup
Garam masala powder- 1 tsp.
Turmeric powder- 1 tsp.
Coriander powder – 1 ½ tbsp.
Red Chilli powder – 2 tbsp.
Garlic paste – 1 tbsp.
Ginger paste – 1tbsp.
Dalda Banaspati or any clarified butter (ghee) – 1 ½ cup
A pinch of soda
Salt to taste
For Seasoning
Fresh Coriander leaves (finely chopped) – 1 bunch
Fresh Mint leaves (finely chopped) – 1 bunch
Sliced Onion (large)- 1
Ginger root (medium) – 2 pieces
Lemons (cut in quarters) – 4
Dalda Banaspati or clarified butter (ghee) – 2 cups
Green chillies (seeded and finely chopped) – to taste
Garam masala powder – 1 tsp.
Cumin seeds (roasted and ground) – 1 tsp.
METHOD
In a pan, heat Banaspati or the clarified butter, and add the meat, garlic, garam masala powder, turmeric ,red chilli powder, , coriander powder and salt. Carefully, smear the meat in these spices and let it cook for some time on medium flame.
Take another separate pan, and fill it up with water. Boil the wheat grains in it with a pinch of salt. Keep a check over it, and once the water starts to bubble and the grains become tender and squashy, add a pinch of soda in it and cook for some 15-12 minutes more.
As the water gets soaked, drain the excess and, mix the grains with the mead. Keep stirring till all of it is mixed properly.
In a food processor, grind the lentils, and by adding a few cups of water, bring it to paste-like consistency.
Pour in the lentil paste into the meat and wheat grain mixture, and stir continuously. Position the pan, on a griddle or heavy tava, on low flame and cook some 30 to 40 minutes.
Sauté the sliced onions in ghee or clarified butter, and drain the excess oil, with the help of a tissue paper. Once the haleem is cooked, spread the fried onions over it, and sprinkle the garam masala powder, fresh mint and coriander leaves. Garnish it with cumin and ginger. While serving it, sprinkle some more seasoning!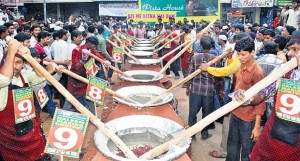 Though I haven't yet tried making it properly due to certain limitations, I have still been engaged with the consumption of Haleem from time to time, and also had the opportunity to witness an actual haleem competition. On the day of Id, this week, I'm planning to once again indulge in its rich and luscious taste, expecting some more company this time!