They say that temptation was the fall of man. Well, the Bible does anyway. It relates how Eve and Adam gave in to temptation when falsely lured by the Serpent and how they bit into the Forbidden Fruit. Despite being forbidden repeatedly, their greed was predominant. And this small act of temptation signified their fall from God's grace and the Garden of Eden.
One such similar temptation when it comes to matters of the tummy is street food. It is not gastronomically appropriate for you. In fact, it is every dietitian's worst nightmare come true. You are highly aware of all these solid facts! And yet you simply can't stay away from these forbidden delights out on the city streets. Street food just has that certain appeal of its own, you say.
Now what comes to your mind immediately when upon hearing the term 'street food'? Unhealthy? Unhygienic? Inappropriate? Unfit? Unpalatable? Well, there might just be a way to avoid all of the above terms and also savour these tempting snacks at the same time. How you ask? It's impossible no longer. If you have the recipe to spruce up these cookeries at hand, you no longer have to worry about any outside problem at all. You can be your own cook and your own critic at the same time! And all while enjoying the comforts of your own little kitchen at home as well. Don't worry even if you are a beginner at cooking. All you have to do is simply follow the recipes and voila! There you go. You have those mouth-watering and irresistible food items right in front of you all just waiting to be devoured. Now then, we ask. How much better could it honestly get?
What's the wait up for then? Simply make a note of the following recipes. Close your eyes. And just let your taste buds do the talking. Read on to find out more!
(1) Bhelpuri: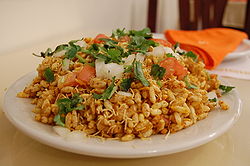 Bhelpuri is a savoury Indian snack, and also a variant of chaat. It is typically prepared by mixing together appropriate portions of puffed rice, vegetables and a tangy tamarind sauce along with a few other ingredients on the side. Bhelpuri is thought to have originated in Gujarat. Thereafter, because of its immense popularity among the mass, the recipe has spread to many other parts of India where it has been modified accordingly to suit local food availability. The Kolkata variant of Bhelpuri is called Jhaal Muri (meaning "spicy puffed rice "). A native Mysore variant of Bhelpuri is known as Churumuri or Churmuri in Bangalore.
Ingredients:
• Puffed Rice: 2 cups.
• Sev: ½ cup.
• Roasted Masala Chana Dal: ¼ cup.
• Roasted Peanuts: ¼ cup.
• Crisp Puris: 8.
• Onion: 1 medium sized.
• Potatoes: 2 medium sized.
• Green Chillies: 2-3
• Salt: According to taste.
• Green Chutney: ¼ cup.
• Tamarind Chutney: ½ cup.
• Garlic and Red Chilli Chutney: 2 tbsp.
• Lemon Juice: 1 tsp.
• Fresh Coriander Leaves: 10-15.
Preparation:
•Peel the onion and chop finely. Clean the coriander leaves, wash well and then chop finely. Boil the potatoes. Then peel and cut into bite sized pieces. Wash and remove stems. Then finely chop the green chillies.
•Combine the puffed rice, onion, roasted masala chana dal, peanuts, potatoes, green chillies, half of the Sev and toss well in a big mixing bowl. Add four crushed puris and mix further. Add salt according to taste. Add the three chutneys as per your own taste and mix well. Add lemon juice and mix well.
•Garnish with the chopped coriander leaves and the remaining Sev. Serve immediately along with the remaining puris to eat.
Preparation Time: 12-15 minutes.
Serves 4.
(2) Panipuri: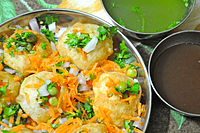 Panipuri (also known as Golgappa, Pani ke Bataashe, Phuchka or Gupchup) is a popular street snack famous all over the countries of India, Pakistan, Bangladesh and Nepal. It basically consists of a round, hollow fried crispy puri which is filled with a mixture of flavored water ("pani"), tamarind chutney, chili, chaat masala, potato, onion and chickpeas. It is generally small enough to fit completely into one's mouth in one go. The pleasure lies in being able to swallow it whole and thus, relish the small bite-sized snack as it is meant to be. It is an exceedingly popular street food dish especially in the regions of Mumbai, Kolkata, Delhi and Lucknow in India. The panipuri is said to have originated from the Magadha region of India.
Ingredients:
•Crisp Puffed Puris: 40.
•Date and Tamarind Chutney: 1 ½ cups.
For the filling:
•Boiled Bean Sprouts: 1 cup.
•Boiled Potatoes cut into small pieces: 2 big-sized.
•Black Salt: According to taste.
•Chaat Masala: 1 tsp.
For Pani:
•Fresh Coriander Leaves: 20-25.
•Fresh Mint Leaves: 20-25.
•Green Chilies: 5-6.
•Panipuri Masala: 2 tbsp.
•Dried Mint Powder: 12 tbsp.
•Black Salt: According to taste.
•Salt: According to taste.
•Roasted Cumin Powder: ½ tbsp.
•Lemon Juice: 3 tbsp.
•Boondi: ¼ cup.
•Dry Mango Powder: 2 tsp.
Preparation:
•To make the moong sprout filling, combine all the ingredients in a bowl, toss to mix well and set aside.
•To make the pani, grind the coriander leaves , mint leaves and green chillies to a paste using water as required.
•Transfer the coriander and mint paste into a large bowl, add panipuri masala, dry mango powder, black salt, salt, cumin powder and lemon juice and stir to mix well. Add six cups of water to the above mixture.
•Stir to mix well and put to chill in the refrigerator. While serving, add boondi to the prepared pani and stir.
•Take a puri, break a little of the crust, fill it up with a little moong and potato filling followed up by a half a tablespoon of sweet date and tamarind chutney each.
•Dip the puri in the prepared pani and serve immediately. Similarly, prepare the remaining puris and serve.
Preparation Time: 16-20 minutes.
Serves 4.
Well then, what are you waiting for? These delicious street food items are exceedingly simple to make. Moreover, you can vouch for the food hygiene yourself. We assure that they will surely leave you craving for more. And more.
So, stop slacking! Get snacking!