Summer time is here again and we all know what that means, beside the sweltering heat and the humidity, it means mango season. This period is every child's heaven, when mangoes are abundant so is happiness. This fruit  is undoubtedly one of the most favored fruits of all times and is thus fittingly is India's national fruit, of course it does help that India is one of the largest producers of Mango. Who doesn't have those amazing childhood memories of sitting with family and friends and devouring one mango after another, many times we wouldn't even wait for mangoes to ripen before sneaking into yards having mango trees with our catapults the mischievous stealing of unripened mangoes. But eventually how much mangoes can you eat, tired of having mango in the similar way, adding ice cream to mango just isn't enough anymore? Need something better to do with the dozens of mangoes you bought which now everyone refuses to eat? well then here we have several delicious ways to use mangoes and create a wonderful meal.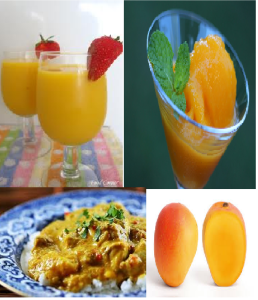 Yummy Mango Milkshake
Mango milkshake is the perfect way to get kids to have milk without any hassle and it also makes a wonderfully refreshing drink to beat the heat,to make this you need Mangoes, Milk and sugar (optional if required) the way to make it is extremely easy
Cut the mangoes into small cubes
Blend them in the mixer until the have a smooth liquid texture
Add cold milk
Add sugar if required and a few ice cubes
Enjoy this wonderful drink
You can also add bananas or strawberries to make this drink even more exciting.
Fabulous Mango Chicken Curry
This succulent savory dish is absolutely a delight, a feast to not only eat but also for the eyes, it makes a wonderful main course and all the we need is 1 table spoon butter, 1 chopped onion, 3 cloves of minced garlic, 2 pounds of chicken skinless and boneless cut into small cubes, 1 can of diced tomatoes, 3 tablespoons of curry paste and of course 1/2 cup mango chutney. To prepare this dish all we need to do is
Melt the butter in a pan
To this pan add onions and garlic and cook in the butter for 2 to 3 minutes till the onions are slightly translucent
add the chicken, cook for about 30 seconds, all while constantly stirring
Add the curry and stir till the curry is evenly spread all over the chicken
Add the mango chutney and the can of diced tomatoes to the pan and stir
Cook this for about 10 to 15 minutes till the chicken is properly cooked, you can tell it is cooked if the chicken is no longer pink in the center.
pour into a vessel and add a few garnishes and you have ready a wonderful dish
with the preparation time of 15 minutes and cooking time of 35 minutes this dish can be prepared in about 50 minutes. This dish can be served with not only roti but also with rice.
Delicious Cool Mango Sorbet
A super fancy looking desert extremely wonderful for dessert at a party or even just to cool down, all you require for this is 4 mangoes, 3/4th cup caster sugar, 1 and half cup water and 1 egg white and to make it you need to follow the following simple steps
Peel mangoes removed seeds and put in blender until smooth mix
Pour sugar in saucepan and boil without stirring for about 5-6 minutes and then leave to cool
put mix in a stainless steel bowl, wrap the bowl with cling film and put in freezer, but remember to pull out and stir it ever half hour
Now take the egg whites and beat them thoroughly with an electric whisk, then add these egg whites to the mango mix along with the sugar, wrap the bowl with cling film again
Freeze this for about three hours
Now take this mixture and put it in the food processor until it is completely blended
Put this to freeze and once solid voila your dessert is ready
With 20 minutes of preparation time and 6 and a half hours of freezing time this dis is ready to serve and enjoy in just under 7 hours, long gone are the times of running to the store for ice cream and cakes for dessert now we have a new dessert.
Thus we see how much variety of food we can prepare from just one item from drinks to main course and then eventually dessert. Thus w"e see why mangoes are aptly known as the "King of fruits", but did you know apart from being wonderfully delicious these fruits also provide with several health benefits such as
Mangoes prevent cancer or rather their antioxidant compound does.
Mangoes contain vitamin C and fiber which help lower cholesterol
Clogged pores and eradication of pimples is another thing Mangoes help in
25% of required vitamin A can be provided by mangoes and thus they help improve eyesight and prevent night blindness
Mangoes help reserve the alkali reserves of the body by providing citric, tartaric and malic acid
They help prevent diabetes by keeping insulin in check
Mangoes also contain enzymes that help break up food and are thus good for digestion
Mangoes improve our general immune system
And thus we see how important mangoes are and with several recipes now we can definitely include consumption mangoes into our lives with ease serving them in various forms all while working towards a healthier tomorrow.