You keep whole India on one side and Bengalis on other side when it comes to eating and love for food. I have mentioned in my very first article that Bengalis just crave for food at every second of the day. Being a Bengali boumaa I know the responsibility on my shoulders and that's why I would cut the drama out and straight away take you to the soulful cooking heaven ….ABengaliskitchen. You can never go out of aroma if you enter a Bengali house and all thanks to the heartfilled mums and granny's who never let
you step out without a wholesome meal. They will feed you till brim and still think you are so skinny. ( No wonder I enrolled for a gym).You can excuse out of anything but meals no chance. My mother- in -law will frown badly if any day I don't eat my rui macher jhol Or if I skip through rice and only have a bowl of chicken stew. They keep you on high maintenance (Even if you don't want to be ).The speciality of Bengali food lies in the perfect blend of sweet and spicy flavours. For Bengalis, food is one of the most essential aspects of their day to day lives. Ladies spend lot of time in the kitchen cooking delicious feast for the family.
Max mueller once said : "If I were asked under what sky the human mind has most fully Developed some of its choicest gifts, has most deeply pondered on the greatest problems of life, and has found solutions , I should point to India ."
And according to me Bengal shines in every aspect of that most talked about India. We Bengalis love to celebrate life even if we are part of a bizarre and slow pace city. For every moment in life we celebrate it with food (Little salty, Little sweet, Little sour).
So enough of self praises lets take you to real kitchen of Bengalis  with mouth watering daily recipes which are made with loved adoration .

Ghee Bhat  (Bengali Rice Preparation):
Ingredients : I kg Fine long grained rice (Preferably basmati ) washed and dried, 250 g  of ghee (I told you we don't care about  calories), 30 g raisins picked ,washed, and soaked in water to soften, Salt to taste, 3 Large bay leaves, 1 Long Cinnamon stick, 3 Cardamom, 6 Cloves, 250 g onions , peeled, halved, and sliced thinly.Fry the onions till crisp and golden brown . Drain excess oil and leave aside., 1 teaspoon Garam Masala powder.
Servings : 8 to 10 (We believe in feeding people wholeheartedly )
Method : Measure the rice in cups. Using the same measure, pour double the measure of water to rice in a large pan and set to boil. When water comes to a boil , add the rice , stir and half cover , and let cook on medium flame till rice is done. (Approximately it will take 15 to 20 minutes).Next wash out rice with cold water to remove starch . Drain thoroughly.Heat ghee in separate deep pan and fry all the whole spices till they start to splutter.Stir in rice using a skewer. Fry till the rice starts to brown . Add in salt and raisins and cook for few more minutes.Sprinkle with previously browned onions and Garam masala powder and serve hot.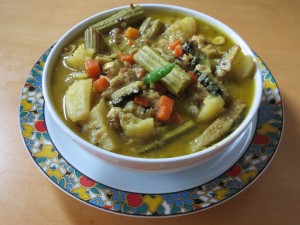 Shukto (Mixed Bitter-sweet Vegetables):
Ingredients : 2 Medium Sized Potato, I medium sized Eggplant, 1 Horse Radish, 1 green Banana, 4 Parwals( Pointed Gourds), 3 Drumsticks, 2 small bitter gourd, 1/2 teaspoon of turmeric powder, 1 tablespoon ground ginger paste, 1 tablespoon ground cumin paste, 1 teaspoon ground mustard paste, salt to taste, 6 medium sized Boris ( Optional ), 2 tablespoon oil, 2 to 3 cups of water, 1 tablespoon ghee, A pinch of panch phoran, 1-2 tablespoon milk, 1-2 teaspoons sugar.
Servings : 6 to 8
Method :Peel and but potatoes in half lengthwise, and then crosswise. Slit the eggplant in four lengthwise and then crosswise into half inch thick slices,Slit the horse radish in four and then cut on the bias into one inch length.
Trim and scrape the parwals, cut in half lengthwise and cut in four pieces on the bias.  trim drumsticks and cut into small sizes. Slice the bitter gourd (It gives the bitter taste to the recipe).
Fry the boris in hot oil and keep it aside, fry the bitter gourd slices and add all the other vegetables and fry for a few minutes until lightly browned. Add all the spices and pastes ands mix thoroughly with vegetables. Add salt and finally two cups of water .ontinue simmering until veggies are all cooked. Heat teaspoon of ghee in another pan , add panch phoran, Fry till it stops spluttering and pour this over the simmering veggies. Mix thoroughly. Add a tablespoon of milk and sugar to taste . Simmer for 5 minutes and remove from fire .
This hot Shukto is generally served during summers . But you may enjoy this on any occasion , any season.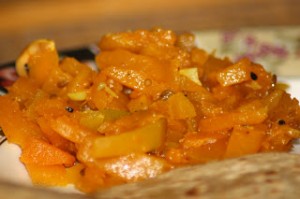 Kumro Chenchki (Red Pumpkin Fried with spices):
 Ingredients : 500 g of pumpkin , diced medium thick, 2 tablespoon oil, 1/2 teaspoon whole onion seeds, 2 whole red chillies, 1 onion halved and sliced fine, 1 &1/2 teaspoon turmeric powder, 1/2 teaspoon chilly powder, salt to taste.
Servings : 6
Method : Heat oil in a pan. When a blue haze appears  , add onion seeds and whole red chillies.Stir -fry for couple of minutes and then add the pumpkin and some salt, Cover and cook for 2 to 3  minutes. Remove the cover .To the water given out by the pumpkin , add the sliced onion and  spice powders. Cook over high heat , stirring all the while . When the pumpkin is cooked and the boil rises to the surface , remove it from fire. This particular preparation of the pumpkin is quiet dry.
Try these recipes and you would feel the real hard work goes through a Bengali kitchen. These mouth watering dishes are just splendid and easy to prepare. If you ain't a Bengali just prepare and invite your bong friends over  and they will worship you . If you don't believe me just try.