"There is no love sincerer than the love of food."
– George Bernard Shaw
My sister-in-law loves food and everything to do with food. Recently, she took up the massive challenge of maintaining a food blog. Soon, she was deeply engrossed in it and then, gradually all her experiments with food  started to bloom– "How about I mash this up and then add a bit of that? I have a gut feeling that it will work". Well, most of them did. Being The Taster, my job was easy-peasy and I genuinely loved all her food.
From healthy snacks such as South-western Salad with Avocado Dressing to the not-so healthy ones (but super tasty!), like the Gujrati Kadhi; from the nice and sweet Melon Refresher to the spicy Cream of Chilli Soup– all were simply lip smacking. My favourite is her desi Mixed Vegetable Curry. It is an absolute hit among my friends as well. Hence, I thought I would be a little generous and share her super easy, super simple and super awesome recipes with my readers. So, here goes –
Cream of Chilli Soup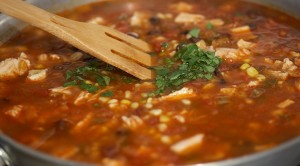 Time taken: 15 minutes
Serves: 4
Ingredients : 2 large corn tortillas (cut into 1/4inch wide strips, 3 tbsp butter, 1 cup chopped onions, 1 clove garlic, ½ tsp dried oregano, 1 bay leaf, 2 cups of White Vegetable Stock, 1  medium potato (peeled and cubed), pepper (to taste), salt (to taste), 3-4 jalapeno chillies (chopped), ¼ cup fresh cream, 1 cup mozzarella cheese (grated)
Method: Crispthe tortillas in the oven. In a pan, melt butter; add onions, garlic, oregano and bay leaf. Cook until onions are soft. Stir in the stock, potato, salt and paper. Bring to a boil. Simmer till potatoes are tender. Remove from heat and set aside to cool. Discard the bay leaf and process the soup in a blender till smooth. Pass through a sieve and return to heat. Add the chillies and simmer for 10 minutes. Adjust the seasoning and stir in the cream. Set aside until ready to serve. Reheat gently just before serving. Add the cheese and spoon thesoup into individual bowls. Sprinkle tortilla chips and serve immediately.
South-western Salad with Avocado Dressing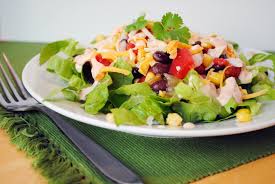 Time taken: 15 minutes
Serves: 4-6
Ingredients:
For salad- 2 cups of shredded lettuce or salad greens, 1 cup chopped tomatoes, ½ cup chopped white onions, ¼ cup sliced jalapeno chillis, ½ cup chopped red, yellow or green capsicum, ¼ cup grated cheese
For dressing- 1 cup medium ripe avocado (peeled, seeded and chopped), 3-4 tbsp lemon juice, 2 cloves garlic (crushed), 1 tbsp mustard paste, 2 tbsp finely chopped coriander, 2 tbsp balsamic vinegar, 2 tbsp finely chopped jalapeno chillies, ½ cup olive oil, salt (to taste), pepper (to taste), cumin powder (to taste)
To garnish- 2-3 slices of avocado and a sprig of coriander
Method:
For salad- Place the prepared vegetables in a large bowl, cover with cling film and chill thoroughly.
For dressing- Mash the avocado and drizzle lemon juice over it. Add garlic, mustard, coriander, vinegar and jalapeno chillies and mix well. Add oil in a thin stream beating continuously. Add ½ – ¾ cup ice cold water to get the right consistency. Ensure that the dressing does not get too runny. Cover and chill until ready to use. Pour the dressing in a serving bowl and pile the salad on top. With a salad fork and spoon, toss the salad gently to mix. Season with salt, pepper and cumin powder. Garnish with avocado and coriander. Serve immediately.
Melon Refresher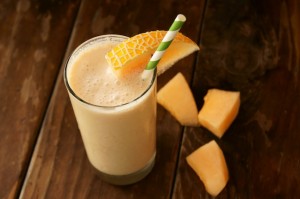 Time taken: 5 minutes
Serves: 2
Ingredients: 250 ml natural yogurt,100g galia melon (cut into chunks), 100g cantaloupe melon (cut into chunks), 100g watermelon (cut into chunks), 6 ice cubes, wedges of melons( to decorate)
Method : Pour the yogurt into a food processor or blender. Add the galia melon chunks and process until smooth. Add the cantaloupe melons and watermelon chunks along with the ice cubes and process until smooth. Pour the mixture into glasses and decorate with wedges of melon. Serve at once.
Modified Gujrati Kadhi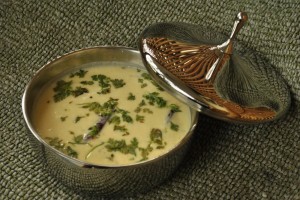 Time taken: 25 minutes
Serves: 4
Ingredients: 2 tbsp yellow moong dal flour, 1 and a ½ cup sour low-fat curd, 2 and a ½ cup water, 1 inch ginger (finely chopped), 2 to 3 curry leaf stalks, ¼ cup coriander leaves, 2 green chillies (slit), salt (to taste)
For tempering- 1 inch cinnamon, 5 cloves, ½ tsp mustard seeds, ½ tsp fenugreek seeds, ½ tsp cumin seeds, ½ tsp asafoetida powder
Method: Combine the curds and moong dal powder, and then whip to a creamy consistency. Add the water gradually, making sure that there are no lumps. Then add the finely chopped ginger and salt to taste. Put this mixture to boil over a low flame. Stir to avoid lumps. Slit the green chillies and chop the coriander, and keep them aside. Dry roast the mustard seeds, cumin seeds, cinnamon, cloves, fenugreek seeds and curry leaves. Add slit green chillies and asafoetida. If it burns, you can add a few drops of water. Once the dry tadka is well roasted, drop it into the boiling kadhi. Top the kadhi with freshly chopped green coriander, and serve hot with your recommended rice serving.
Mixed Vegetable Curry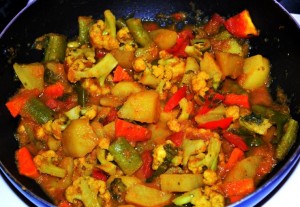 Time taken: 30 minutes
Serves: 4
Ingredients: ½ cup carrots (cut lengthwise), ½ cup beans (cut lengthwise), ½ cup eggplant (cut into 1 inch pieces), ½ cup onions (sliced lengthwise), ½ cup tomatoes (sliced lengthwise), 1 tsp ajwain seeds, ½ tsp garam masala, ½ tsp turmeric powder, ¼ tsp chilli powder, 1 tsp oil, salt (to taste)
Method: Heat oil to high heat in a frying pan (or non- stick pan). Add ajwain seeds and onions. Sauté until onions are transparent. Add the carrots and beans. Sauté for 5 minutes. Then add the eggplant and sauté until all the vegetables are cooked tender. Add turmeric powder, tomatoes, Garam Masala, chilli powder and salt. Sauté for a few minutes until the tomatoes are tender, but not completely pulpy. Leaving the tomatoes half- cooked adds to the fresh flavor. Serve hot.