Too much fast food is not good for your health. Even at home, we usually aimlessly settle for the fat-rich food while snacking – for the simple reason that it looks (and sounds) more appealing and is way tastier. I'm not going to argue about the taste but in this age, where most of us are suffering from obesity or simply trying to stay fit, the high calorie and high fat delicacies does not help.
So what's the alternative?
I'm not asking you to give up your favourite meal but you could try to make it a tad bit healthier. Then a tad more. And then a bit more.  Adapt and adjust (if only for your own good).
Truly speaking, it's quite a win-win situation.
So, here's your stairway to a low-fat Biriyani, a feel good soup and a much lighter dessert:
Low-fat Chicken Biriyani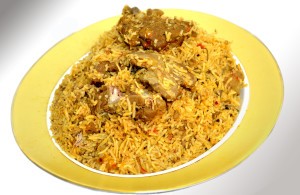 Time – 2 hours
Serves – 4
Ingredients – 3 garlic cloves (finely grated), 2 tsp finely grated ginger, ¼ tsp ground cinnamon, 1 tsp turmeric, 5 tbsp natural yogurt, 600g boneless chicken breasts (cut into 4 cm pieces), 2 tbsp semi-skimmed milk, good pinch saffron, 4 medium onions, 4 tbsp rapeseed oil, ½ tsp chilli powder, 1 cinnamon stick (broken in half), 5 green cardamom pods (lightly bashed to split), 3 cloves, 1 tsp cumin seeds, 280g basmati rice, 700ml chicken stock, 1 tsp garam masala, handful chopped mint and coriander leaves
Method – In a mixing bowl, stir together the garlic, ginger, cinnamon, turmeric and yogurt with some pepper and ¼ tsp salt. Tip in the chicken pieces and stir to coat. Cover and marinate in the fridge for about 1 hour. Warm the milk to tepid, stir in the saffron and set aside. Heat oven to 180C. Slice each onion in half lengthways, reserve half and cut the other into thin slices. Pour ½ tbsp of the oil onto a baking tray, scatter over the sliced onion, toss to coat, then spread out in a thin, even layer. Roast for about 40 to 45 minutes, stirring halfway, until golden. When the chicken has marinated, thinly slice the reserved onion. Heat 1 tbsp oil in a large frying pan. Fry the onion for 5minutes until golden. Stir in the chicken, a spoonful at a time, frying until it is no longer opaque, before adding the next spoonful. Once the last of the chicken has been added, stir fry for a further 15 minutes until everything looks juicy. Scrape any sticky bits off the bottom of the pan, stir in the chilli powder, then pour in 100ml water, cover and simmer on a low heat for 15 minutes. Remove and set aside. Cook the rice while the chicken simmers. Heat 1 tbsp oil in a large frying pan, then drop in the cinnamon stick, cardamom, cloves and cumin seeds. Fry briefly until their aroma is released. Tip in the rice and fry for 1 min, stirring constantly. Stir in the stock and bring to boil. Lower the heat and simmer, covered, for about 8 minutes. Remove from the heat and leave with the lid on for a few minutes. Stir the garam masala into the remaining 1 ½ tsp oil and set aside. When the onions are roasted, remove and reduce oven to 180C. Spoon half the chicken and its juices into an ovenproof dish, then scatter over a third of the roasted onions. Remove the whole spices from the rice, then layer half of the rice over the chicken and onions. Drizzle over the spiced oil. Spoon over the rest of the chicken and a third more onions. Top with the remaining rice and drizzle over the saffron- infused milk. Scatter over the rest of the onions, cover lightly with foil and heat through in the oven for about 25 minutes. Serve scattered with the mint and coriander.
Three bean and Chilli Soup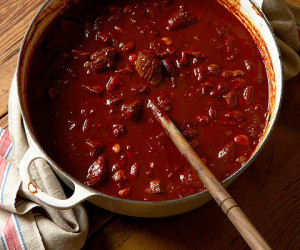 Time – 25 minutes
Serves – 4
Ingredients – 1 chopped red onion, 1 tbsp olive oil, 1 finely diced red chilli, 1 tbsp dried oregano, 400g can chopped tomatoes, 2 x 400g cans drained mixed beans, 800 ml vegetable stock
Method – Fry chopped onion in olive oil in a large saucepan for 5 minutes. Add the chilli and cook for 5 minutes. Add oregano, tomatoes, mixed beans and vegetable stock. Bring to the boil and simmer for 20 minutes. Season and then serve.
Coffee Panna Cotta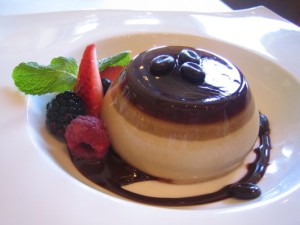 Time – 15 minutes
Serves – 4
Ingredients – 125ml  whipping cream, 50g golden caster sugar, ½ vanilla pod (slit lengthways), 2  small gelatine leaves, 2 tsp instant coffee granules, 150g full-fat Greek Yogurt, 150 ml buttermilk, sifted cocoa powder (for dusting)
Method – Put the cream and sugar in a small saucepan. Scrape thin the seeds from the vanilla pod and then drop in the pod. Stir over a low heat until the sugar has dissolved. Bring the mixture just to the boil, then remove from the heat and leave to infuse for 5 minutes. Meanwhile lay the gelatine leaves in a shallow dish and pour over enough cold water to cover them. Soak for 4 to 5 minutes. Remove the gelatin leaves from the water, then stir the leaves into the cream until dissolved. Stir in the coffee granules until they are also dissolved. Leave the mixture to become cold, stirring occasionally. Keep checking so that you can catch it before it starts to set. Discard the vanilla pod. Beat the yogurt and buttermilk together in a large bowl, then gradually pour and beat in the cold coffee mixture. Transfer it to a jug, then pour into 4 small dariole moulds. Chill for 4 to 5 hours. When ready to serve, dip each mould into a bowl of very hot water for a few seconds only, then turn each dessert out onto a small plate. Serve with a light dusting of cocoa.
HAPPY EATING!!
Recipe Courtesy – bbcgoodfood.com
Image Courtesy – daawat-a-biriyani.com, aurorasgypsycafe.com, yelp.com