We all binge on fast food stalls laid near our college , homes, offices and schools. Its why Indian cities are famous for .We all love to have chaat , pakoras and sandwiches whenever we are out for some fun time ( Or…..a time out!) . Roadside food though seems unhygienic to few (specially our mom's) but still we all have indulged ourselves to commit this tasteful sin.Students would agree with me if I say we survive college or school days because the "bhaiyaji" who sits outside our campus who makes much more better stuff than our "canteen wale uncle" , its true right ! Roadside food is relief to all those who survive to just eat and to those who believe wasting money on a high class pizza is a waste. Don 't we all cherish those after school bhel puri and kala khatta . I always had this sigh of relief to treat my friends with this heavenly food outside my college campus on my birthdays ( it saved my pocket money a lotttt) .
Boys still surviving with this strategy of saving money on dates ,by taking their lady love to marine drive or Victoria Memorial and having bhel puri or pani puri & trust me these dates are very romantic with minimum expense. Those who are still wasting money on" Hi Fi " dating try out my way of wooing a girl after all "WE" love attention not food. I have spent many years as a student in Pune 's FC road ,a very famous place even as Brat Pitt along with Angelina Jolie were spotted there some years ago (Yeah !!! its a big deal for Hollywood crazy puneites) and if you have ever visited that place you will relate to each and every word in this article written so far . Steamed momos, Bun Maska , Irani chai , corn cutlets you name it and you will get it in FC road. And not only Pune I believe and you all will agree with me every city has a highlighted food street where often people our seen having the best time of their day chatting ,gossiping, singing , shopping and most importantly Eating with their family and friends.We all get annoyed when unable to pass a footpath without pushing or when see our streets get dirty with rotten food spilled every where and easily blame the roadside food shops , But this question itself raises the debate are we going to survive without these people serving us with best tasteful yummy delights generations after generations (Yes its an long affair trending through many generations ). I vouch for their existence as they are part of me, my city, my country.On this note will share few yummy recipes of my favourite roadside Platter.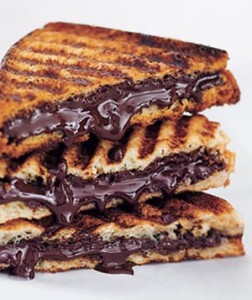 Chocolate Cheese Sandwich :
Ingredients : Square shaped breads 4 Pieces, 1 cup processed grated cheese, 1/2 cup chocolate syrup, 1 teaspoon honey , 1 tablespoon roasted nuts( Depends on your preference But I prefer Almonds ).
Servings : 2
Method : Take a Bread slice apply chocolate syrup evenly . Spread the grated processed cheese too in similar way .Make it a sandwich adding another plain bread slice . Grill it until it has toast like texture . Top it with honey and roasted nut . Serve hot. Enjoy this sandwich with a hot cup of coffee. It will make your day .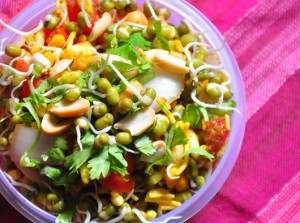 Sprout Chaat :
Healthy , tangy , spicy, & tasty yet roadside . Yes its a delight for those who diet but still want to hang on roadside junk.
Ingredients : 1/2 cup sprouted moong (small green legume), Sprouted kala chana (Black chickpea) , 1/2 cup tomato finely chopped, 1/2 cup cucumber finely chopped, 1 teaspoon chaat masala, 1 teaspoon roasted cumin seed powder, half a lemon juice, salt to taste, 1 teaspoon green chilly finely chopped, Little coriander leaves finely chopped for garnishing.
Servings : 2 ( The more the merrier )
Method : Mix all the ingredients and stir well. Garnish it with coriander and serve the diet freaks of your gang( They wont skip your party now) .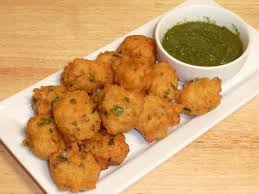 Moong Daal Vade with tangy Mango Chutney :
Ingredients : Soak 2 cups Moong Dal overnight and make it into a paste (not very smooth), 2 teaspoon ginger and green chilly paste , 1 teaspoon red chilly powder, Salt to taste, cooking oil for deep frying.
For Tangy Mango chutney : 1/2 cup green mango made into fine paste , 1/2 teasppon green chilly paste, 1/2 teasppon lemon juice, Salt to taste.
Serving : 2
Method : Mix moong dal , salt , ginger and green chilly paste &red chilly powder very well with the help of hands . Take a pan heat oil for deep frying . Fry small vade shape and size not specific ( Its a way you feel comfortable ) till golden brown. Take out from the oil, dab it on a tissue paper and sprinkle black salt (a bit )  before serving.
For Chutney : Mix all the ingredients well listed above for the chutney and serve as a dip with moong vade.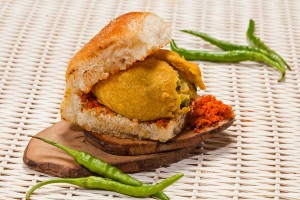 Mumbaiya Vada Paav :
Considered as staple food in maharashtra .My favorite so I saved it for the last to share with you all. Its a very simple recipe to try at home .
Ingredients : 2 large potatoes boiled and mashed ,2 teaspoon Roasted coriander seeds , 1 cup soaked poha ,mashed just like potatoes, 1 teaspoon chaat masala, 1 teaspoon chilly powder, 1 teasppon garam masala, 1 tablespoon coriander finely chopped,1 teaspoon chopped green chillies, salt to taste, 1 teaspoon turmeric powder, 1 cup gram flour, half cup ric e flour, Oil for deep frying , Paav to serve with vada.
Servings : 4
Method : mix well boiled mashed potatoes, mashed Poha, chaat  masala, green chillies , red chilly powder, coriander seeds, chopped coriander leaves, salt and pinch of turmeric powder into a fine smooth lump free mixture . To coat  this mixture we need to make a thick paste of gram flour , rice flour , turmeric powder& salt .Once the coating is ready , we will take out  equal portions from the mixture , give it a round shape and dip it in the coating mixture and deep fry it. Once the vada's are done sandwich it between the paav and serve hot with tamarind Chutney . Enjoy it when it rains and you feel hungry.
Its ironic that I am writing all about roadside food  while enjoying Tikki Chaat on my couch  ( Idea to pen down few recipes clicked with the first bite itself).